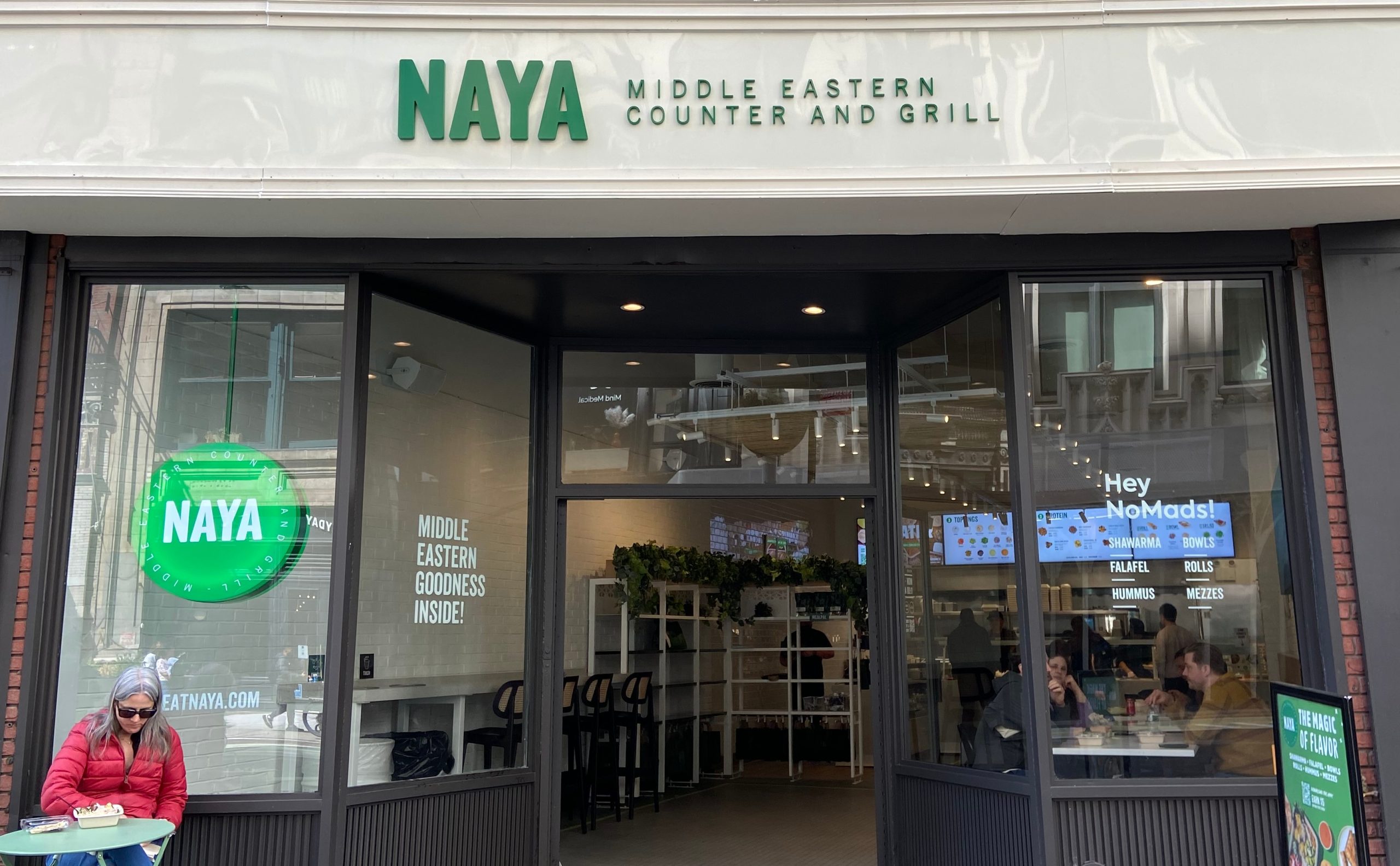 We're pleased to welcome Naya, the Middle Eastern, Lebanese fast-casual restaurant to the neighborhood. Located at 1129 Broadway in NoMad, Naya serves up authentic, flavorful, and healthy Middle Eastern cuisine.
"Naya is excited to be in NoMad for its open streets, the community feel in the area, and how colorful the area is overall from people to places to art and stores," says the Naya team. "As well as for the beautiful park nearby and for the culture of the space overall."
Naya's menu features authentic recipes inherited from past generations that have been refined to bring the best Middle Eastern flavors here to New York. Great for an on-the-go lunch or dinner, at Naya you can enjoy a variety of build-your-own bowls, salads, and rolls as well as cold & hot appetizers and desserts. To order, choose from a range of bases for your salad, bowl, or roll, including seasonal grains, vermicelli rice, romaine lettuce, seasonal greens, or a pita. Next mix and match your protein from marinated chicken shawarma, marinated beef shawarma, kafta lamb, chicken shish taouk, falafel, or roasted cauliflower with turmeric and zaatar dukkah. Choose from over a dozen of toppings to further bring out the flavor in your meal. Highlights include baba ghannouj, toum garlic whip, fresh cucumber, onion-parsley sumac mix, and lemon tahini.
Pair your main with a couple hot or cold appetizers such as Little Tabboule made with parsley, mint, bulgur, tomato, onion, lemon, and virgin olive oil and Grape Leaves filled with parsley, rice, onion, and tomato. For a hot starter try Kibbe, fried beef dumplings stuffed with minced beef and pine nuts or Sambousik Jebne, a pastry filled with halloumi cheese and oregano.
Save room for dessert and indulge in Baklava made with phyllo dough, almonds, pistachios and walnuts or Nammoura, a semolina cake with sweet syrup.
Head to Naya for your next weekday lunch or dinner!
Naya is open Monday through Friday from 11 am to 9 pm. Order in-person or online for pickup & delivery.