Plant-Based Dining in Flatiron & NoMad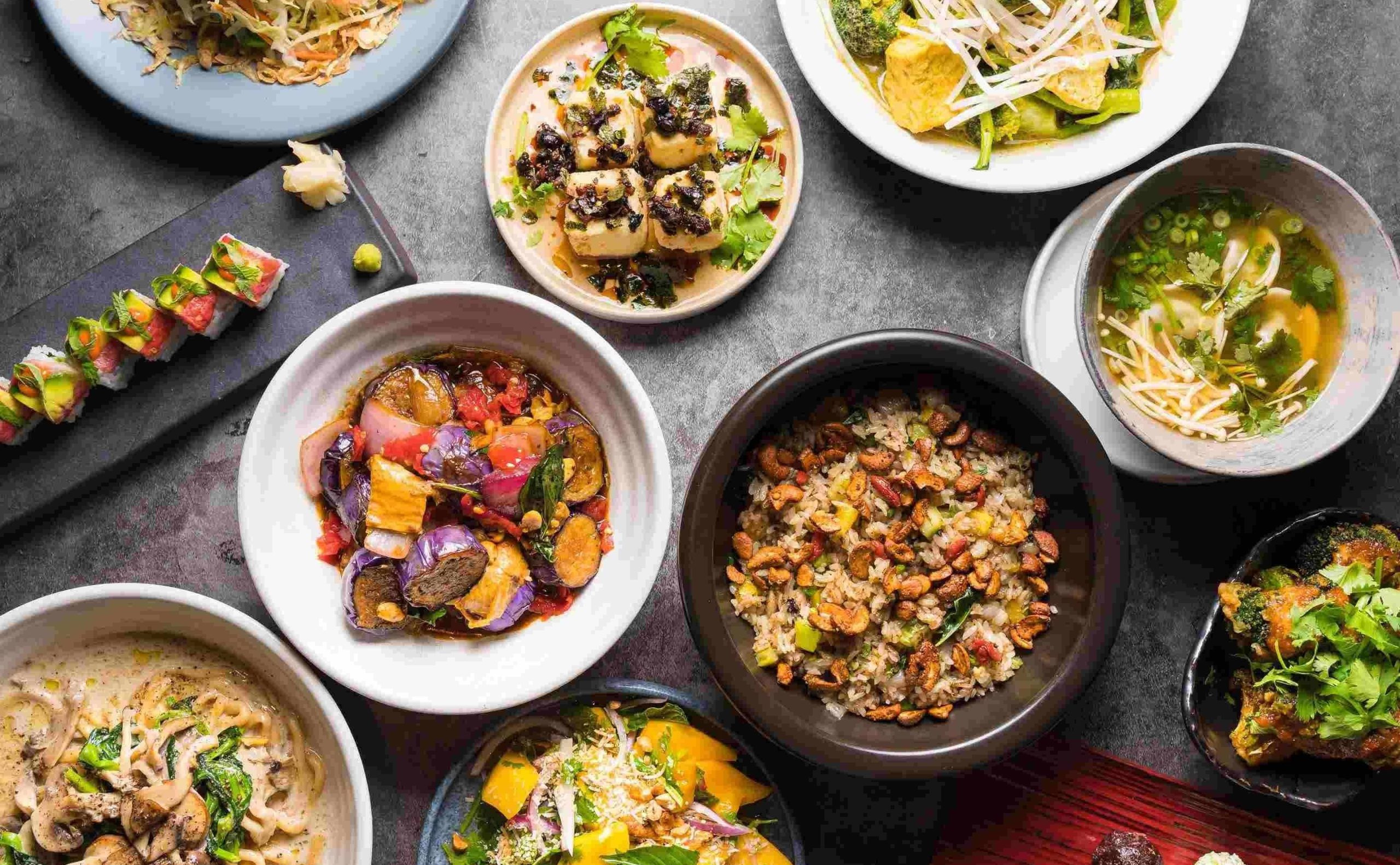 The neighborhood is home to delicious plant-based eateries focused on a variety of cuisines and innovative menus. Explore our Plant-Based Dining Guide to find options for your next meal in Flatiron & NoMad.
100% Plant-Based
Beatnic, 50 West 22nd Street, (212) 290-8000, Order, @eatbeatnic
Beatnic offers a menu featuring flavorful vegan salads, sandwiches, burgers, sides, and sweets great for a fast-casual lunch or dinner.
Eleven Madison Park, 11 Madison Avenue, (212) 889-0905, Reservations, @elevenmadisonpark
The upscale, Michelin-starred restaurant from Chef Daniel Humm offers seasonal tasting menus of 8-10 courses that are entirely plant-based. Each dinner purchased goes towards providing meals to New Yorkers who are facing food insecurity.
Juice Press, 1 West 22nd Street, (917) 656-3016, Order, @juicepress
Head to Juice Press for delicious plant-based smoothies, vegan raw foods, and juice cleanses.
OM Juice Bar, 62 Madison Avenue, (917) 409-5900, Order, @omjuicebarnyc
Om Juice Bar creates juices and smoothies filled with wholesome goodness that you can taste across the menu in fresh juices, shots, smoothies, and bowls.
Planta Queen, 15 West 27th Street, (917) 675-7700, Reservations, @planta
The innovative plant-based restaurant offers dishes focused on plant-based Asian-fusion cuisine. Menu highlights include delicious vegan sushi, small plates, and cocktails.

PLNT Burger, 1147 Broadway, (212) 210-2975, Order, @plntburger
The plant-based, fast-casual restaurant serves American classic comfort food on the menu such as burgers, fries, and soft-serve that are vegan and planet-friendly.

Pure Grit BBQ, 36 Lexington Avenue, (917) 920-4335, Order, @puregritbbq
The plant-based and gluten free barbecue joint offers mouthwatering smoked platters, sandwiches, sides and desserts on the menu.
Vegetarian & Vegan-Friendly
Avocaderia, 245 Fifth Avenue, (929) 447-5488, Order, @avocaderia
Avocaderia serves up tasty salads, grain bowls, smoothies, and toasts with a menu that puts a wholesome spin on familiar favorites.
Carrot Express, 18 West 23rd Street, (917) 261-7871, Order, @carrotexpress
Carrot Express offers a menu featuring a range of creative salads, bowls, and wraps as well as smoothies and fresh-pressed juices. 
CAVA, 325 Park Avenue South & 678 Sixth Avenue, (718) 360-9196, (212) 206-2513, Order, @cava
Enjoy a Mediterranean-inspired menu at CAVA with customizable bowls, pitas, and salads.
CRISP & GREEN, 1145 Broadway, @crispandgreen
CRISP & GREEN offers chef-crafted & scratch-made menu with signature salads, grain bowls, smoothies, acai bowls, and kids meals.
Honeybrains, 34 West 22nd Street, (917) 472-7682, Order, @honeybrainslife
Honeybrains creates nutritious and delicious options, with a menu featuring brain bowls and salads along with fresh-pressed juices to keep you energized and feeling good. 

INDAY, 1133 Broadway, (917) 521-5012, Order, @indayallday
INDAY serves seasonal, Indian-inspired dishes that are all 100% free of gluten, soy, and refined sugar. The menu features seasonal mains, salads, curries, and sides.
Just Salad, 315 Park Avenue South & 655 Sixth Avenue, (866) 673-3757, Order, @justsalad
Just Salad's menu features customizable salads, warm bowls, wraps, and smoothies. On their website, you can explore seasonal offerings and filter by dietary preferences.
LifeCafe, 60 West 23rd Street, (212) 381-8900, Order, @lifetime.life
As part of Lifetime Fitness, LifeCafe offers nutritious meals, snacks, and smoothies on the menu for breakfast, lunch, and dinner.
The Little Beet, 1140 Broadway, (212) 367-8015, Order, @eatlittlebeet
The Little Beet offers a menu of wholesome food with ingredients carefully sourced from trusted farmers and purveyors. Enjoy greens, rice, or quinoa-based bowls with proteins, vegetable sides, garnishes, and sauces. 
NAYA, 1129 Broadway & 46A East 23rd Street, (212) 597-9160, @eatnaya
Lebanese fast-casual restaurant NAYA has a menu featuring appetizers and customizable rolls, bowls, and salads.
Oakberry, 1158 Broadway, (646) 477-9725, Order, @oakberryusa
Oakberry serves 100% natural açai bowls and smoothies filled with antioxidants. Layer your bowl with vegan granola, almond butter, and fresh berries for a perfect snack or treat.
OL'DAYS, 1165 Broadway, (917) 261-5250, @oldaysusa
The all-day farm-to-table cafe offers a robust menu featuring a variety of coffee & teas, all-day breakfast, salads & bowls, handhelds, mains, wines, and sides. Order via app.
Pressed Juicery, 337 Park Avenue South, (646) 833-7150, Order, @pressedjuicery
Enjoy cold-pressed juices, cleanses, smoothies, and plant-based treats on the menu at Pressed.
seeyamañana, 49 West 27th Street, (212) 689-4000, @seeyamanana
Inspired by Baja, California, seeyamañana's menu focuses on highball agave cocktails using botanicals from Baja and plant-inspired Mexican dishes. Walk-ins only.
sweetgreen, 1164 Broadway, (646) 449-8884, Order, @sweetgreen
sweetgreen's menu is influenced by seasonal produce. Enjoy warm bowls, salads, sides, and desserts.
Taïm, 64 West 22nd Street, (212) 966-7364, Order, @eat_taim
Taïm offers tasty Mediterranean fare, with a menu featuring falafel, impossible kebabs, and eggplant sabich. Customize your pita or bowl, with your choice of base, main, toppings and sauces.
Header & Thumbnail Photo Credit: Planta Queen