New Neighbor: Virgin Hotels New York City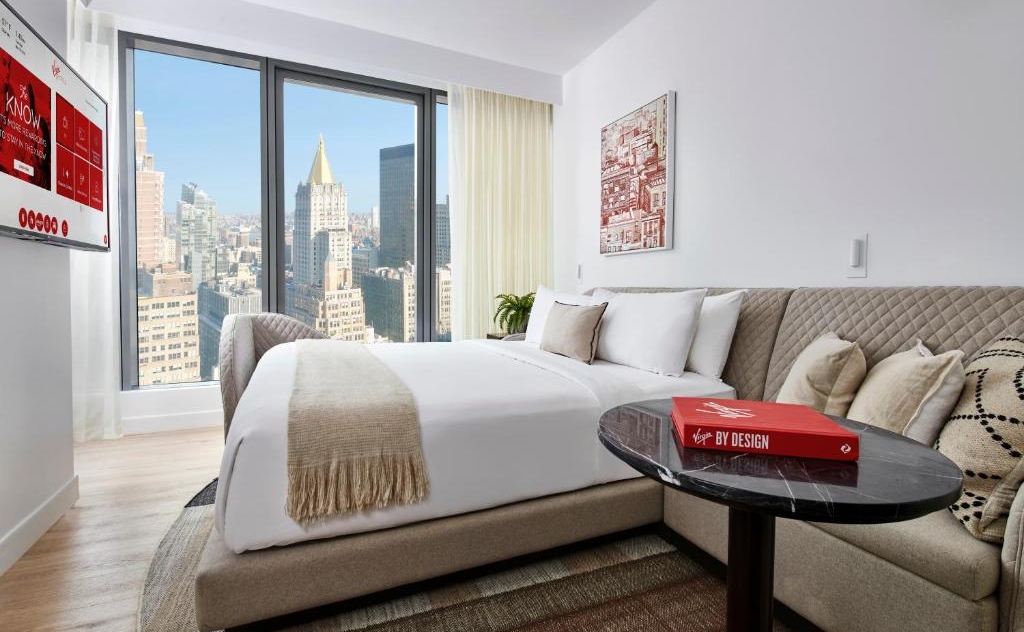 We're thrilled to welcome Virgin Hotels New York City to the neighborhood located at 1227 Broadway. This is the newest addition to the Virgin Hotels collection in the heart of the NoMad neighborhood, offering a playful yet sophisticated hospitality experience for travelers and locals alike. Developed by architecture firms MARKZEFF and Stantec, the new hotel features 460 chambers (guest rooms), suites, and penthouses across 39 floors as well as entertainment spaces including Everdene, an expansive indoor-outdoor dining and cocktail venue and an outdoor Pool Club exclusive to guests, opening mid-spring.
"Virgin Hotels New York City goes well beyond offering a comfortable place to sleep," says Candice A. Cancino, General Manager at Virgin Hotels New York City. "With stunning views, delicious food and beverage, convivial spaces to work or play, and exciting happenings from day-to-night, the hotel is poised to become a cultural epicenter for both local New Yorkers and guests from around the globe."
Pairing the contemporary dynamism of New York City with the signature Virgin aesthetic, the hotel has notable and subtle elements that reference the iconic location and brand. Upon entering the lobby, one's greeted by the "Where's Richard?" mural painted by Nigel Sussman which invites guests to play a Virgin-themed version of "Where's Waldo?" Heading further inside you'll find a classic red staircase connecting the third and fourth floors as well as additional red accents such as chamber doors. All accommodations feature floor-to-ceiling windows with cityscape views, curated amenities and range in size from 277 to 770 square feet. Through the Virgin Hotels' mobile app Lucy, guests can control room lighting, thermostat settings, browse TV programming, stream from your device, and order room service. Pet-friendly rooms are available.
Guests looking for a truly luxurious experience can book a stay in Sir Richard's Flat, a 2,800-square foot suite spanning the hotel's 35th and 36th floors. Set to open this May, the suite features two bedrooms, a walk-in bathroom with a rain-head shower and bench, a soaking tub, and a vanity, a kitchenette, 24-foot windows with panoramic views of the city, and a curated art collection.
In addition to comfortable and sleek accommodations, Virgin Hotels New York City has multiple culinary destinations on the third and fourth floors. Occupying the entire third floor, Everdene is a 4,000-square-foot indoor-outdoor dining and drinking oasis that offers sweeping views of the city, and menus featuring seasonal dishes, shareable plates, and specialty cocktails. Everdene's Bar offers guests an elevated menu and an inventive craft cocktail selection in a stylish environment. Everdene also features live music and programming, daybeds and stadium-style seating for mingling, and several viewpoints to admire the city. Additional venues include, The Sky Lounge, The Pool Club, The Library, The Conservatory, and a fine dining restaurant concept to open this spring.
Enjoy a wonderful stay at Virgin Hotels New York City whether you're visiting or are having a staycation!
Reserve your hotel room or suite and explore dining offerings.
Virgin Hotels New York City, 1227 Broadway, @virginhotelsnyc