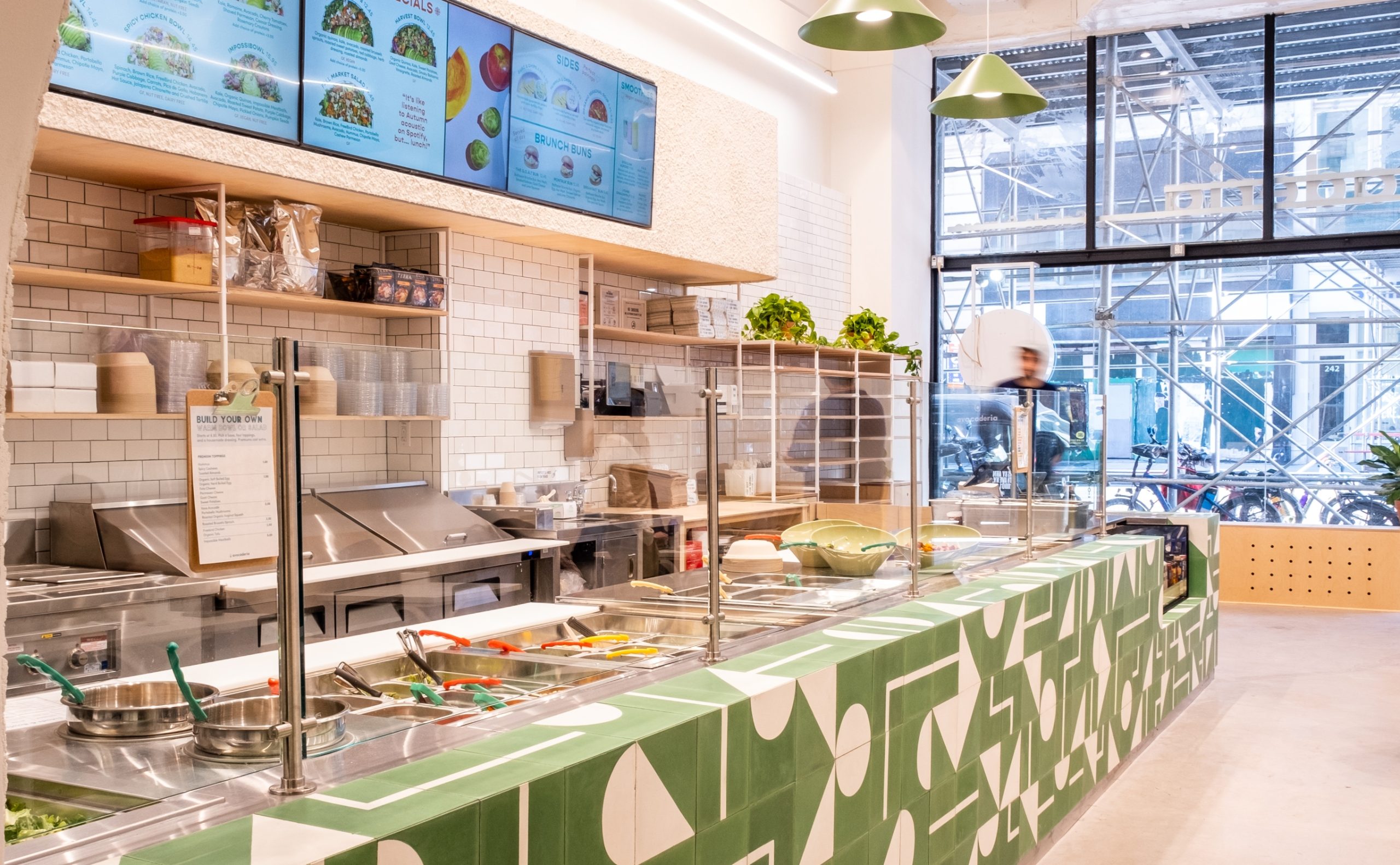 We're excited to welcome the flagship location of Avocaderia to 245 Fifth Avenue in NoMad. Founded by Alessandro Biggi and Francesco Brachetti, former Bocconi University classmates, the seasonally-inspired, fast-casual restaurant offers salads, grain bowls, smoothies, and toasts that put a wholesome spin on familiar favorites.
"This location to us is a love letter to New York," says Founder Alessandro Biggi. "It's amazing to be on Fifth avenue right between the Flatiron Building and the Empire State, and as an Italian expat it's a very special feeling. We look forward to welcoming everybody to our new home."
Since opening their first location in 2017 in Sunset Park, Brooklyn, Avocaderia has expanded with locations in Chelsea, Midtown East, and now NoMad. Upon entering the NoMad flagship, artwork by Italian designer Claudia Bessi is featured on the walls of the light-filled interior. Each piece pays tribute to New York, incorporating the city's architecture in playful and surprising ways.
Avocaderia's menu follows the Italian food philosophy focusing on healthy fats and global influences. Open for breakfast, lunch, and dinner, customers can choose from a variety of tasty options. To start your day, order the Montauk Bun with avo mash, organic fried egg, smoked salmon, and lime citronette on a Balthazar brioche bun. Or, try a smoothie such as the Spirulina Almond, with almond butter, banana, vegan protein powder, spinach, and almond milk.
For lunch, have the Amalfi Toast topped with avo mash, burrata, roasted tomatoes, salt, pepper, and olive oil drizzle on seeded Balthazar bread. Great for any time of day are the Signature Salads & Bowls, including seasonal specials such as the Harvest Bowl filled with quinoa, kale, roasted sweet potatoes, goat cheese, freebird chicken, avocado, smoky balsamic vinaigrette, and toasted almonds. For a vegan option, order the Impossibowl with quinoa, kale, impossible meatballs, avocado, roasted sweet potato, red cabbage, chipotle mayo, pickled onions, and pumpkin seeds. 
Pair your meal with Guac & Chips featuring in-house made guacamole, or Hummus & Chips. A Seasonal Soup is also on the menu, and is currently made with lentils and chickpeas in an herbed stock with organic fire-roasted vegetables.
Head to Avocaderia for your next healthy, filling, and on-the-go meal!
Avocaderia is open Monday through Friday from 8 am – 8 pm, and closed on weekends. Dine in-person or order online for pick-up & delivery.
Avocaderia, 245 Fifth Avenue, @avocaderia