Flatiron & NoMad Studios to Try in 2023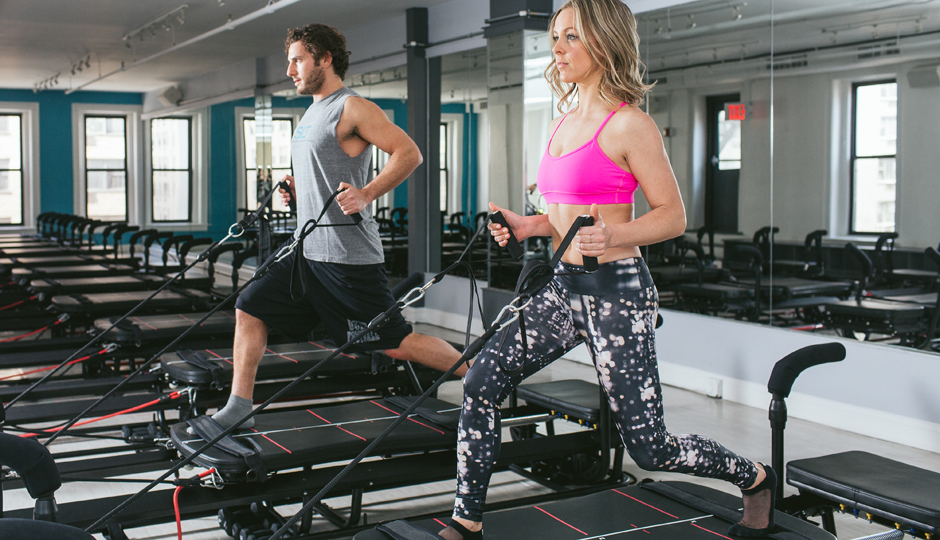 Kick off 2023 with a rejuvenated fitness routine and take advantage of new client deals from gyms and studios in Flatiron & NoMad.
Cardio, HIIT, & Strength Training
Barry's Bootcamp, 107 East 27th Street, (917) 675-7158, @barrys
Experience HIIT interval training at Barry's Bootcamp with a workout that's one part cardio and one part strength. Try out community-driven, virtual classes with Barry's X, and get a 30-day free trial.

Mile High Run Club, 24 West 25th Street, (347) 309-7083, @milehighrunclub
Maybe you're a marathon or beginner runner and want to try coached running. Head to Mile High Run Club, and try a run workout designed for every level. Enjoy an Intro Offer for 1 week of unlimited classes for $49. Begins on first date of use.
Rumble Boxing, 49 West 23rd Street, (415) 287-0425, @doyourrumble
First-timers at the boxing and cardio studio Rumble Training, can buy one class and get one class free. Expires 30 days after purchase date.
Stretch*d, 27 West 20th Street, (212) 548-5600, @stretchdspace
Build your flexibility and range of motion as well as relieve pain and soreness with 1-on-1 assisted stretching at Stretch*d. Choose from three stretch session options with Intro Special prices.
Tone House, 32 East 31st Street, (646) 453-6633, @tonehouse
Tone House is a strength and conditioning athletic training facility. Join Tone House with the New Athlete Special and purchase a Rookie Pass to get your first 2 classes for the price of 1 ($45).
Wolfpack Fitness, 48 West 22nd Street, (707) 510-0105, @wolfpackmove
Experience personal training at Wolfpack Fitness that's tailored to your fitness goals. Book your complimentary consultation to meet with a training consultant.
Barre, Dance & Pilates
AKT, 1182 Broadway, 2nd Floor, (315) 508-7819, @theaktnomad
New clients at AKT, a dance-based cardio fitness studio, can try a free intro class. Enjoy strength and toning with exciting cardio dance intervals.
DanceBody NoMad, 1158 Broadway, 4th Floor, (212) 500-1174, @dancebody
Join DanceBody Live to dance from anywhere at anytime. New users can get their first month of DanceBody Live for just $5 with promo code: DBNEW. Or, workout in-person and enjoy a special rate for your first in-studio class.
PMT House of Dance, 28 West 25th Street, 2nd Floor, (212) 924-5694, @pmthouseofdance
Immerse yourself in many styles of dance such at PMT House of Dance. Single classes and packages are flexible and affordable. Try a single class for just $19 or a 10 class card for $160, among additional options.
Power Pilates, 327 Park Avenue South, 2nd Floor, (212) 627-5878, @powerpilatesstudio
With the 123 Pilates Intro Offer, you'll receive 1 apparatus session, 2 tower or reformer classes, and 3 mat classes, for only $123. Try out another deal with New Client Private Pack (3 sessions) for $149.
SLT 137 Fifth Avenue, 2nd Floor, (212) 529-2323, @sltnyc
At SLT, strengthen, lengthen, and tone your body through a counter-resistance and controlled movement Pilates workout. Sign-up for a Buy One Get One free deal with the SLT Intro 2-Pack.
The 100s Pilates, 53 West 28th Street, (212) 689-5100, @the100spilates
The 100s Pilates offers a variety Pilates classes taught by the studio's founder and lead instructor. Try out a class with the new client offer for $38.
Fitness Clubs & Gyms
Equinox Park Avenue, 1 Park Avenue, (212) 779-1727, @equinox
This neighborhood Equinox Club location is offering a Trial Group Fitness Class. Claim your exclusive offer here.
New York Sports Club, 113 East 23rd Street, (212) 982-4400, @nysc
Head to New York Sports Club at their 23rd Street location and join for $1 plus the rest of the month free or sign up for a free trial.
Yoga
bodē nyc, 182 Fifth Avenue, (212) 206-9400, @bodenyc
Sign up for bodē nyc's One Week Welcome Package for only $39. Includes one towel and one hand mat per class. Expires 7 days after purchase.
Body & Brain Yoga Tai Chi, 830 Sixth Avenue, 3rd Floor, (212) 691-7799, @bodynbrainmanhattan
Body & Brain Yoga combines Yoga, Tai Chi, breathwork, and meditation exercises in classes. New client offers include an Intro Session for $20 in-studio or online, 1 Group Class + an Introductory Session for $30 in-studio or online, and an Unlimited Online Trial Month for $99.
CorePower Yoga, 29 West 30th Street, Suite B, (866) 441-9642, @corepoweryoga
Head to CorePower Yoga and get One Week Free of unlimited yoga classes. Also, sign-up for an All Access Membership with the first month for $89, which includes unlimited access to live and on-demand classes, priority in-studio booking, 15% off retail, and no commitment.
Dharma Yoga, 46 West 24th Street, (212) 889-8160, @dharmayoganyc
Dharma Yoga has new client specials perfect for first timers. New Student Zoom Specials include a buy one class, get one free for $15 and a monthly unlimited pass for $99. New Student In-Studio Specials include a 5 class pack for $45 and monthly unlimited classes for $135.
Souk Studio, 12 West 27th Street, 2nd Floor, (929) 459-8938, @souk.studio
Souk Studio, a contemporary yoga studio centered around community and connection offers a Drop-In Class for $30 and a Livestream Class for $20.
Y7 Studio, 25 West 23rd Street, (646) 820-0781, @y7studio
Check out Y7 Studio with a New Client Special (3 Classes) for $59 and enjoy all yoga flows.
Header & Thumbnail Photo Credit: SLT