Halloween 2022: Get Spooky in Flatiron & NoMad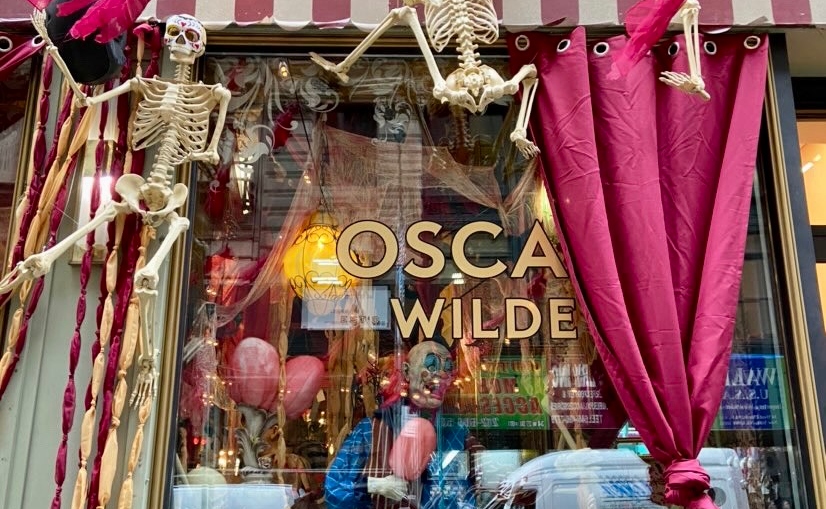 Halloween is right around the corner! Now's the time to get a killer costume, enjoy sweet treats, and celebrate at themed parties in the neighborhood.
Find a Costume
Abracadabra NYC, 19 West 21st Street, (212)-627-5194, @abracadabranyc
A local establishment for over 40 years, Abracadabra NYC has all the Halloween costumes, props, and accessories you'll need. Order ahead online and pick-up in-store.
Spirit Halloween, 655 Sixth Avenue, (855)-704-2669, @spirithalloween
Find your costume at the seasonal pop-up Spirit Halloween. Also, shop for themed accessories and décor.
Local Events & Activities
Tour of the Dead – Walking Tour, Flatiron Building, (212)-741-2323, @flatironny
On Sunday, October 30th at 11 am, join the Flatiron NoMad Partnership and historian, Miriam Berman, for a free Tour of the Dead – Walking Tour. The tour will feature spooky stories and scary events that happened in the neighborhood, and will begin at the tip of the Flatiron Building on 23rd Street (east of Fifth Avenue).
Día de Muertos, Flatiron North Plaza, (212)-741-2323, @flatironny
Join us for our first ever Día de Muertos celebration on Wednesday, November 2nd from 12 – 4 pm in the Flatiron North Plaza. This free event will feature elements integral to this historical Mexican tradition including baile folklórico and family activities.
Bounce Sporting Club, 55 West 21st Street, (212)-675-8007, @bouncesportingclub
Get in the spirit at Bounce's Circus Halloween Party featuring DJs Nicky Rizz and Rick Wonder on Friday the 28th, DJ Petie on Saturday the 29th, and special guest DJs on Sunday the 30th. Doors open at 10 pm and close at 4 am. Email reservations@branditgrp.com to make a reservation.
Eataly, 200 Fifth Avenue, (212)-229-2560, @eatalyflatiron
Check out Eataly Flatiron's wonderful pumpkin display and choose a pumpkin or two perfect for carving jack-o-lanterns.
Hole in the Wall, 37 West 24th Street, (646)-726-4277, @holeinthewall
Enjoy themed cocktails at Australian restaurant Hole in the Wall, including Witches Brew, Spooktini, and Black Magic Margarita. Available now through Monday the 31st.
The James New York – NoMad, 22 East 29th Street, (212)-532-4100, @jameshotels
Get spooky at The James with Witchy Wisdoms and Halloween Makeup! Meet the witch-in-residence Shawn Engel for a tarot reading and makeup by a costume cosmetician on Thursday, October 27th from 5 – 7 pm.
John Doe Craft Bar & Kitchen, 253 Fifth Avenue, (646)-882-4007, @johndoenyc
Head to John Doe for Fright Night on Saturday the 29th. Festivities include a live DJ, drink & food specials, costume contest with 1st, 2nd, and 3rd place cash prizes.
Luminary, 1204 Broadway, 4th Floor, (646)-876-8680, @weareluminary
Ditch the candy, bring a friend, and connect in style at Luminary's Halloween Happy Hour on Monday, October 31st from 5 – 7 pm. Costumes recommended.
Ms. Kim's Lounge & Karaoke, 6 West 28th Street, 2nd Floor, (646)-870-0128, @ms.kims.nyc
Join Ms. Kim's for Halloween fun, including a costume contest on Friday the 28th and a karaoke contest on Saturday the 29th for a chance to win prizes! $20 entry.
Oscar Wilde NYC, 45 West 27th Street, (212)-213-3066, @oscarwildenyc
Enter if you dare! Oscar Wilde NYC is having a Creepy Circus Party on Saturday the 29th. Dress to impress for a chance to win best costume prizes. Reservations here.
Pen + Brush, 29 East 22nd Street, (212)-475-3669, @penandbrushnyc
Pen + Brush is hosting a Halloween Literary Bash on Saturday the 29th from 7 – 10 pm. Dress up as your favorite literary character and enjoy food & cocktails as well as book and merch giveaways. Tickets are $20.
People's Improv Theater, 154 West 29th Street, (212)-563-7488, @thepitnyc
Get ready to laugh at PIT's Schemes and Screams Halloween Party on Saturday the 29th at 9 pm. General admission tickets are $12.99.
Poster House, 119 West 23rd Street, (917)-722-2439, @posterhousenyc
Join Poster House for PH Teens x Drop-In: Horror House on Thursday, October 27th from 4 – 6 pm. This drop-in program for teens ages 13 to 18 will have you draw from classic horror movie posters to create your own Halloween-themed lanterns. RSVP for free.
Slate NYC, 54 West 21st Street, (212)-989-0096, @slateny
Experience Halloween at Slate NYC's Nightmare on 21st Street Party on Friday the 28th, The Forbidden Palace Party on Saturday the 29th, and Thriller Halloween Bash on Monday the 31st.
Treats
Bear Donut, 40 West 31st Street, (646)-476-5199, @beardonutinc
Treat yourself with spooky donuts including Witch's Brew: Dark Chocolate, Witch's Heart: Lavender, Ghoulish Green: Mint Chocolate, and Gravedigger: Dark Chocolate & Nutella Cream. Available through October 30th.
Krispy Kreme, 36 East 23rd Street, (315)-203-7058, @krispykreme
Now through Halloween enjoy Krispy Skreme. From the specialty menu try the Spooky Spider, Boo Batter, Scaredy Cat, and Neon Orange Sprinkle Doughnuts.
Header & Thumbnail Photo Credit: Oscar Wilde NYC