Dancer by Tomokazu Matsuyama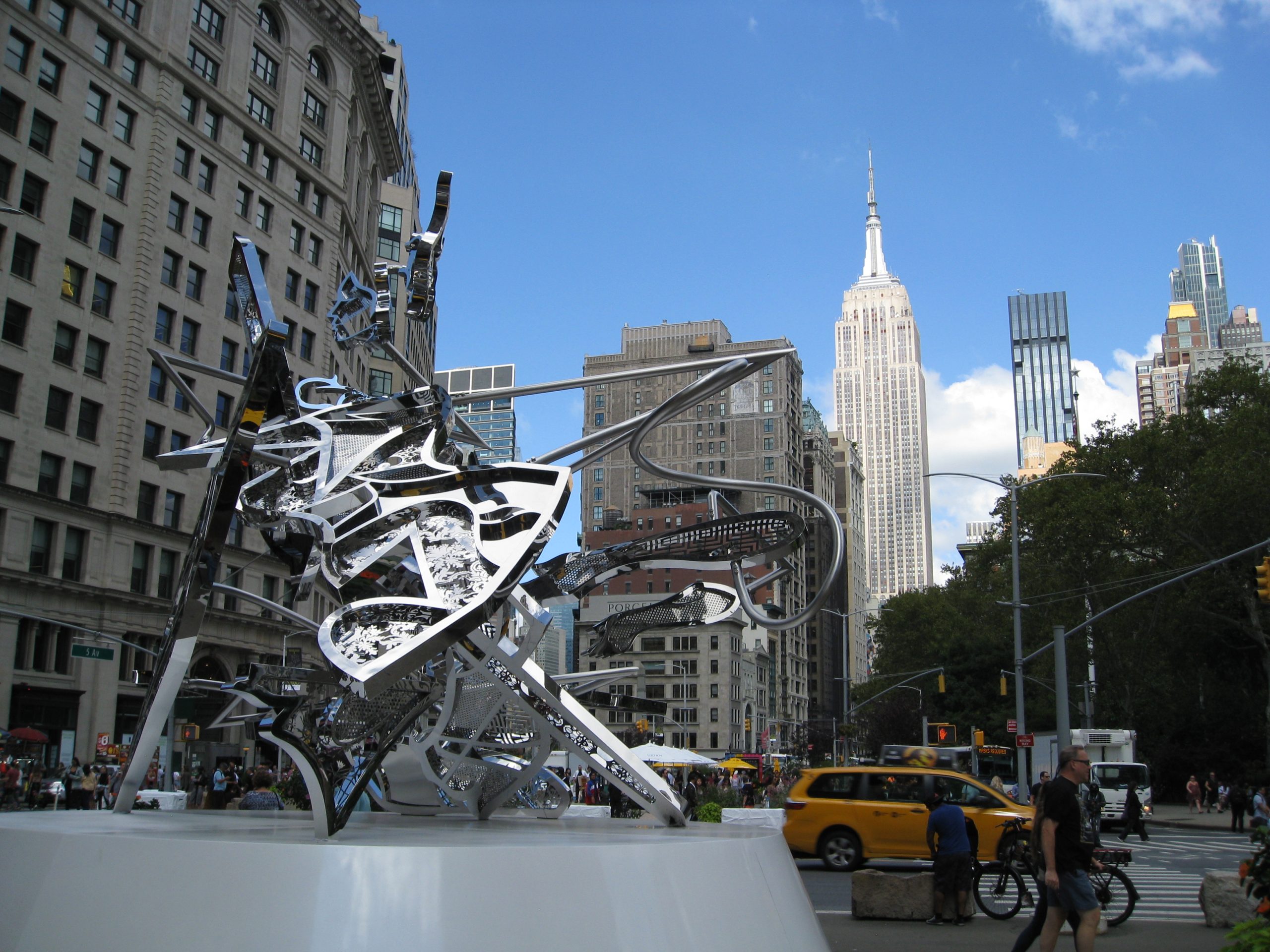 The Partnership is pleased to host Dancer, an entwined stainless steel sculpture piece by Tomokazu Matsuyama, on the Flatiron South Plaza near Broadway and 23rd Street. Dancer, on view through early November, creates an eye-catching landmark in the center of the district. This public art installation is in collaboration with The Armory Show and NYC Department Of Transportation Arts and Culture. 
Presented by Chicago-based art gallery Kavi Gupta, Matsuyama's Dancer is comprised of mirrored-steel limbs that activate the surface of the sculpture, reflecting various colors and shapes. As viewers interact and move around the artwork, they will be able to witness shimmering patterns shift and take form. In the midst of this reflective maze is a human-like figure full of movement, meshing perfectly with the bustling Flatiron South Plaza. 
New York-based artist Matsuyama aimed to actualize his vision of cultural exchange through Dancer. Born in Japan, Matsuyama's Dancer expresses the "global us, a multitudinous reality reflective of today's nomadic diaspora". He centers a dynamic, global approach to his practice and to this sculptural work as well. Kavi Gupta Gallery says Matsuyama "hopes we will all recognize ourselves in his uncanny visual language, if not from our memories then from our aspirations or dreams". Such visual language and cultural exchange can be felt through the piece's reflective surface, mirroring the viewers and the surrounding built environment.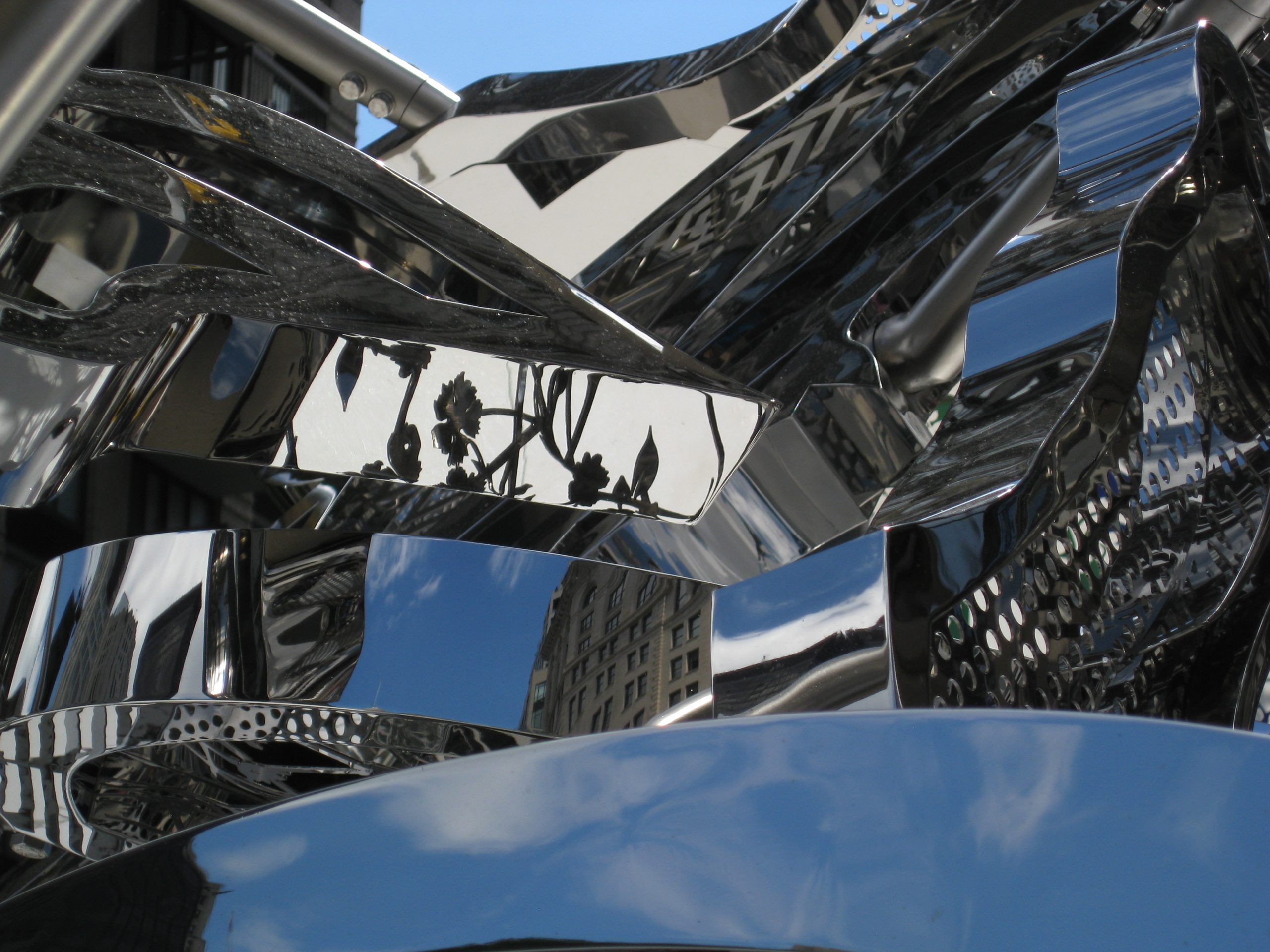 Dancer is part of The Armory Show's second edition of the Armory Off-Site outdoor art fair program which brings large-scale artworks to New York City's parks and public spaces.  
"We are honored to work with our esteemed exhibitors and their extraordinary artists to provide dynamic public art installations in five distinct locations in New York City," said Nicole Berry, Executive Director of The Armory Show. "Each installation selected for our second annual Armory Off-Site program offers a unique perspective, introducing the public to works that inspire and engage. We are also grateful for our partnership with the New York City organizations who offer their spaces as they share the fair's commitment to introducing a broader audience to contemporary art." 
"Public art brings people together and enlivens our shared spaces. We are proud to partner with The Armory Show and DOT Art once again to continue our long-running tradition of presenting thought-provoking artwork on the Flatiron Public Plazas. It's an honor to host the New York City debut of Tomokazu Matsuyama's eye-catching Dancer, an installation that will inspire those who live in, work in, and visit Flatiron and NoMad," said James Mettham, President of the Flatiron NoMad Partnership.
Dancer will be open to the public daily, weather permitting. The Partnership is encouraging visitors to use #DancerFlatiron on Twitter and Instagram to share images of the installation.