Flatiron Foodie: Mark's Off Madison's Panzanella Salad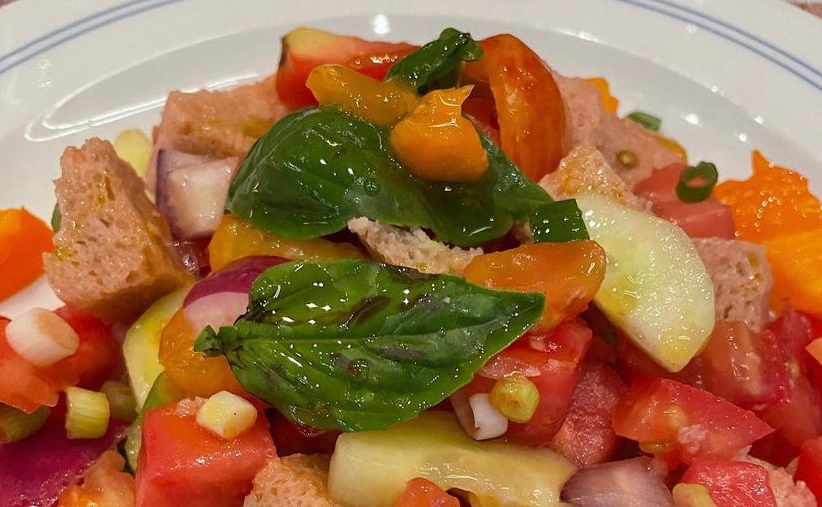 We're enjoying warm weather this month and Mark's Off Madison, the upscale restaurant and bagel bakery offering Italian fare and classic favorites, shares their Panzanella Salad recipe.
Acclaimed Chef Mark Strausman walks us through how to make this dish that captures the essence of the season. "This refreshing salad is one of my favorite ways to use the beautiful tomatoes of late summer. It's also a good way to make sure we use up any extra bread from our bakery—our sourdough, day-old, is perfect in this salad. If you don't have sourdough, any good artisanal white or wheat bread will do."
Opened in late 2020, Mark's Off Madison was founded by Chef Mark Strausman, a classically European-trained chef, formerly of Fred's at Barneys New York and Campagna. Mark's Off Madison brings together Chef Strausman's experience of over 30 years in the restaurant industry to create delicious and iconic food.
Mark's Off Madison, located at 41 Madison Avenue, is open for lunch Tuesday through Friday (11:30 am to 2:45 pm), dinner Tuesday through Saturday (5 pm to 10 pm), and brunch Saturday and Sunday (10:30 am to 3:45 pm).
Panzanella Salad Recipe
Serves 6-10
Ingredients:
1/2 loaf of 1-or 2-day-old Tuscan or other dense, crusty peasant bread
1/4 cup of red wine vinegar
8 large, ripe tomatoes, cut into 1/2-inch and diced
1 large cucumber, peeled, halved lengthwise, seeded, and sliced 1/4-inch thick
1 small red onion, peeled, halved, and thinly sliced
6 scallions, thinly sliced
1 cup of fresh basil leaves
1/3 to 1/2 cup of extra-virgin olive oil
Salt and freshly ground black pepper
Directions:
1. Cut the crusts off the bread and discard. Cut the bread into 1/2-inch cubes. Spread out on a tray and set aside for 1 to 3 hours to dry out.
2. Transfer the bread cubes to a large mixing bowl and sprinkle with 2 tablespoons of vinegar. Toss well. The bread should be wet, but not dripping or soaked; add more vinegar slowly until the bread is just wet.
3. Add the tomatoes, cucumbers, onion, and scallions to the bowl and mix gently.
4. With your hands, tear the basil leaves into small pieces and add to the bowl. Drizzle with the olive oil, sprinkle with salt and pepper to taste, and mix again.
5. Serve immediately or refrigerate up to 4 hours before serving.
6. Before serving, taste for salt and pepper. Serve slightly chilled.
Enjoy!
Chef Mark Strausman pictured below:
Header & Thumbnail Photo Credit: @stevenshall