New Neighbor: Pure Grit BBQ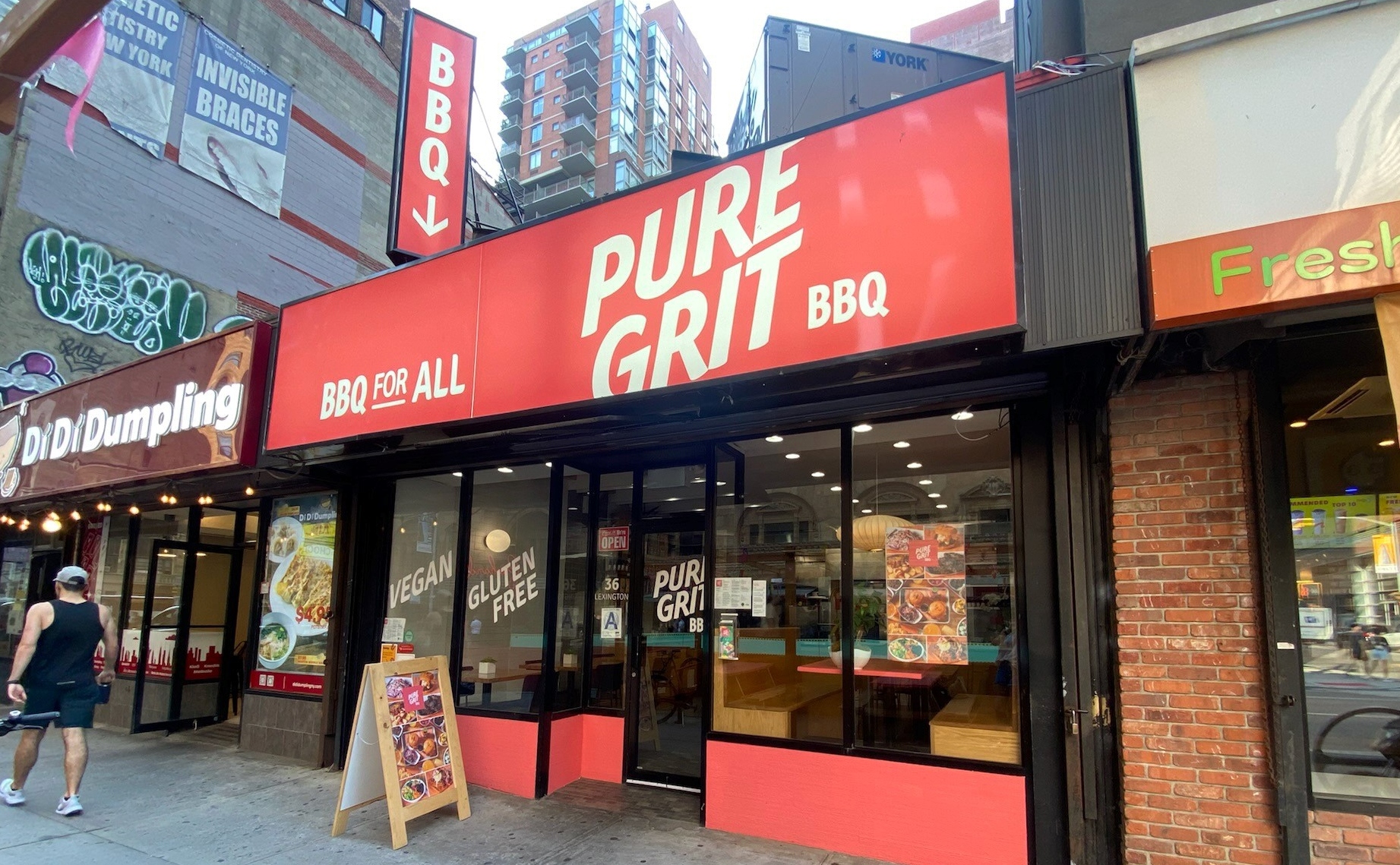 We're excited to welcome Pure Grit BBQ, the vegan and gluten-free fast casual barbecue joint to the neighborhood at 36 Lexington Avenue. Founded by Kerry Fitzmaurice, Pure Grit BBQ serves up classic barbecue with a twist that prioritizes dietary preferences to offer delicious barbecue to everyone.
"This historic Flatiron district is at the crossroads of NYC," says Chef Emily Hersh. "We are a short walking distance from Union Square with access to almost all major subway lines. We wanted to introduce our BBQ to as many New Yorkers as possible and being in the center of it all was important. We have a view of Gramercy Park and the Chrysler building. The only thing better than our view is enjoying BBQ in Madison Square Park."
Pure Grit BBQ's menu features a variety of plant-based, gluten-free dishes, including, Small Bites, Smoked Main Plates, Sandwiches, Salads, Sides, and Desserts. To start, order a customer favorite such as the Mac + Cheese served with Shiitake Bacon and Almond Parmesan. Next, try a Smoked Main Plate and choose your meat: Impossible Cut, Pulled Jackfruit, Mushroom, or Tofu. Smoked in-house featuring Pure Grit BBQ's signature sauces and rubs, each plate includes Cornbread Waffles as well as your choice of traditional sides like Coleslaw, Baked Beans, Potato Salad, Charred Broccoli Salad, Fried Sweet Potato Bites, and French Fries.
If you're in the mood for a sandwich or salad, Pure Grit BBQ's got you covered with flavorful options from the Fried Daring Chicken Sandwich to the PG Signature Salad served with green goddess dressing. Save room for dessert and try the Kitchen Sink Cookie filled with barbecue potato chips, chocolate chips, and pretzels – the perfect combination of sweet and salty. Pure Grit BBQ also recently launched a limited weekend brunch menu featuring a classic BEC Sandwich and Sweet Waffles.
If you're in love with the flavor of Pure Grit BBQ, you can purchase their famed BBQ sauces and rubs as well as branded merchandise. Additionally, catering is available for your next event.
Head to Pure Grit BBQ for your next lunch, dinner, or weekend brunch!
Pure Grit BBQ is open Sunday through Tuesday from 11 am – 8 pm, and Wednesday through Saturday from 11 am – 9 pm. Order in-person or online for delivery and pickup.
Pure Grit BBQ, 36 Lexington Avenue, @puregritbbq.