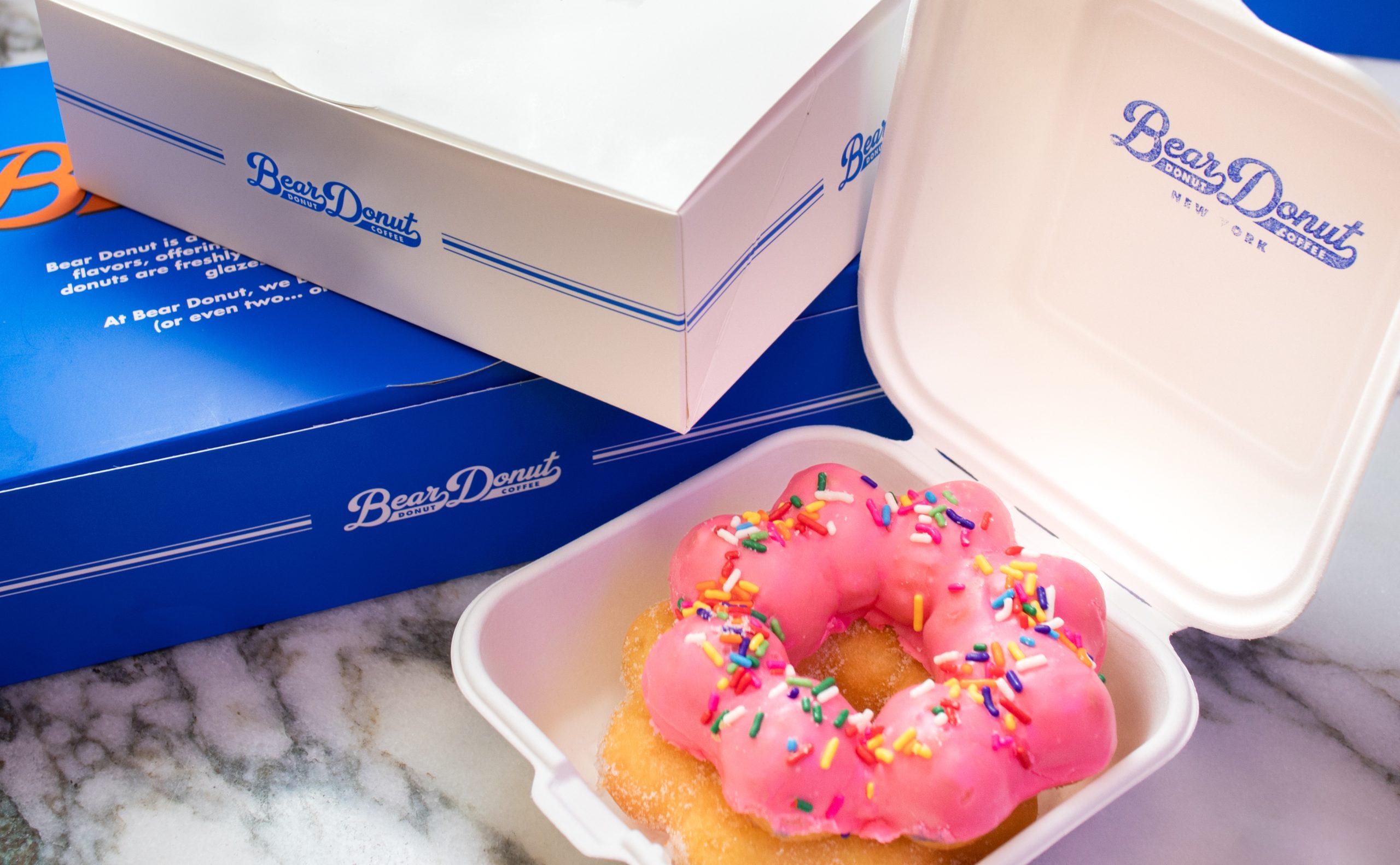 We're excited to welcome Bear Donut to the neighborhood located at 40 West 31st Street. Led by Suhum Jang, Owner of Hortus NYC, the Michelin-recognized modern Asian restaurant and Honey Kim, Founder of ARTIPS, a beauty brand featured in stores such as Anthropologie and Free People, Bear Donut is a reimagined retro American donut shop with South Korean flair.
"The Flatiron & NoMad area is an iconic neighborhood filled with famous restaurants and dessert places that people travel all around the world to visit," says Founder, Honey Kim. "Bear Donut is thrilled to join this neighborhood which makes us really feel like we are part of NYC."
Baked in-house twice daily, Bear Donut offers specialty and inventive twists on classic donuts. The menu features bubble-ring shaped Bear Donuts and round Glazed Donuts, both made with sweet rice flour, light and airy brioche Cream Puff Donuts, and Limited Edition donuts. The delicious treats come in a variety of flavors and toppings that you can pair with house-made Soft Serve Ice Cream, Draft Milk, or Coffee from La Colombe. Order a single donut, or a donut box of 4, 6, or 12 to enjoy an assortment of options. Highlights of Bear Donut and Glazed Donut flavors include: Lavender, Pink Chocolate, Coffee Toffee, and Grapefruit Poppy Seed. Cream Puff Donut varieties feature Dirty Choco, Matcha Custard, Double Milk Tea, and Strawberry.
Make your order a combo and pair a donut with Soft Serve Ice Cream offered in Milk or Thai Iced Tea flavors. Or, try a caffeinated beverage to compliment your donut of choice from hot Fresh Brew Coffee to a Draft Latte. Additionally, Bear Donut offers specialty drinks such as Bear Draft Milk and Bear Draft Oat Milk in a range of flavors, including Chocolate, Matcha, Strawberry, Black Sesame, Banana, Cheddar, and Lavender.
Stop by Bear Donut in NoMad and treat yourself!
Bear Donut is open Tuesday through Sunday from 10 am to 6 pm. Order in-person or through delivery.
Bear Donut, 40 West 31st Street, @beardonutinc.