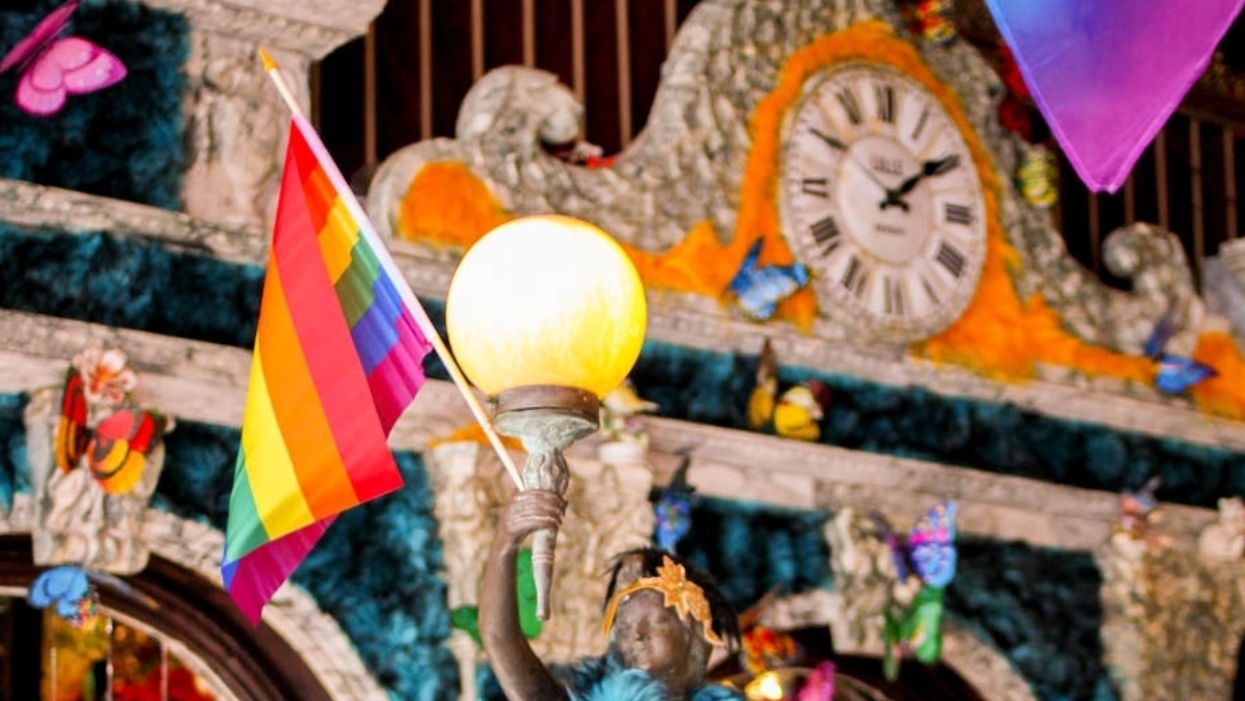 Happy Pride! June is Pride Month, a celebration of the civil rights of the LGBTQ+ community and commemoration of the 1969 Stonewall Uprising. On Sunday, June 26th the NYC Pride March will kick off at 12 pm at 26th Street and Fifth Avenue.
Several neighborhood businesses are offering promotions in support and celebration of Pride. We've rounded up celebratory treats, drinks, retail offerings, and experiences.
Celebratory Treats & Drinks
Anita Gelato, 1141 Broadway
Anita Gelato is offering a limited edition and special flavor in honor of Pride Month. Stop by this new neighborhood favorite, and try the limited flavor, Peach & Love in a cone or cup.
Baked by Melissa, 111 East 23rd Street, (212)-842-0220
Pick up a Pride Cupcake Pack featuring six handcrafted, colorful, bite-size flavors. 10% of net proceeds from the sales of Pride desserts will be donated to The Lesbian, Gay, Bisexual & Transgender Community Center in NYC.
Dos Caminos, 373 Park Avenue South, (212) 294-1000
For the entire month, enjoy Pride rainbow tacos and the Popping for Pride cocktail. A portion of proceeds will benefit the Ali Forney Center.
Hole In The Wall, 37 West 24th Street, (646)-726-4277
Hole In The Wall at Hotel Henri is hosting a Pride Party with live music on their outdoor deck all weekend long on Saturday, June 25 and Sunday, June 26 with frozen drinks and specialty $10 cocktails. Taste the rainbow with tropical drinks like Pineapple Pride (pineapple, jalapeño, lime, cilantro, mezcal), Ginger Spice (watermelon, ginger, lemon, basil, tequila) and the Queen Bee (yuzu, honey, hibiscus infused gin).
The New York EDITION | The Lobby Bar, 5 Madison Ave, (212) 413-4200
For the full month of June, Pride Cocktail will be served in the Lobby Bar, accompanied by a custom coaster. A portion of proceeds will be donated to NYC's LGBTQ+ Community Center.
In addition, Pride Sundae will be offered in Lobby Bar and Room Service Wednesday 6/22 – Sunday 6/26.
Shake Shack, 23rd Street and Madison Avenue, (212) 889-6600
Shake Shack is offering new Pride shakes, including the Sprinkle Cookie Shake, Chocolate Churro Cake, and Oreo Funnel Cake Shake, all benefiting The Trevor Project.

Retail
Abracadabra, 19 West 21st Street, (212) 627-5194
For all your Pride looks, stop by the famous costume and magic shop for makeup, wigs, accessories, and apparel.
Bath & Body Works, 304 Park Ave South, (212) 260-9293
Shop Bath & Body Works' Pride Collection: Love Always Wins featuring the Rainbow Waves fragrance in body cream, shower gel, hand soap, shimmer gel body lotion, and candles.
Maison 10, 4 West 29th Street, (646)-590-1291
The concept boutique highlights 10 hand-selected products from talented designers across 10 categories from beauty to art for 10 weeks. Additionally, every 10 weeks a new art exhibition is launched featuring 10 new artists. The latest curation is QUEER + SETY and the current exhibition is a mixed showcase of 10 LGBTQIA+ artists from around the world.
The New York EDITION, 5 Madison Ave, (212) 413-4200
Learn how the EDITION Brand and their sister properties are activating around the globe to celebrate Pride.
A "Pride Guide" has been curated by Andrew Tess: a freelance producer and photographer who shoots on Polaroids and whose work has been featured in Vanity Fair and Vogue. The guide to NYC is available now on Instagram (@editionnewyork). 

Rizzoli Bookstore, 1133 Broadway, (212) 759-2424
Check out Rizzoli's curated Pride window featuring LGBTQIA+ authors for your next read.
Experiences
Fotografiska, 281 Park Ave South, (212) 433-3686
Head to Fotografiska's interactive Pride Party from 12 – 4 pm on Sunday, June 26. Enjoy live DJs, a book-signing, and cocktails by Mood Ring. Tickets here. Also, check out the current exhibition Puberty by Laurence Philomene.
John Doe Craft Bar & Kitchen, 253 5th Ave, (646) 882-4007
Celebrate Gay Pride 2022 with John Doe NYC on Sunday, June 26. Drag shows will take place all day. The event will be hosted by Miss Eve VanCarter, Elise Navy-Dad, Purssophonie, & Cherry Poppins. Call and make reservations at (646) 882-4007.
Museum of Sex, 233 Fifth Avenue, (212) 689-6337
Discover the evolution of sexuality at this museum and check out their lobby gift shop featuring a dedicated Pride station. Tickets here.
Oscar Wilde NYC, 45 West 27th Street, (212)-213-3066
Every Saturday & Sunday of Pride Month, celebrate with a Drag Brunch at Oscar Wilde NYC. Enjoy amazing performances, a prix-fixe menu, and Pride-themed cocktails. Tickets are $75 per person. The first show begins at 12 pm followed by a second show at 2:30 pm. There will be an additional performance at 6 pm on Sunday, June 26th.
Poster House, 119 West 23rd Street, (917)-722-2439
Poster House is hosting a free, virtual event, Queer History is Poster History on Monday, June 20th from 6-7 pm. Poster House is partnering with Silas Munro and Brian Johnson of Polymode to explore the intersection of poster history and queer history to highlight moments where queer culture has pushed the canon forward. Register here.
SPIN New York 23, 48 East 23rd Street, (212) 982-8802
Play Ping-Pong with Pride at SPIN New York 23. For the entire month, you can book a weekend package party for 4 to 20 guests. Package includes, a commemorative Play with Pride paddle, dedicated ping-pong tables with seating, catered bites, cocktails, craft beers, and wines. Book here.
If you'd like to share a promotion, event, or be added to the list, please email mbenedek [at] flatironnomad.nyc.
Header & Thumbnail Photo Credit: Oscar Wilde NYC.