New Neighbor: Whole Foods Market NoMad
We're thrilled to welcome Whole Foods Market NoMad to the neighborhood located at 63 Madison Avenue. On June 1 the store had its grand opening welcoming visitors and residents. The new location features more than 54,000 square feet and offers more than 1,000 local products from New York City and the surrounding area.
"Whole Foods Market is happy to be part of the Flatiron NoMad community, and offer over 420 jobs to Team Members primarily from New York City," says Joel Sanchez, Store Team Leader.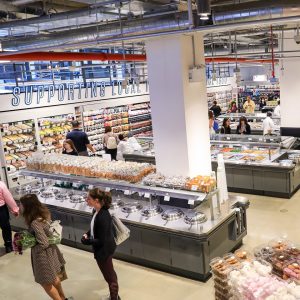 Photo Credit: Whole Foods
Whole Foods Market NoMad carries several new local suppliers and products, from favorites like frozen assorted Black Seed Bagels, to whole bean Vietnamese coffee from Nguyen Coffee Supply. "In addition, Whole Foods Market contributes to community-based non-profit organizations that align with our missions and values," says Lucia Albero, Senior In-Store & Local Marketing Specialist.
The NoMad store also features on-site dining options great for on-the-go or sit-down meals and coffee breaks. Check out Za'taar, a Mediterranean quick-service eatery offering salads, grain bowls, and pitas using locally sourced falafel from Yosi Kosher Kitchen and fresh pitas from Angel Bakeries. Upstairs, you'll find NoMad 63 by Whole Foods Market, a bar featuring beer, wine, and bites such as house-made fish n' chips and vegan cauliflower nachos, perfect for an after work happy hour. Stop by Café Grumpy, a full-service coffee bar with specialty coffee drinks and cold brew on tap.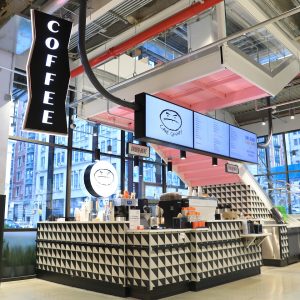 Photo Credit: Whole Foods
At Whole Foods Market NoMad, explore an extensive selection of ingredients and products that meet the company's strict Quality Standards. Shop local and organic Sourced for Good produce including, salads, micro-greens, and herbs. The cheese counter is led by trained cheesemongers to help make recommendations and create custom charcuterie boards. Enjoy full-service seafood and meat departments with local options. Find made-from-scratch bread at the bakery, classic desserts, vegan treats, and specialty diet items. The first floor offers a prepared foods hall with hot and cold food bars, a full-service pizza station, and sushi. Choose from more than 180 craft beers, including local IPAs from Talea Beer Co. and Barrier Brewing.
Also check out Whole Food's wellness and beauty section that offers vitamins, toiletry essentials, makeup, and more than 100 local products, such as hand-poured candles from Scrumptious Wick and artisan soaps from Center Street Soap Company.
Head to Whole Foods Market NoMad for your next grocery-store run, morning cup of coffee, or lunch break.
Whole Foods Market NoMad is open daily from 7 am to 10 pm.
Whole Foods Market NoMad, 63 Madison Avenue, @wholefoods.
All Photography Credit: Whole Foods Market.