The Way to Your Dad's Heart: Father's Day Reservations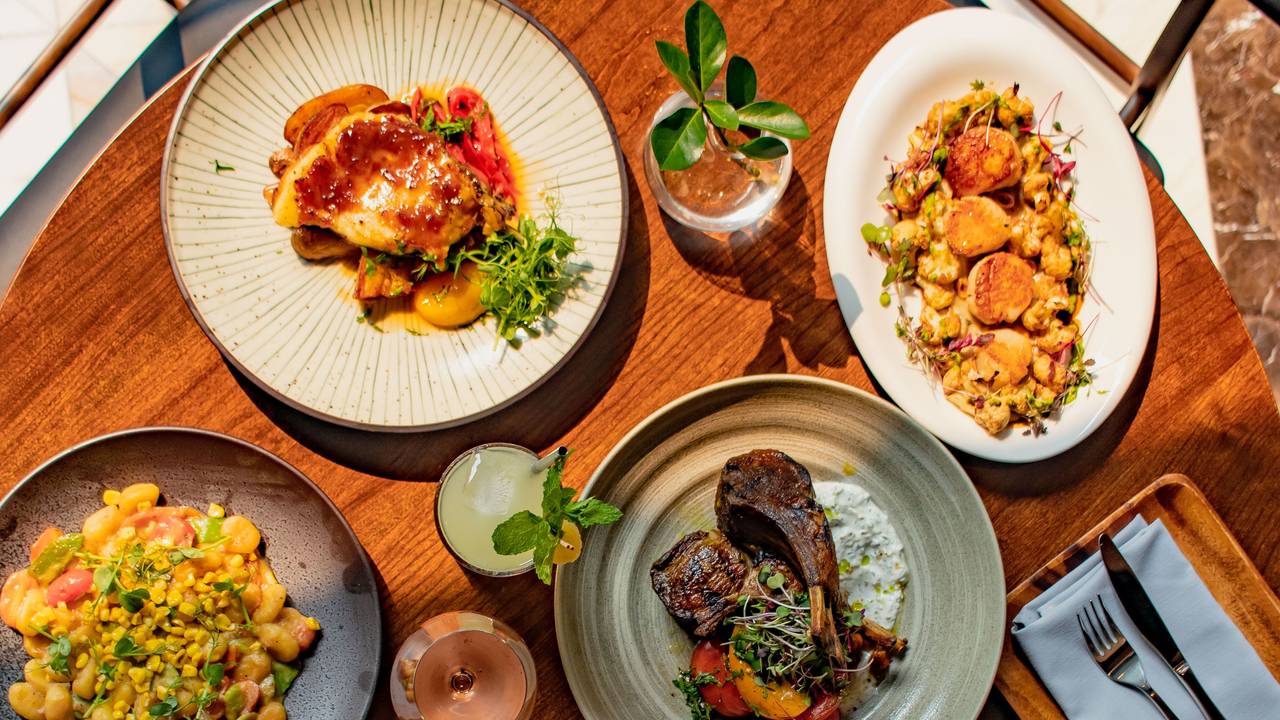 Dads, dads-to-be, grandfathers, and father figures, it's time to celebrate! Father's Day is quickly approaching which means now's the time to find the perfect restaurant to enjoy Dad's special day. With so many options to choose from, we've created a roundup of selected eateries from casual to fine dining to help you decide.
Barbounia, 250 Park Avenue South, (212)-995-0242, Reservations
At Barbounia, celebrate Dad with delicious Mediterranean dishes, including mezze, appetizers & salads, and entrees. Pair with a glass of wine or a craft cocktail.
BLACKBARN Restaurant, 19 East 26th Street, (212)-265-5959, Reservations
Treat Dad at the upscale farm-to-table restaurant BLACKBARN to a wonderful meal with starters, mains, and cocktails in an open, rustic interior.
COTE Korean Steakhouse, 16 West 22nd Street, (212)-401-7986, Reservations
Enjoy a Father's Day dinner at COTE with a Butcher's Feast featuring selected meats with accompaniments as well as shareable appetizers, an extensive wine list, and cocktails.
Harding's, 32 East 21st Street, (212)-600-2105, Reservations
Harding's invites you to celebrate Dad with classic American fare, cocktails, wines by the glass, and draught beers.
Hill Country Barbecue Market, 30 West 26th Street, (212)-255-4544, Reservations
Enjoy authentic Texas barbecue with Dad right here in the neighborhood at Hill Country Barbecue Market. Menu highlights include Barbecue Platters, Pitmaster Specials, Fried Chicken Sandwiches, draft beers, and cocktails.
Il Fiorista, 17 West 26th Street, (646)-490-8240, Reservations
Have a floral-inspired meal with Dad at Il Fiorista with a menu featuring floral elements in starters, pasta, mains, and cocktails.
ilili, 236 Fifth Avenue, (212)-683-2929, Reservations
Celebrate Dad at Lebanese-Mediterranean restaurant ilili with a flavorful meal including mezza, main plates, and a full beverage program.
L'Adresse NoMad, 1184 Broadway, (212) 221-2510, Reservations
Offering classics and innovative seasonal dishes, dine with Dad at L'Adresse and enjoy a dynamic menu of seafood, mouthwatering burgers, and signature cocktails.
Mark's Off Madison, 41 Madison Avenue, (646)-838-8300, Reservations
Join Mark's Off Madison for Father's Day with a ranging menu from fresh out-of-the-oven bagels to daily house-made pasta and shareable mains.
Olde City Cheesesteaks & Brew, 66 Madison Avenue
You and Dad can feel like you're in Philly while savoring authentic Philly cheesesteaks at Olde City. The menu also features shareable starters, salads, and beer on tap from Pennsylvania and New York.
Oscar Wilde NYC, 45 West 27th Street, (212)-213-3066, Reservations
Enjoy Father's Day at the Victorian-style bistro Oscar Wilde NYC with signature dishes and themed cocktails perfect to drink at the marble-top bar.
Scampi, 30 West 18th Street, (212) 888-2171, Reservations 
Treat Dad to a Southern-Italian inspired meal at Scampi featuring a menu of pastas, raw and grilled seafood dishes, as well as drink offerings of cocktails, wines, beers & cider.
Scarpetta, 88 Madison Avenue, (212) 691-0555, Reservations
At the upscale Italian eatery Scarpetta, enjoy a menu of homemade pastas, fresh fish, steak, craft cocktails, and wines.
The Smith, 1150 Broadway, (212)-685-4500, Reservations
Head to The Smith for Father's Day and enjoy a menu of classic eats from shareable starters to a variety of main plates and an extensive cocktail selection.

Yakiniku Futago, 37 West 17th Street, (212)-620-0225, Reservations
Serving Japanese barbecue, celebrate Dad at Yakiniku Futago with a menu including appetizers, signature & traditional meats, and rice & noodles.
Zucker's Bagels & Smoked Fish, 40 East 23rd Street, (212)-228-5100, Order
Order a Father's Day Bagel Brunch Package that serves six and includes bagels, lox, plain cream cheese, black & white cookies, and a Zucker's mug.
Flatiron & NoMad restaurants: Are you offering a Father's Day dining special and would like to be added? Contact us by email: mbenedek [at] flatironnomad.nyc
Header & Thumbnail Photo Credit: L'Adresse NoMad via OpenTable