Find a New Lunch Spot in the Neighborhood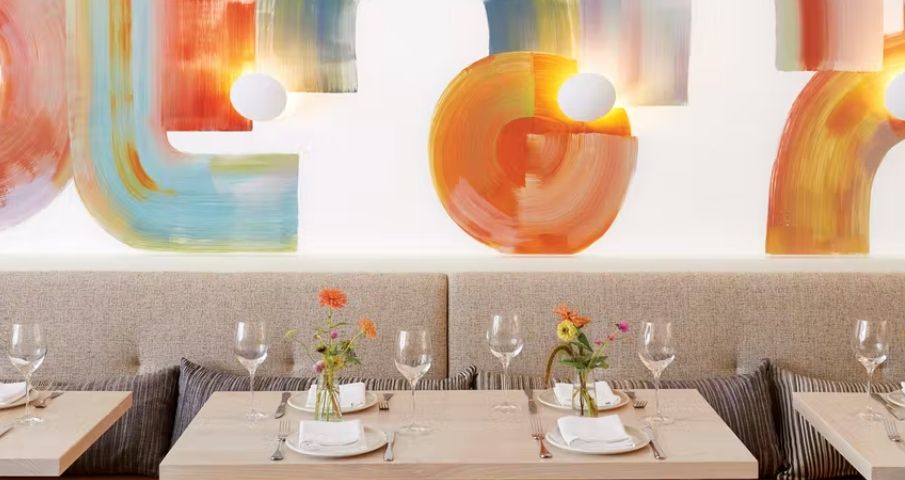 Whether looking for fine dining for a business lunch or a casual sit-down meal, Flatiron & NoMad restaurants offer several options. Here's a roundup of existing and returning lunch spots in the neighborhood you don't want to miss!
Barbounia, 250 Park Avenue South, (212) 995-0242
At Barbounia, have a Mediterranean lunch with mezze, appetizers & salads, and mains. Pair your lunch with a cocktail or wine.
BLACKBARN, 19 East 26th Street, (212) 265-5959
BLACKBARN features a farm-to-table menu that can cater to a variety of settings and is open for lunch Monday through Friday from 11:30 am – 3 pm. Enjoy a range of lunch dishes such as fresh salads, burgers, and fish tacos.
Bombay Sandwich Co., 48 West 27th Street, (646) 781-9756
Bombay Sandwich Co. serves health-conscious Indian food focusing on flavorful vegetarian and vegan options. From 11 am daily, you can choose from a variety of seasoned sandwiches & wraps, salads, and bowls.
Carrot Express, 18 West 23rd Street, (917) 261-7871
Fast-casual health conscious restaurant Carrot Express has a variety of lunch choices from salads, bowls, wraps, burgers, and platters. Customize your meal to tailor to your dietary preferences whether vegan, vegetarian, dairy-free, paleo, or keto-friendly.
Flip'd by IHOP, 110 East 23rd Street
Flip'd by IHOP offers an all-day menu featuring breakfast staples like signature pancake bowls, egg sandwiches, burritos, and burgers. Get a classic coffee from Flip'd's bakery as well as an assortment of pastries.
Hawksmoor NYC, 109 East 22nd Street, (212) 777-1840
Hawksmoor NYC, the award-winning British steakhouse now serves lunch Wednesday through Friday from 12 – 3 pm in the dining room. Menu highlights include the Tokyo Lobster Roll, signature Hawksmoor Cheeseburger, and Steak Frites. Additionally, enjoy a 2 or 3-course lunch for $55 or $65.
Hill Country Barbecue, 30 West 26th Street, (212) 255-4544  
Hill Country Barbecue offers Texas-style BBQ in the heart of NYC. Starting at 12 pm Tuesday through Friday, enjoy classics barbecue sandwiches and classic sides.
Honeybrains, 34 West 22nd Street, (917) 472-7682
Honeybrains creates nutritious and delicious options, along with fresh-pressed juices to keep you energized and feeling good. Enjoy brain bowls, salads, sandwiches, and toasts for lunch.
II Fiorista, 17 West 26th Street, (646) 490-8240
Il Fiorista is bringing back their lunch service starting on Tuesday, May 3rd! From 11:30 am – 2:30 pm Tuesday through Friday enjoy a floral-inspired menu and cocktails, including 2-course or 3-course prix fixe choices.
ilili, 236 Fifth Avenue, (212) 683-2929
ilili offers a Mediterranean lunch with a menu including an extensive mezza selection, burgers & sandwiches, salads, and mains.
Isabelle's Osteria, 245 Park Avenue South, (212) 388-1145
Enjoy lunch at contemporary Italian restaurant Isabelle's Osteria. The menu features appetizers, entrees, salads, and pastas.
Jue Lan Club, 49 West 20th Street, (646) 524-7409
Upscale Chinese restaurant Jue Lan Club offers a lunch service. Menu highlights include dim sum, sushi, tempura, lettuce wraps, and entrees.
L'Express, 249 Park Avenue South, (212) 254-5858
24-hour French cafe L'Express offers a full lunch menu with classic French fare including, appetizers, salads, entrees, burgers & sandwiches, and late breakfast dishes.
Mark's Off Madison, 41 Madison Avenue, (646) 838-8300
Enjoy lunch at Mark's Off Madison with a menu featuring starters, salads, pasta, shareable mains, and pizzas.
Marta, 29 East 29th Street, (212) 651-3800
Join Marta daily from 12 pm to 3 pm for lunch. Menu includes modern Italian dishes such as antipasti, salads, pizza, and mains.
Mexicue, 225 Fifth Avenue, (646) 922-7289
Mexicue fuses Mexican cuisine with American barbecue to bring the best mashup of flavors. Starting at 11 am daily, enjoy lunch with shareable starters, bowls, and tacos.
Milu, 333 Park Avenue South, (212) 377-6403
Milu offers a regional Chinese menu with traditional dishes in a modern setting. Serving lunch from 11 am, try bowls, salads, and family-style meal options for large dining parties.
Mista Oh, 41 West 24th Street, (646) 559-8858
Mista Oh presents popular Korean dishes in a family-owned establishment. Beginning at 11 am, choose from an assortment of appetizers, Korean BBQ, lunch box options, and soups.
Olde City Cheesesteaks & Brew, 66 Madison Avenue, (929) 281-3222
Olde City serves up authentic cheesesteaks, sandwiches, smash burgers, and salads. Enjoy Olde City's lunch special Monday – Friday from 11 am to 4 pm where you can get a cheesesteak, smash burger, or a crispy/grilled chicken sandwich plus fries and a draft beer for just $19 or a cheesesteak, smash burger, or a crispy/grilled chicken sandwich plus fries and a soda for $17. Available for dine-in only.
Sagaponack, 4 West 22nd Street, (212) 229-2226
The approachable seafood restaurant Sagaponack is open for lunch Monday – Friday from 11:30 am to 2:30 pm. Enjoy quality dishes including shareables, mains, and desserts.
Scen Studio, 1165 Broadway, (646) 649-5658
Scen Studio is the first circular, vegan farm-to-table and zero-waste certified fast-casual restaurant in the district. Enjoy an all-day plant-based menu including bowls, sushi, smoothies, and teas.
Summer Salt, 30 East 23rd Street, (212) 209-0648
Summer Salt offers burritos, tacos, and bowls influenced by Southern California and Baja cuisine and is open at 11 am daily. Enjoy burritos either Cali-style with fries or Mission style with rice & beans, and delicious fish tacos.
Taïm, 64 West 22nd Street, (212) 966-7364
Taïm offers tasty Mediterranean fare, with a menu that includes Falafel, Fresh-Baked Pita, Eggplant Sabich, and more. Starting at 11 am daily, you can order a pita or bowl, choose from several mains, toppings, and sauces.
Veggie Grill, 12 West 23rd Street, (332) 600-7001
Fast-casual Veggie Grill offers an entirely vegan menu featuring American diner-style classics like burgers, sandwiches, salads and bowls.
wagamama, 210 Fifth Avenue, (212) 920-6233       
wagamama features contemporary Japanese cuisine with lunch beginning at 11 am daily. The lunch menu has shareables, main dishes, and ramen.
Zucker's Bagels, 40 East 23rd Street, (212) 228-5100
Zucker's Bagels serves handmade kettle-boiled bagels you can enjoy with numerous spreads along with deli classics, coffee, and more. For lunch, try a signature sandwich and pair with a cup of soup.
Header & Thumbnail Photo Credit: II Fiorista