A Little Retail Therapy in Flatiron & NoMad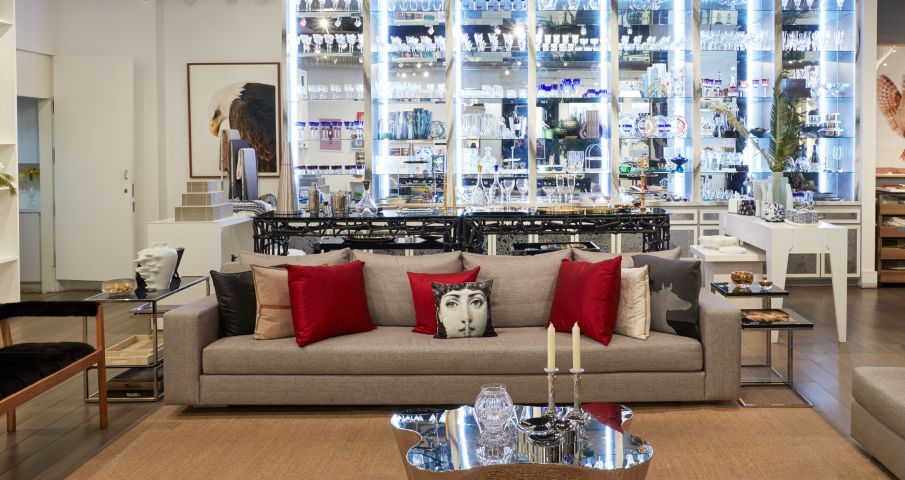 You need a new look for an event this weekend and have only your lunch break to make it happen. Or you're meeting your Mom for her birthday dinner but still need that gift. Or maybe you just need a little pick-me-up? We're on it!
We've rounded up some of our favorite retailers in Flatiron and NoMad from fashion and skincare, to home decor and children's toys. Whether you're squeezing an errand into your day, or taking your time to treat yourself, this neighborhood is the perfect place to find 'just the thing'.
Apparel
Alo Yoga, 164 Fifth Avenue, (347)-394-2770
Alo Yoga offers women's activewear including, tops, leggings, shorts and sweatpants, as well as yoga essentials such as mats & blocks.
Club Monaco, 160 Fifth Avenue, (212)-352-0936
Find new chic pieces to add to your wardrobe from Club Monaco which offers stylish clothing for men and women from business casual to weekend wear.

Johnston & Murphy, 200 Fifth Avenue, (212)-242-1636
Johnston & Murphy offers a selection of shoes, apparel, and leather goods for men and women. Shop men's blazers, wallets, and scarves, and women's boots and jackets this season.
Noir et Blanc, 7 West 25th Street, (212)-627-1750
The contemporary, French-inspired boutique Noir et Blanc offers fashion-conscious apparel, shoes, and accessories for women.
Project Gaia NYC, 57 West 21st Street, (917)-639-3958
The sustainable luxe fashion store carries products by up-and-coming designers and artists. Shop women's apparel, footwear, jewelry, handbags, and wellness & beauty.
Rhone, 133 Fifth Avenue, (646)-707-3515
Shop for versatile men's activewear at Rhone from sports-specific apparel to basics tees and socks.
The Thrifty HoG, 11 West 25th Street, (212)-206-1174
The upscale resale boutique offers a curated selection of gently used vintage, new, and used men's and women's clothing as well as home decor items. Net proceeds support the non-profit Hearts of Gold, that supports homeless mothers and their children.
Thursday Boot Company, 48 West 21st Street, 2nd Floor, (917)-261-6911
Head over to Thursday Boot Co. to shop high-quality boots for men and women that are comfortable, durable, and stylish. Plus, quality leather jackets and accessories like belts and wallets.
Todd Snyder, 25 East 26th Street, (917)-242-3482
Todd Snyder carries craft menswear such as apparel, shoes, and accessories. Shop sweaters, boots, leather wallets, and gloves.
Retail
10/10 Optics, 50 Madison Avenue, (212)-510-8183
At 10/10 Optics, shop for stylish sunglasses from brands such as Ray-Ban, Tom Ford, and Prada.  
Foto Care, 41 West 22nd Street, (212)-741-2990
For professional or amateur photographers, Foto Care offers cameras, lenses, film, and essential accessories.
Jung Lee NY, 25 West 29th Street, (212)-257-5655
At Jung Lee NY shop for unique housewares for decorating and entertaining including wine glasses, flower vases, candles, pillows, and throws.
Memories of New York, 206 Fifth Avenue, (212)-252-0030
Perfect to shop for loved ones living outside of NYC, Memories of New York has great souvenirs that encapsulate the Big Apple from "I Love NY" t-shirts to snowglobes and keychains.
Rizzoli Bookstore, 1133 Broadway, (212)-759-2424
Shop bestsellers as well as photography, cooking, fashion, and design books. The bookstore also carries art sets for adults and children, beautifully designed journals, and puzzles.
Specialty Retail
Fotografiska Gift Shop, 281 Park Avenue South, (212)-433-3686
The NYC location of the renowned Swedish photography museum, offers a ground-floor gift shop featuring photography books, posters, apparel, and exhibit-related merchandise.
Harry Potter New York, 935 Broadway
At Harry Potter New York shop the wizarding world for personalized wands, sweets from the confectionary, and apparel.
LEGO Store, 200 Fifth Avenue, (212)-255-3217
For kids, LEGO offers themed and exclusive sets featuring Disney, Harry Potter, and Star Wars that spark creativity and imagination. Also, shop LEGO apparel and accessories.
National Museum of Mathematics Gift Shop, 11 East 26th Street, (212)-542-0566
The MoMath gift shop has creative & fun puzzles, toys, games, and children's books.
Poster House Gift Shop, 119 West 23rd Street, (917)-722-2439
Shop original posters, prints, books, apparel & accessories, and exhibit-related merchandise.
Skincare & Wellness
Heyday NoMad, 1130 Broadway, (646)-869-3601
Shop for personalized skincare at Heyday NoMad, including cleansers, exfoliants, and moisturizers. You can also treat yourself or a loved one to a facial.
Silver Mirror Facial Bar, 20 West 22nd Street, (212)-702-8742
Book a world-class facial yourself or gift to your loved one at Silver Mirror Facial Bar. Also, you can shop for esthetician-favorite skincare products.
sundays nail studio, 51 East 25th Street, (646)-998-5711
Enjoy a Mani/Pedi at sundays, a non-toxic nail salon, and shop for non-toxic, vegan, and cruelty-free nail polishes, hand cream, and candles.
WTHN, 20 West 22nd Street, (646)-558-9846
Relax with an acupuncture session at WTHN and shop for wellness and de-stress items such as an acupressure mat set, a rose quartz eye mask, and herbal supplements.
Header Photo Credit: Jung Lee NY