Flatiron Foodie: BLACKBARN's Asparagus, Tomato and Kale Salad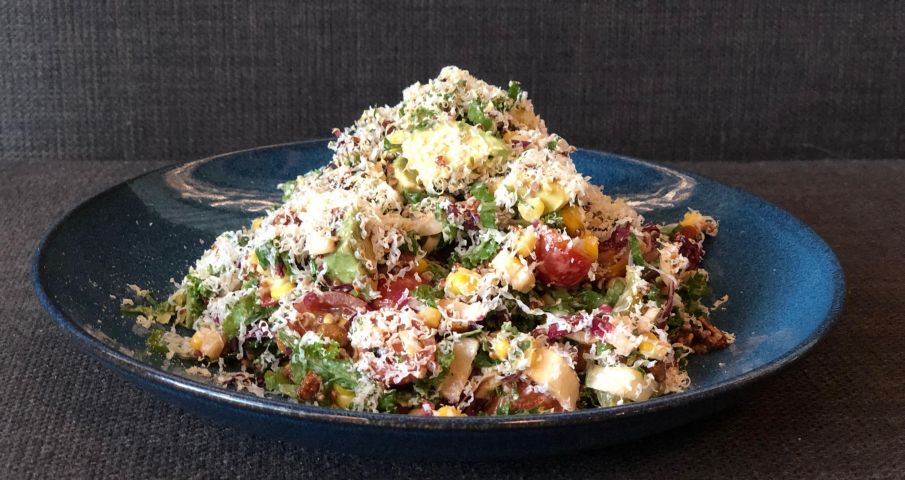 As we start to enjoy warmer weather and head into spring, BLACKBARN, the farm-to-table and artisanal restaurant shares with us their Asparagus, Tomato and Kale Salad recipe. Perfect for an entree on a spring sunny day, this salad is flavorful, light, and fresh. Executive Chef Brian K Fowler Jr. walks us through how to make this dish you'll want to have throughout the season. "This salad, one of our most popular spring items at BLACKBARN, incorporates one of the season's most beautiful vegetables: asparagus. Specifically, fresh jumbo green asparagus which are very rich and succulent this time of year. It is easy to make at home and has a bounty of fresh ingredients, including heirloom tomatoes, avocado, kale, quinoa, bacon, ricotta salata, all dressed with a lemon-buttermilk dressing," says Chef Fowler. "Those who wish to keep it lighter could skip the bacon or reduce it to a smaller amount as it is optional."
Established in 2015 just steps from Madison Square Park, BLACKBARN was founded by Chef John Doherty, former Executive Chef at the Waldorf Astoria hotel in NYC. Using a majority of locally-sourced ingredients allows BLACKBARN to offer a unique dining experience complimented by refined wines, handcrafted cocktails, and excellent service.
BLACKBARN, located at 19 East 26th Street is open for lunch Monday through Friday, from 11:30 am to 3 pm, dinner Monday through Saturday, from 5:30 pm to 9:30 pm, and brunch Saturday and Sunday, from 11 am to 2:30 pm.
Asparagus, Tomato and Kale Salad Recipe
Ingredients for 6 servings:
Asparagus, Kale and Tomato Salad
2 pounds of Jumbo Green Asparagus
1 head of Kale
1 pint of Heirloom Cherry Tomatoes
2 ripe Avocados
1 box of Red Quinoa
1/2 pound of thick cut Bacon
1/4 pound of Ricotta Salata
Lemon-Buttermilk Dressing
1 cup of Buttermilk
1/4 cup of Creme Fraiche
1/2 cup of Mayonnaise
1 tablespoon of Apple Cider Vinegar
1/2 teaspoon of Minced Garlic
1/4 cup of Minced Cucumber
2 tablespoons of Lemon Juice
Zest from 1/2 of a Lemon
1 tablespoon of Smoked Paprika
2 tablespoons of Chopped Mint
2 tablespoons of Chopped Chives
1/2 tablespoon of Salt
1/2 tablespoon of Pepper
Directions for Lemon-Buttermilk Dressing:
1. In a medium-sized bowl, mix all ingredients with a whisk until well combined. Place in a desired storage container for later use.
Directions for Quinoa:
1. Place 1 cup of red quinoa in a pot with 3 cups of cold water. Season your water with 2 tbsp of salt and 2 bay leafs. On high heat, bring to a boil then turn flame down to a simmer and cook for 10 to 15 minutes until quinoa opens.
2. Strain your quinoa into a fine mess strainer. Set to the side and allow to cool.
Directions for Bacon (optional use):
1. Dice your bacon to desired thickness. Over medium heat render the fat slowly for about 10 minutes or until lightly brown.
2. With a slotted spoon, place bacon onto paper towel to soak up excess oil, discard liquid fat, and set bacon pieces aside for later use.
Directions for Asparagus:
Fill a deep pot with salted water and set to boil.
Remove and discard the bottom portion of the asparagus that is not green.
Use a vegetable peeler to peel the outer green skin which can be fiberous and bitter.
Boil asparagus until tender. Strain and plunge into ice water to stop the cooking process.
Once asparagus are cooled, blot dry and cut into 2-3 inch pieces and set aside.
Assemble & Serve!
Have ready a desired mixing bowl.
Clean your kale very thoroughly with cold water and discard the stem. With a sharp knife chiffonade (thinly slice) your kale and place in mixing bowl.
Cut your tomatoes in half, and large dice your avocados. Place in the mixing bowl with asparagus and chiffonade of kale.
Add to the mixing bowl quinoa, bacon, buttermilk dressing, salt & pepper and gently mix together
Choose your desired dish and plate your salad in 3 parts to keep the height.
With your cheese grate, shred desired amount of cheese over your salad.
Enjoy!
Executive Chef Brian K Fowler Jr. pictured below: