Family-Friendly Things to Do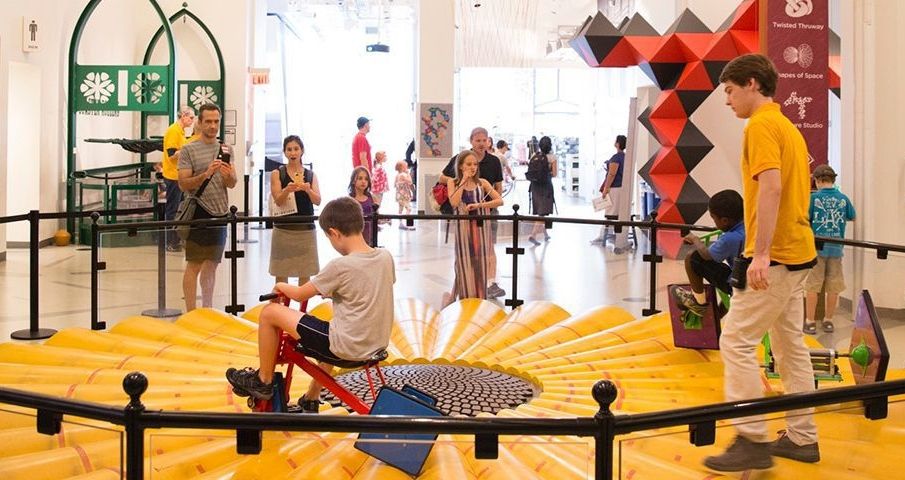 Looking for family-friendly activities for the upcoming midwinter break and beyond? The Flatiron & NoMad neighborhoods are a great destination for families! We've rounded up several offerings that you and your children can enjoy.
Center for Book Arts, 28 West 27th Street, (212)-481-0295
Center for Book Arts (CBA) offers a variety of events and workshops for kids to learn about the fun art of bookmaking.
Dippin' Dots, 24 East 23rd Street, (646)-669-7989
Head to Dippin' Dots for an ice cream treat that both kids and adults will enjoy. From cotton candy to banana split, there are flavors to satisfy everyone's sweet tooth in your family.
Escape Room Madness, 38 West 32nd Street, 5th Floor, (212)-239-8800
Enjoy a fun adventure to find clues and solve mysteries in various escape rooms designed for families with kids ages 10+ or 16+.
Fotografiska, 281 Park Avenue South, (212)-433-3686
Join Fotografiska for their Family Fun Day series including an upcoming Family Fun Day hosted on Sunday, February 27th to learn about cyanotype printmaking. Suggested for kids ages 8-12, participants will get to mimic the process of film photography. Register here.
Harry Potter New York, 935 Broadway
For all Harry Potter enthusiasts, head to the New York store where you can shop, create your own wand, enjoy butterbeer and try one of the virtual reality experiences.
Karma Kids Yoga, 16 Madison Square West, 12th Floor, (646)-638-1444
As seen on Sesame Street, Karma Kids Yoga offers a variety of fun-filled virtual yoga classes for kids and families. Check here for a schedule of virtual yoga classes held on Zoom for babies, toddlers, kids and teens.
The Lego Store, 200 Fifth Avenue, (212)-255-3217
The Lego Store offers opportunities for kids to practice building, create a one-of-a-kind mosaic and find your next set to build.
Madison Square Park, 11 Madison Avenue, (212)-520-7600
Spend time outside in this wonderful green space and participate in a Winter Scavenger Hunt. Perfect for the whole family, you'll get to observe, identify and learn about the plants and animals that call the park home.
Museum of National Mathematics, 11 East 26th Street, (212)-542-0566
The Museum of National Mathematics (MoMath) offers multiple interactive exhibits and activities for kids and families to learn about the fun world of math. Purchase tickets here.
New York Kids Club, 38 East 22nd Street, (917)-525-4559
This neighborhood New York Kids Club offers a kids gym with a trampoline and gymnastics equipment as well as a range of classes for children ages 2 months to 12 years old.
Poster House, 119 West 23rd Street, (917)-722-2439
Join Poster House on the last Sunday morning of every month for Poster Kids. Enjoy a family-friendly tour and art-making experience. Check out PH's exhibits designed for kids as well. Admission is free for children 18 and under.
Rizzoli Bookstore, 1133 Broadway, (212)-759-2424
Browse and shop an amazing children's books section at Rizzoli, a longstanding bookstore in the neighborhood with author readings and events. Check out puzzles and children's art sets as well.
SPIN New York 23, 48 East 23rd Street, (212)-982-8802
Challenge your family to a few ping pong matches at SPIN 23. Great for families with older kids, you can play for groups of 2 to 10 guests. Reserve your table here.
Standard Dose, 1145 Broadway, (212)-547-9453
Shop for family and kid-friendly wellness items such as coloring books and puzzles.
TADA! Youth Theater, 15 West 28th Street, (212)-252-1619
If your children love acting or are interested in theater, look no further. During the midwinter break from February 21-25, kids ages 5-9 can participate in a fun School Break Camp. Register here.
Tiger Schulman MMA, 688 Sixth Avenue, (646)-396-3303
This martial arts studio features classes for kids where they can "Find Their Tiger", build self-confidence, discipline and lasting friendships.
Header Photo Credit: MoMath.
Thumbnail Photo Credit: Harry Potter NY via Patch.
Home Page Photo Credit: TADA! Youth Theater.