Valentine's Day Gift Guide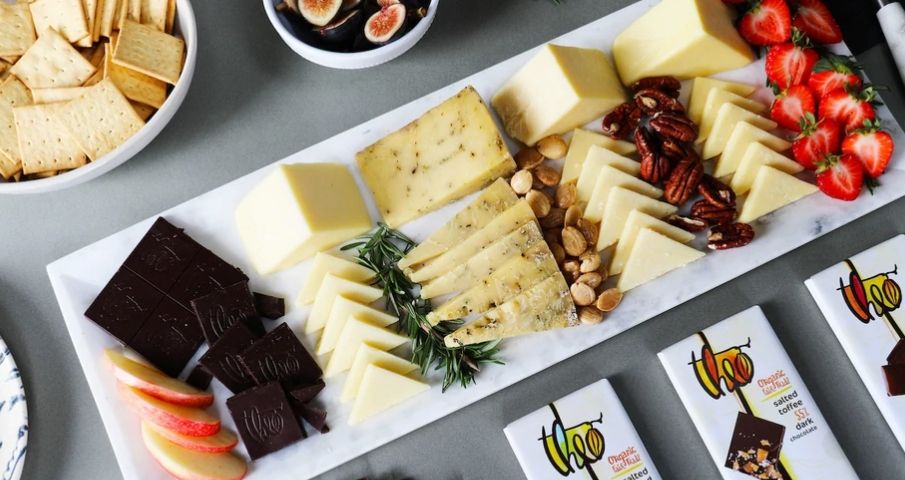 The district is full of businesses to find the perfect Valentine's Day gifts. From bakeries to florists and spas, we've got you covered. Check out our Valentine's Day Dining Guide as well.
Can't Say No to Dessert
Chocolat Moderne, 27 West 20th Street, 9th Floor, (212)-229-4797
Beautifully handcrafted artisanal chocolates from truffles to chocolate bars can be found at Chocolat Moderne. Shop their Valentine's Day Collection featuring, Baby, You're The One!, Devotion and XO heart-shaped chocolates.
Eataly, 200 Fifth Avenue, (212)-229-2560
Eataly has a variety of housemade Italian heart-shaped pastries and specialty cakes for the occasion. Special filled-to-order cannolis and Italian chocolate sets also make for a great treat.
maman, 22 West 25th Street, (646)-476-7660
Gift a Valentine's Cookie Box with limited-edition, White Chocolate Raspberry Rose Cookies from maman for your special someone. Shop in-store from February 7th-14th and shipping on February 7th-9th.  Also, enjoy specialty themed treats and drinks like the Café Bisous and Sweet Heart Homemade Oreos.
Mangia NYC, 22 West 23rd Street, (212)-647-0200
Gourmet sweets from Mangia NYC are the perfect addition to celebrate Valentine's Day. Highlights from their menu include, Chocolate Dipped Strawberries, Heart-Shaped Cookies and Red Velvet Cupcakes.
Milk Bar, 1196 Broadway, (347)-974-4975
Grab some decadent treats for your special someone from The Love Shop at Milk Bar. Indulge in Red Velvet Cheesecake Cake, Red Velvet Cheesecake Truffles, Assorted Cookies and Cereal Milk Ice Cream Pints. Shop in-store and online.
Seven Grams Caffé, 76 Madison Avenue, (212)-779-0777
For melt-in-your-mouth cookies, treat your loved one to a Seven Grams limited edition Valentine's Day Gift Box featuring Red Velvet & White Chocolate Chip Cookies. Available in boxes of 6 or 12. Order online or pickup in-store.

Unique Gifts
Beecher's Handmade Cheese, 900 Broadway, (212)-466-3340
Making fine cheeses in-house with local and natural ingredients is Beecher's specialty. Pick up some cheeses, cured meats, and other accompaniments for your at-home romatic dinner spreads. You can shop sets as well like the Chocolate & Cheese Collection or The Land of Cheese & Honey Collection. Order online or shop in-store.
Il Fiorista, 17 West 26th Street, (646) 490-8240
Shop Il Fiorista's in-house floral boutique featuring specialty goods. Gift a fresh cut floral arrangement, bottled tea blends and spices, scented candles and beauty products.
Le Labo, 14 West 29th Street, (Inside Ace Hotel), (212)-532-7206
Discover the perfect scent at Le Labo, purveyor of fine fragrances, candles and bath & body products. Gift a signature scent like the sweet and sensual Bergamote 22 or create a personalized, unforgettable perfume.
Maison 10, 4 West 29th Street, (646)-590-1291
The concept boutique highlights products from talented designers and artists within ten categories from beauty to well-being. Shop eclectic items such as jewelry, skincare and fragrances for your loved one.
Noble Plants, 106A West 28th Street, (212)-206-1164
For the plant lover, gift a romantic and aesthetically pleasing houseplant like anthuriums, heart ferns, a monstera or a heartleaf philodendron from this local nursery.
Project Gaia NYC, 57 West 21st Street, (917)-639-3958
The sustainable luxe fashion store carries products by up-and-coming designers and artists. Gift one-of-a-kind jewelry, apparel and accessories.
Standard Dose, 1145 Broadway, (212)-547-9453
If your significant other is all about wellness, or could use a little extra TLC, shop a selection of teas, candles, soaps and tinctures. Browse SD's V-Day Gift Guide. When you spend over $125, you'll be gifted a FREE arousal oil worth $75.
sunday's nail studio, 51 East 25th Street, (646)-998-5711
Gift a relaxing mani/pedi at sundays, that uses non-toxic, vegan and cruelty-free nail polish. Book an appointment here. Also, shop online for nail polish boxes like I Am Loved and I Am Beautiful.
The Museum of Sex, 233 Fifth Avenue, (212)-689-6337
The Museum of Sex presents a special Valentine's Day event, Love Lockdown for singles and couples. Tickets include admission to the museum gallery & Super Funland, love infusion 'IV' cocktails, and a special gift. Purchase tickets here.

Keep it Classic with Wine, Flowers, & Cards
Blooming Affairs, 925 Broadway, (212)-262-0004
For a beautiful Valentine's Day floral arrangement, head to Blooming Affairs. Gift classic red or pink roses, lilacs, tulips or sunflowers for the romantic occasion. Custom arrangements and same day deliveries are available.
Flatiron Wines & Spirits, 929 Broadway, (212)-477-1315
Sip and savor a fine wine, a craft spirit or a bottle of bubbly from a curated variety of artisanal options from Flatiron Wines & Spirits. The team can offer suggestions to help you decide on the perfect selection.
Paper Source, 655 Sixth Avenue, (332)-206-0846
Pick up a card or two from Paper Source featuring pop-up and die cut Valentine's Day cards.
Superior Florist, 828 Sixth Avenue, (212)-679-4065
The third-generation florist offers floral arrangements perfect for your Valentine. Gift Cupid's Six Pack, a beautiful bouquet of six red roses or Love Song, a symphony of red and pink roses contrasted against lush greenery. Custom arrangements and same day deliveries are available.
Wine & Spirits Market, 676 Sixth Avenue, (212)-206-7900
Gift a new & notable bottle of wine, conventional spirit or sake from Wine & Spirits Market you'll want to share.

Suprise Someone with Pampering
Davide Hair Studio, 379 Park Avenue South, 3rd Floor, (646)-912-9382
Feel and look gorgeous with a custom makeup & blowout package from Davide Hair Studio. Let the hairstylists create a sleek look of elegance perfect for a night out. Book your appointment here.
M&M Studio, 818 Sixth Avenue, (201)-948-9924
Specializing in high quality Japanese nail art, a manicure at M&M Studio is the perfect treat for your Valentine. Get creative with a custom design or go with a classic solid color polish.
Oasis Day Spa, 1 Park Avenue, (212)-254-7722
Relax and unwind with a variety of treatments at Oasis Day Spa from massages to body scrubs. Pamper you and your loved one with the Couples Duet Package featuring a 60-minute side-by-side massage and a 60-minute signature facial. Book your appointment here.
Silver Mirror Facial Bar, 20 West 22nd Street, (212)-702-8742
Gift some R&R at Silver Mirror with a facial service tailored to your skin. From hydration to dermaplanning, Silver Mirror has options for any skin needs for the best results. Book your facial treatment here.
Header Photo Credit: Beecher's Handmade Cheese.
Thumbnail Photo Credit: Chocolat Moderne.
Home Page Photo Credit: Blooming Affairs.