Flatiron Foodie: Hawksmoor's Macaroni & Cheese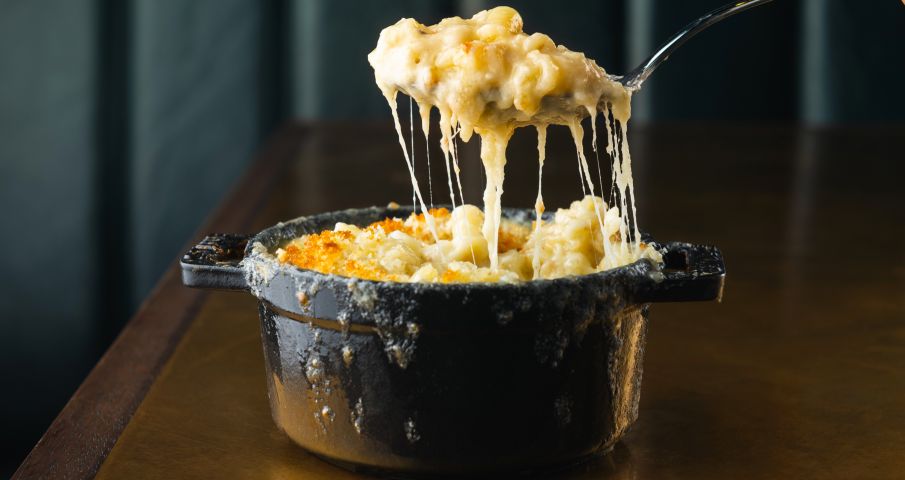 Beloved steakhouse Hawksmoor shares with us their Macaroni & Cheese recipe, which includes a cheese sauce featuring five local cheeses and a parmesan panko breadcrumb topping that combine to create gooey cheesy goodness perfect for a holiday side dish. Executive Chef Matt Bernero walks us through how to make this comfort food classic. "We've learned over the years that a stringy cheese pull triggers more pleasure receptors than without. Our macaroni and cheese uses five local cheeses (which you can purchase at Saxelby's) and delivers a long, stringy pull," says Chef Bernero.
First established in London, Hawksmoor came across the pond and opened their first US location in NYC this September. Considered one of the best steakhouses in the world, we're delighted to have them in the Flatiron neighborhood. Hawksmoor serves dishes featuring ethically and sustainably sourced ingredients and partners with local American farmers, ranchers, and fishermen. The curated menu includes dry-aged, all-natural, pasture-reared steaks cooked over real charcoal, sustainably-sourced seafood, an array of sides, desserts, and award-winning cocktails.
Hawksmoor, located at 109 East 22nd Street in the historic United Charities Building, is open for dinner Tuesday-Saturday, from 5:30 pm to 10 pm and the bar is open Tuesday-Saturday from 4 pm – midnight.
Macaroni & Cheese Recipe
Ingredients:
Cheese Sauce

1 tablespoon of Plain Flour
1 tablespoon of Unsalted Butter
1/4 cup of Briana Cheese
1/4 cup of Chef's Shred
1/4 cup of Bayley Hazen Blue
1/2 cup of Whole Milk
1/16 teaspoon of Nutmeg
1/16 teaspoon of White Pepper
1/3 teaspoon of Sea Salt
Pasta
8 cups of Water
1/2 tablespoon of Salt
1/2 cup of Tubetti Pasta
Parmesan Panko
3 tablespoons of Parmesan grated on a micro-plane
3 tablespoons of Panko Breadcrumbs
Directions for Cheese Sauce:
1. In a saucepan, melt butter over medium heat. Whisk in the flour into a smooth pale roux.
2. Cook out the roux for at least 5 minutes moving regularly.
3. Heat the milk to a foamy boil.
4. While whisking the roux slowly ladle the hot milk into it until it has fully incorporated before the next ladle is added.
5. After all the milk has been mixed, continue to whisk the milk for 5-10 minutes until the sauce has thickened slightly.
6. Slowly add the grated Bayley Hazen Blue, Briana and the Chef's Shred and stir till smooth and completely melted.
7. Once melted and smooth remove from the heat to prevent the sauce from splitting.
8. Season the finished sauce with the salt, ground white pepper and nutmeg.
9. Reserve until needed.
Directions for Pasta:
1. In a large pan, bring 8 cups of salted water to the boil.
2. Once the water is boiling, add 1/2 cup of dried pasta to the water and stir occasionally.
3. Cook out the pasta for approx. 9 minutes or until the pasta is slightly 'al dente.'
4. Drain pasta from the pasta water.
5. Cool the pasta in cold running water.
6. Reserve for service.
Directions for Parmesan Panko:
1. Mix and reserve.
Put It All Together:
1. Mix the cooked pasta with the sauce & warm through.
2. When warmed, fold in the diced mozzarella and place the mixture into staub.
3. Top with the parmesan & panko.
4. Bake for 4-5 minutes until top is golden brown but the sauce has not dried out or split.
5. Make sure there is a layer of sauce on the top and bottom of the dish, for a golden brown finish.
Enjoy!
Executive Chef Matt Bernero pictured below: