Flatiron/23rd Street Partnership's 15th Annual Meeting Recap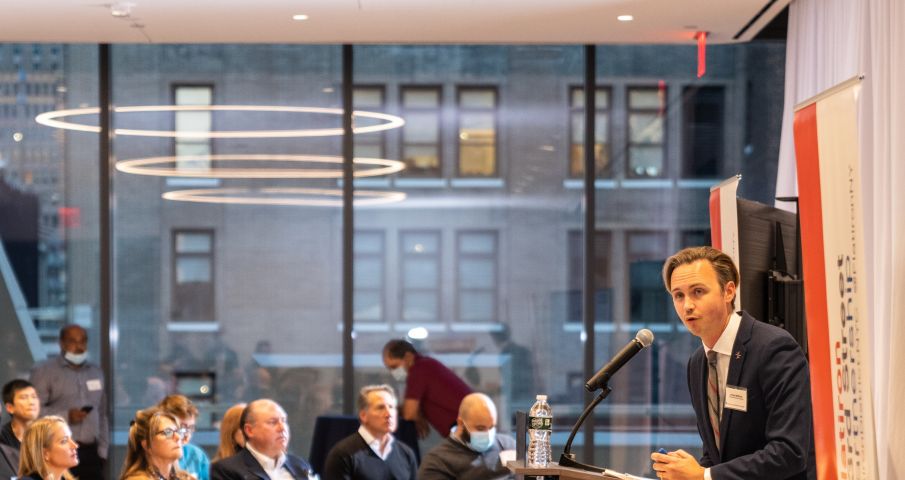 The Flatiron/23rd Street Partnership held its 15th Annual Meeting & Community Reception on Tuesday, November 9 on the rooftop terrace at Cure (345 Park Avenue South), Deerfield Management's new healthcare innovation campus. With the theme "Moving Forward," the meeting showcased the Partnership's work to sustain Flatiron and NoMad's vitality through the pandemic and beyond. The occasion marked the Partnership's first in-person annual meeting since 2019, following last year's virtual event.
"The past year has been filled with stops and starts, optimism and skepticism, but we are ultimately moving forward together with real hope on behalf of the people like you, who continue to believe in this neighborhood as premier location in which to live, work, play, and do business," said Partnership Executive Director James Mettham in his State of the District presentation.
Mettham highlighted signs of resiliency and recovery in the district, including dozens of new business openings, new real estate developments, the return of visitors and employees, and rising pedestrian counts on the Flatiron Public Plazas. He also outlined the Partnership's current and upcoming initiatives, including expansion of the BID's boundaries which will nearly double the size of the Partnership's service area in 2022.
Jane Gural-Senders, Vice Chair of the Partnership's Board of Directors, kicked off the proceedings by welcoming the 125 attendees and 44 people who watched remotely on Zoom. Additional speakers included New York City Council Member-elect Erik Bottcher who affirmed his commitment to working closely with the Partnership, and Deerfield's Chief Partnership and Communications Officer Karen Heidelberger, who illuminated the impact Cure will have by bringing innovative companies, cutting-edge jobs, and programming to the district.
After electing members to its Board of Directors and approving the FY 2022 budget, the Partnership presented its annual awards. Recipients included Gail Duke of New York Life Insurance (Robert B. Frankel Chairperson's Award); Miguel Perez of Home Depot (Partnership Award); Emily Weidenhof, Jessica Cronstein, and Kyle Gorman of the New York City Department of Transportation's Public Space Unit (Partnership Award); Officers Arlyn Zapata and Eric Demery of the NYPD 13th Precinct (Outstanding Service Award); and Adel "Benny" Ben-Brika and Moussa Diouf from the Partnership's Clean Team (Outstanding Service Award).
The program was followed by a community networking and cocktail reception catered by CxRA.
>> Explore our digital 2021 Annual Report: Moving Forward