Thanksgiving Dinner Guide 2021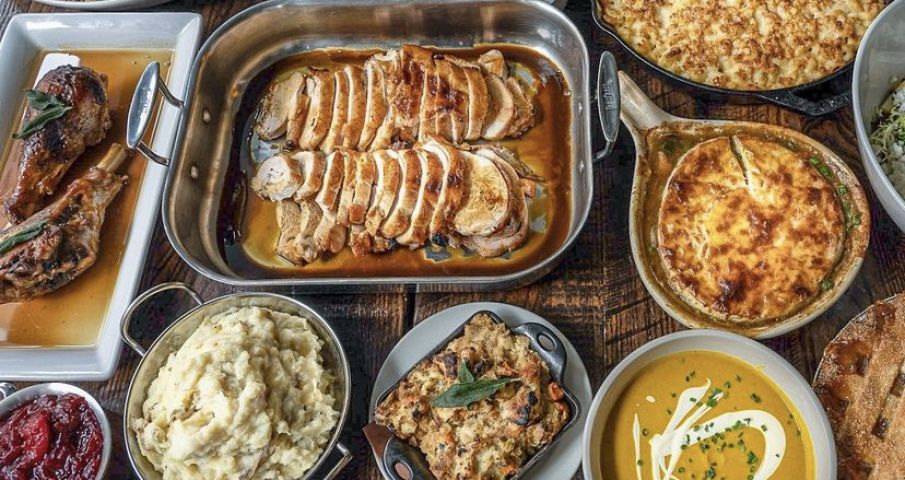 Celebrate Thanksgiving with family and friends by enjoying a stress-free dinner at a local restaurant. You can also show some love to your favorite eateries by ordering a Thanksgiving meal kit or to-go desserts gathering.
Thanksgiving reservations and meal kits still available include:
Bar Benno, 7 East 27th Street, (212)-451-9557
Enjoy Thanksgiving at Benno Restaurant from noon to 10 pm with their Thanksgiving dinner for $32 per person.
Barbounia, 250 Park Avenue South, (212)-995-0242
Treat your loved ones to a Mediterranean Thanksgiving with Barbounia's three-course prix fix menu at $71 per person. Make your reservations here.
BLACKBARN, 19 East 26th Street, (212)-265-5959
Enjoy Thanksgiving at BLACKBARN with a three-course prix fix menu. Served family-style at $125 for adults and $55 for children. Make your reservations here.
Bourke Street Bakery, 15 East 28th Street, (718)-744-4803
Order some tasty baked goods from Bourke Street Bakery for your Thanksgiving gathering from pies to breads. Highlights of the Thanksgiving menu include a Classic Apple Cider Pie, Pumpkin & Sage Sourdough, Orange & Almond Cake, and Turkey & Cranberry Sausage Rolls. Place your order online for in-store pickup. 

The Churchill Tavern, 45 East 28th Street, (646)-922-7744
For Thanksgiving, The Churchill Tavern will be serving an a la carte menu and special entrees, including Roast Vermont Turkey, Roast Beef, Lamb Lollipops, and a Half Roast Chicken along with a wide selection of trimmings. Make your reservations here.
COTE Korean Steakhouse, 16 West 22nd Street, (212)-401-7986
COTE's Thanksgiving Prime Rib Feast for six is now available to order. This spread is perfect for your dinner at home featuring a 10 lb roasted rack of prime rib with four sides. You can also dine-in at COTE and enjoy a Thanksgiving Feast for $85 per person. Make your reservations here.
Dominique Ansel Workshop, 17 East 27th Street, (212)-901-1015
Don't worry about dessert for Thanksgiving. Serve a pie from Dominique Ansel Workshop including an Extra Silky Pumpkin Pie for $50, a Bourbon Pecan Pie for $50, and a classic Salted Caramel Apple Pie for $52. Pre-order now for pickup between November 23rd-25th.
Eataly, 200 Fifth Avenue, (212)-229-2560
Eataly is offering turkeys from famed butcher Pat LaFrieda. Turkey pre-orders are accepted until November 19th at 11:59 pm EST, or while supplies last. You can also let Eataly do the cooking for you and order a family-style Thanksgiving dinner that serves 4 for $229.90 or 8 for $389.90.
Hill Country Barbecue Market, 30 West 26th Street, (212)-255-4544
At Hill Country, enjoy a Texas-sized Thanksgiving feast offered on Thanksgiving Day from 12 pm to 8 pm. Highlights include pit-smoked turkey, signature barbecue, classic sides, and desserts. $95 per adult, $45 for children ages 5 – 12, and children under 5 eat for free. Make your reservations here. Planning on celebrating at home? Pre-order your Thanksgiving dinner for delivery. 

Il Fiorista, 17 West 26th Street, (646)-490-8240
Il Fiorista is offering a 3-course Thanksgiving meal from 3 pm to 7 pm on Thanskgiving Day for $89 per guest. Reservations are now available on Resy. You can also order a Turkey Roulade cooked or uncooked for your dinner at home.
ilili, 236 Fifth Avenue, (212)-683-2929
ilili is now accepting reservations for Thanksgiving dinner. If you're enjoying the holiday from home, you can order a Thanksgiving to-go meal package for two for pickup at $150. If you're not nearby, order a Thanksgiving feast for 4-6 people via Goldbelly with free shipping for $300.
John Doe Craft Bar & Kitchen, 253 Fifth Avenue, (646)-882-4007
Spend Thanksgiving at John Doe Craft Bar & Kitchen and enjoy a three-course prix fix menu for $42.99 per person.
Krispy Kreme, 36 East 23rd Street, (315)-203-7058
Krispy Kreme has released their Thanksgiving doughnuts! Featured doughnuts include, Pecan Pie, The Gobbler, Dutch Apple Pie, Cranberry Orange, and Chocolate Iced with Thanksgiving Sprinkles. Enjoy now through Thanksgiving Day, November 25th.
Lady M, 1178 Broadway, (212)-452-2222
For dessert, serve Lady M's seasonal Pumpkin Nuage, a perfect combination of pumpkin pie and pumpkin cheesecake atop a graham cracker crust. $80 each. Pre-order 30 days in advance or place pickup and delivery orders at least 2 days in advance.
La Pecora Bianca, 1133 Broadway, (212)-498-9696
Celebrate Thanksgiving with a four-course prix fix menu at La Pecora Bianca. $75 per person. Make your reservations here.
Leonelli Bakery, 7 East 27th Street, (212)-993-1568
Serve a showstopping pie for dessert at your Thanksgiving celebration. Leonelli Bakery is offering a Pumpkin & Mascarpone Pie or a Pecan Pie, each for $42. Pre-ordering starts on November 15th and the last day to order is November 19th. Pies for pick-up only. There will be a limited number of pies leading up to Thanksgiving Day on November 25th for walk-ins to purchase.
maman, 22 West 25th Street, (646)-476-7660
Serve a delicious pie from maman at your Thanksgiving dinner. Pies offered include a Classic Pecan Pie, Pumpkin Pie with Whipped Cream Cheese, Spiced Apple Crumb Pie, and Mixed Berry Pie. $40 each. Available only from November 20th-24th in limited quantity at maman locations. Order in-person at maman or online via catering@mamannyc.com.
Mangia NYC, 22 West 23rd Street, (212)-647-0200
Cater your Thanksgiving dinner at home with Mangia NYC. Served family-style for a minimum of 6 people. The menu includes starters, entrees, sides, and desserts. All prices per person. Order for delivery or pickup here.
Mark's Off Madison, 41 Madison Avenue, (646)-838-8300
Mark's Off Madison will be offering Thanksgiving dinner from 1- 8 pm on November 25th with a prix fix menu for $115 per adult and $40 for children under 12. To make a reservation, email: susan@marksoffmadison.com. Catering is also available.
Rezdôra, 27 East 20th Street, (646)-692-9090
Celebrate Thanksgiving at Rezdôra with a seasonal, family-style meal for $180 per person from noon to 3:30 pm. Book your reservations here.
Sarabeth's, 381 Park Avenue South, (212)-335-0093
Sarabeth's is offering a four-course prix fix Thanksgiving dinner this year. For $75 per person, enjoy from 2 pm to close. Reserve your table here. If you're celebrating at home, order Thanksgiving take-out for $49 per person. No minimum order is required. Please call to place your order for pickup before 5 pm on Monday, November 22nd.
Scampi, 30 West 18th Street, (212)-888-2171
Enjoy Scampi's "Everything But The Turkey" dinner at home for $250. Feeds 4-6 people. Pre-order for pickup. Pick-up is available at Scampi and Short Hills, NJ.
Scarpetta, 88 Madison Avenue, (212)-691-0555
At Scarpetta, celebrate Thanksgiving with an Italian-inspired dinner for $155 per person. Optional wine pairing is available for $70 per person. Book your reservations here. Scarpetta is also offering Thanksgiving meal kits to order for 4 people at $425.
The Smith, 1150 Broadway, (212)-685-4500
Enjoy a three-course Thanksgiving dinner at The Smith for $72 per person and half price for children under 12. Fixings for the table are included. The Smith is now taking reservations and pre-orders for delivery or pickup.
Veggie Grill, 12 West 23rd Street, (332)-600-7001
Let Veggie Grill cater your Thanksgiving feast! Enjoy turkey wellington, sides, soup and dessert for $75. Just want the desserts? Carrot Cake and Pumpkin Cake with Belgian Chocolate Ganache are available. $22 each. Order now for pickup on November 23rd or 24th.
Yakiniku Futago, 37 West 17th Street, (212)-620-0225
Celebrate Thanksgiving at Yakiniku Futago with a family-style meal for $125 per person, featuring appetizers, table barbecue & rice, and dessert. Thanksgiving dinner will be offered November 25th-28th. The A La Carte menu will also be available. Make your reservations here.
Header Image Credit: The Smith
Home Page Image Credit: ilili