Mayor Unveils the City's Largest Shared Street in Flatiron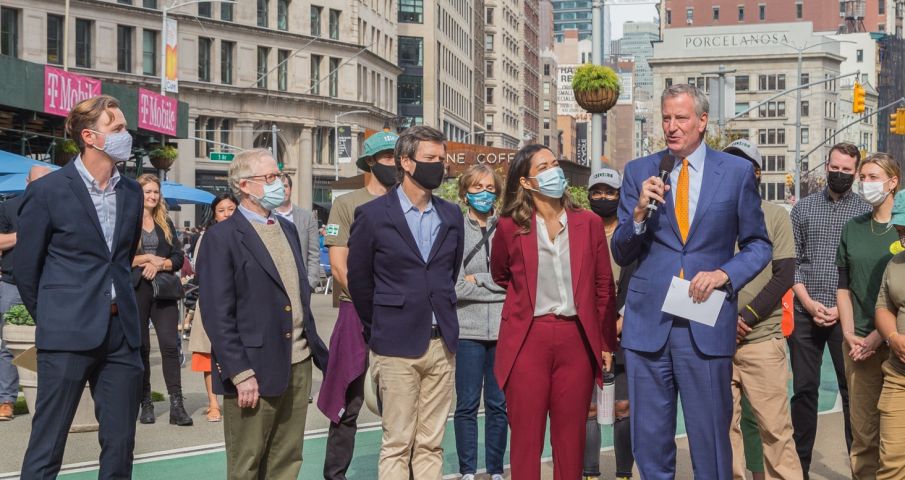 On October 25, Mayor de Blasio and NYC Department of Transportation (DOT) Commissioner Hank Gutman unveiled major street improvements in the heart of Manhattan, including six blocks of Broadway to be fully pedestrianized or modified to share space with pedestrians and cyclists.
The Mayor cut the ribbon on two blocks of shared street space on Broadway in Flatiron between 22nd and 23rd Streets, alongside local elected officials, small businesses, and leadership from the Flatiron Partnership, Garment District Alliance, and Times Square Alliance. These two blocks create the largest shared street citywide and feature innovative new designs that will be used in future shared streets.
"Open space knits our communities together and reduces our reliance on cars – and there's no more powerful statement than proving it can be done in the heart of Manhattan's most iconic street," said Mayor Bill de Blasio. "These improvements will make Broadway more vibrant and accessible for everyone, not just car owners. It proves we can get more out of our streets with the right mix of hard work and creativity, and I'm excited to see these ideas implemented at more locations across the five boroughs."
"These innovative new designs reimagine how every New Yorker interacts with our streetscape," said DOT Commissioner Hank Gutman. "These streets are safer, more accessible, and make the experience for people – not cars – the best it can be. With the strong support of local businesses, these designs serve as a model that we look forward to implementing on key streets citywide, including some of our most successful Open Streets."
"The new Flatiron Slow Street creates a safer and more enjoyable experience for people walking and cycling here in the heart of Manhattan, while ensuring that neighborhood circulation and access needs are maintained," said James Mettham, Executive Director of the Partnership. "The pandemic has underscored our commitment to thoughtful and creative public realm improvements like this one, especially as we continue to welcome workers and visitors back to the district. We are grateful to the Department of Transportation, Community Board 5, and other local stakeholders for  collaborating with us."
Located next to the iconic Flatiron Building and the newly resurfaced Flatiron South Plaza, the Slow Street's design is based on years of close observation and data collection by DOT and stakeholder engagement conducted by the Partnership. The project is part of the Partnership's long-term vision of a pedestrian-focused Broadway corridor through Flatiron and NoMad, which has also included the construction of the Flatiron Public Plazas in 2009 and Manhattan's first Shared Street, from 24th to 25th Street, unveiled in 2017.
The Slow Street also builds upon a reimagining of public spaces in the neighborhood that accelerated during the pandemic. Since May 2020, the Partnership has managed the City's Open Streets program in Flatiron and NoMad, opening up stretches of Broadway, 20th Street, 22nd Street, and 28th Street to pedestrians and cyclists. Additionally, the Partnership has worked with local restaurants on outdoor dining on sidewalks and streets—including those on the popular NoMad Piazza Pop-Up on Broadway between 25th Street and 27th Street—through the City's Open Restaurants program.
Read More: City Hall in Your Borough: Mayor Unveils Manhattan's Largest Shared Street, Other Major Open Space Improvements