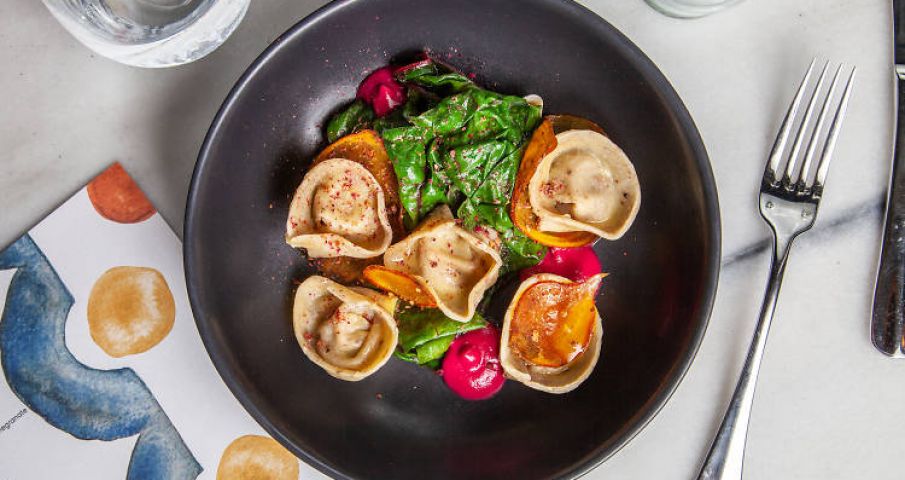 As more people are returning to work in-office, restaurants are seeing a rise in midday activity. Whether looking for fine dining for a business lunch or a casual sit-down meal, restaurants in Flatiron & NoMad are back and pleased to offer several options.
Here is a round-up of some lunch spots not to miss.
BLACKBARN Restaurant, 19 East 26th Street, (212)-265-5959
BLACKBARN features a farm-to-table menu that can cater to a variety of settings and is now open for lunch Tuesday-Friday from 11:30 am – 2:30 pm. The lunch menu offers a variety of starters, mains, and desserts. To begin, try the Charred Corn and Kale Salad. For a main, choose from pasta, like the Fresh Tagliolini, fish such as the Seared Branzino Filet, or the notable Black Barn burger, among other options. Save room for dessert and indulge in the Rum Butterscotch Bread Pudding.
Bombay Sandwich Co., 48 West 27th Street, (646)-781-9756
Bombay Sandwich Co. serves health-conscious Indian food focusing on flavorful vegetarian and vegan options. From 11 am daily, you can choose and savor from a variety of sandwiches & wraps, salads, and bowls seasoned with hand-roasted and ground Ayurvedic spices filled with vitamins and minerals. Enjoy a Paneer Tikka Burger or a Turmeric Tofu Wrap with a side of Chana Masala or a Quinoa & Avocado Salad. Order a classic to drink like a Vegan Mango Lassi or try an Iced Cardamom Coffee.
Hill Country Barbecue, 30 West 26th Street, (212)-255-4544
Hill Country Barbecue offers Texas-style BBQ in the heart of NYC. Starting at 12 pm Wednesday – Friday, enjoy classics like their Fried Chicken or Pulled Pork Sandwiches paired with a hot side of Longhorn Cheddar Mac & Cheese. Guests looking for larger portions can also choose from Barbecue Platters and Pitmaster Specials. End your meal with a sweet Banana Pudding.
Honeybrains, 34 West 22nd Street, (917)-472-7682
Honeybrains creates nutritious and delicious options, along with fresh-pressed juices to keep you energized and feeling good. For lunch try a brain bowl like Daily Catch with Atlantic salmon and seasoned sweet potatoes. If salads are your go-to, order the Forever Green filled with kale, spinach, watermelon radish, and more. Additional offerings include sandwiches and toasts like the Chicken Schnitzel or the Avocado Crush.
II Fiorista, 17 West 26th Street, (646)-490-8240
Il Fiorista just welcomed the neighborhood back for lunch. Now from 11:30 am – 2:30 pm Tuesday-Friday you can enjoy a Mediterranean inspired menu amidst a flower-filled interior. Highlights include the Fenugreek Flatbread with marinated labneh, the Sicilian Eggplant with sweet pepper and mint, and the Red Leaf Salad with summer squash and sunflower. Pair your meal with flower-inspired cocktails such as Alpine Spritz or Welcome to Paradise. Don't forget dessert and try the Black Cardamom Semifreddo. 
Maman, 22 West 25th Street, (646)-476-7660
Maman, a French-American cafe and bakery offers all-day breakfast, including the Smashed Avocado Tartine made with tomatoes, cilantro, onion, lime, pumpkin seeds, sea salt & chili flakes on toasted country bread. For lunch, the wilde salad is a fan-favorite  featuring smoked salmon, avocado, mixed greens and roasted potatoes. You can also enjoy soups, sandwiches, a variety of pastries, and a robust coffee & drink menu.
Mexicue, 225 Fifth Avenue, (646)-922-7289
Mexicue fuses Mexican cuisine with American barbecue to bring the best mashup of flavors. Starting at 11 am daily you can enjoy lunch. From Shareable Starters like the Seasonal Guacamole to the Jamburrito with chicken & chorizo Mexican jambalaya, every dish is filled with bold flavors. Mexicue's menu also features Small Bowls such as the BBQ Pork Rice Bowl and an exciting lineup of Tacos like Nashville Hot Chicken and Burnt Ends Brisket.
Milu, 333 Park Avenue South, (212)-377-6403
Milu offers a regional Chinese menu with traditional dishes in a modern setting. Serving lunch from 11 am onwards, try the Sichuan Spiced Cauliflower or Mandarin Duck Bowl served with white rice or mixed grains. Pair a bowl with a side of Watercress Cilantro Salad or Broccoli & Mushroom Wontons. If you have a large dining party, choose Family Style meal options for 2 or 4-5 people. For dessert, try the Milk Tea Soft Serve.
Mista Oh, 41 West 24th Street, (646)-559-8858
Mista Oh presents popular Korean dishes in a family-owned establishment. Beginning at 11 am, choose from an assortment of appetizers like Bulgogi Kimchi fries or Seafood Pancake before enjoying Korean BBQ with Galbi or a rice-based dish like Dolsot Bibimbap. The menu also includes 4 Lunch Box options, Soups such as Doenjang Jigae, and traditional Galibijim.
NuLeaf, 23 West 23rd Street, (917)-388-3566
NuLeaf brings plant positive eats with bowls, salads, and handhelds using locally-sourced ingredients. With a 100% plant-based menu that is also earth-friendly, you can feel good about your food, and know that it's environmentally conscious. Stop in for lunch and try the Chorizo Fiesta Bowl with blackbird seitan chorizo, the NuLeaf Burger with a beyond patty, or the Superfood Salad. Pair with a Green Power Smoothie. For dessert have a Peanut Butter Cookie Dough Shake.
Summer Salt, 30 East 23rd Street, (212)-209-0648
Summer Salt offers burritos, tacos, and bowls influenced by Southern California and Baja cuisine and is open at 11 am daily. Try the Pollo Asado burrito and choose between California Style with French fries inside or Mission Style with rice and beans inside. Also, enjoy some tacos like the Seared Adobo Fish or Shrimp seasoned with lime and chile on corn tortillas.
Taïm, 64 West 22nd Street, (212)-966-7364
Taïm offers tasty Mediterranean fare, with a menu that includes Falafel, Fresh-Baked Pita, Eggplant Sabich, and more. Starting at 11 am daily, you can order a pita or bowl, choose from several mains like Roasted Chicken and Cauliflower Shwarma, and pick toppings and sauces like pickled onions, seasoned chickpeas, and amba (tangy mango chutney). Pair your lunch with Taïm's Famous Fries and Fresh Ginger Mint Lemonade.
Tappo Thin Crust, 49 West 24th Street, (212)-807-9200
Tappo Thin Crust serves extra-thin crust pizza, classic Italian sub-sandwiches, salads, and pastas. Enjoy weekday lunch specials from 11:30 am – 3:30 pm and the full menu. To start enjoy a small plate of Bruschetta with grilled ciabatta bread or a Tre Colori salad. From the lunch special options try a Personal Pizza with a Specialty Salad, a Chicken Parmigiana Sandwich, or Rigatoni in Bolognese Sauce.
wagamama, 210 Fifth Avenue, (212)-920-6233 
wagamama features contemporary Japanese cuisine with lunch beginning at 11 am daily. The lunch menu has shareables like Tuna Tataki, Korean Barbecue Beef + Red Onion Bao, and Steamed Pork Gyoza. For a main dish, try Chicken Katsu Curry or Duck Donburi. There are also several ramen options from Chili Shrimp + Kimchi to Short Rib Beef. Order a pressed juice with fresh fruits and veggies or a hot tea to compliment your meal.
Zucker's Bagels, 40 East 23rd Street, (212)-228-5100
Zucker's Bagels serves handmade kettle-boiled bagels you can enjoy with numerous spreads along with deli classics, coffee, and more. For lunch, try a signature sandwich such as The Flatiron with everything seeded salmon, scallion cream cheese, and avocado on your choice of bagel, wrap, or artisan bread. Head to the deli for a Tuna or Egg Salad Sandwich and pair with a cup of Vegetarian Lentil Soup.
Header Photo: Il Fiorista via Time Out