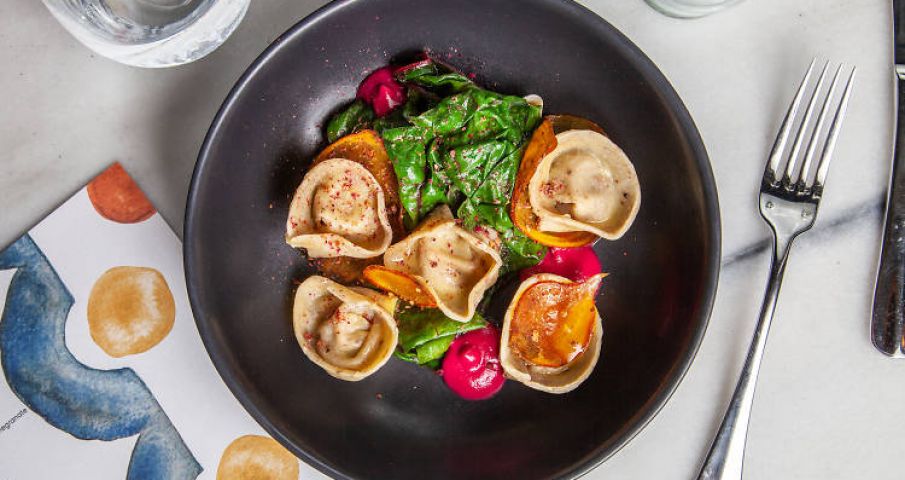 Whether looking for fine dining for a business lunch or a casual sit-down meal, restaurants in Flatiron & NoMad offer several options. Check out our roundup for a variety of lunch spots ranging in cuisine and atmosphere.
Barn Joo NoMad, 816 Sixth Avenue, (917) 409-1637, @barnjoo_nomad
Korean restaurant Barn Joo NoMad serves up creative dishes including Lunch Specials from 12 – 4 pm.
Bazár Tapas Bar & Restaurant, 31 West 26th Street, (212) 510-8155, @bazartapasnyc
Savor eclectic tapas, entrees, wine and cocktails for a leisurely lunch at Bazár Tapas.
BLACKBARN Restaurant, 19 East 26th Street, (212) 265-5959, @blackbarnrestaurant
BLACKBARN features a farm-to-table dishes that can cater to a variety of settings and is open for lunch Monday -Friday from 11:30 am – 3 pm.
Hill Country Barbecue Market, 30 West 26th Street, (212) 255-4544
Hill Country Barbecue offers Texas-style BBQ in the heart of NYC. Starting at 12 pm daily, enjoy classics like their Fried Chicken or Pulled Pork Sandwiches paired with a hot side of Longhorn Cheddar Mac & Cheese.
Honeybrains, 34 West 22nd Street, (917) 472-7682
Honeybrains creates nutritious and delicious options, along with fresh-pressed juices to keep you energized and feeling good. For lunch try a brain bowl, salad, or sandwich.
ilili, 236 Fifth Avenue, (212) 683-2929,  @ililirestaurants
ilili serves flavorful Lebanese cuisine including mezza, salads, sandwiches, mains, and desserts weekdays from 11:30 am – 3:15 pm.
La Pecora Bianca, 1133 Broadway, (212) 498-9696, @lapecorabianca
Italian restaurant La Pecora Bianca offers market-driven dishes. Starting at 11 am weekdays, enjoy appetizers, pastas, and salads.
maman, 22 West 25th Street, (646) 476-7660
maman, a French-American cafe and bakery offers all-day breakfast and lunch served weekdays from 10:30 am – 4pm. Enjoy soups, salads, sandwiches, a variety of pastries, and coffee & tea.
Mark's Off Madison, 41 Madison Avenue, (646) 838-8300, @marksoffmadison
The upscale restaurant and bagel bakery offers lunch Tuesday – Friday from 11:30 am – 2:30 pm featuring Italian fare and classic favorites, including pastas, salads, mains, and pizzas.
Mexicue, 225 Fifth Avenue, (646) 922-7289
Mexicue fuses Mexican cuisine with American barbecue to bring the best mashup of flavors. Starting at 11 am daily you can enjoy lunch with shareable starters, tacos, and burritos.
Milu, 333 Park Avenue South, (212) 377-6403
Milu offers a regional Chinese cuisine with traditional dishes in a modern setting. Serving lunch from 11 am onwards, try a bowl with your choice of protein with a side salad. Save room for dessert and order the Milk Tea Soft Serve.
Mista Oh, 41 West 24th Street, (646) 559-8858
Mista Oh presents popular Korean dishes in a family-owned establishment. Beginning at 11 am, choose from an assortment of appetizers and mains, including seven lunch box options.
The Smith, 1150 Broadway, (212) 685-4500, @thesmithrestaurant
The Smith offers American favorites from burgers to salads and sandwiches great for a weekday lunch, available from 11:30 am – 5 pm.
Summer Salt, 30 East 23rd Street, (212) 209-0648
Summer Salt offers burritos, tacos, and bowls influenced by Southern California and Baja cuisine and is open at 11 am daily.
Taïm, 64 West 22nd Street, (212) 966-7364
Taïm offers tasty Mediterranean fare that includes Falafel, Fresh-Baked Pita, Eggplant Sabich, and more. Starting at 11 am daily, you can order a pita or bowl, choose from several mains and pick toppings & sauces like pickled onions, seasoned chickpeas, and amba (tangy mango chutney).
Tappo Thin Crust, 49 West 24th Street, (212) 807-9200
Tappo Thin Crust serves extra-thin crust pizza, classic Italian sub-sandwiches, salads, and pastas. Enjoy weekday lunch specials from 11:30 am – 3:30 pm.
Tarallucci e Vino NoMad, 44 East 28th Street, (212) 779-1100, @taralluccinyc
Located in the heart of NoMad, Tarallucci e Vino serves delicious Italian dishes. The restaurant will be reopening for lunch after Labor Day.
wagamama, 210 Fifth Avenue, (212) 920-6233 
wagamama features contemporary Japanese cuisine with lunch beginning at 11 am daily. For lunch enjoy shareables and mains, including curry and ramen.
Zucker's Bagels, 40 East 23rd Street, (212) 228-5100
Zucker's Bagels serves handmade kettle-boiled bagels you can enjoy with numerous spreads along with deli classics, coffee, and tea. For lunch, try a signature sandwich or create your own sandwich on a bagel, wrap, or artisan bread.
Header Photo: Il Fiorista via Time Out