Flatiron Fitness Series 2021 Recap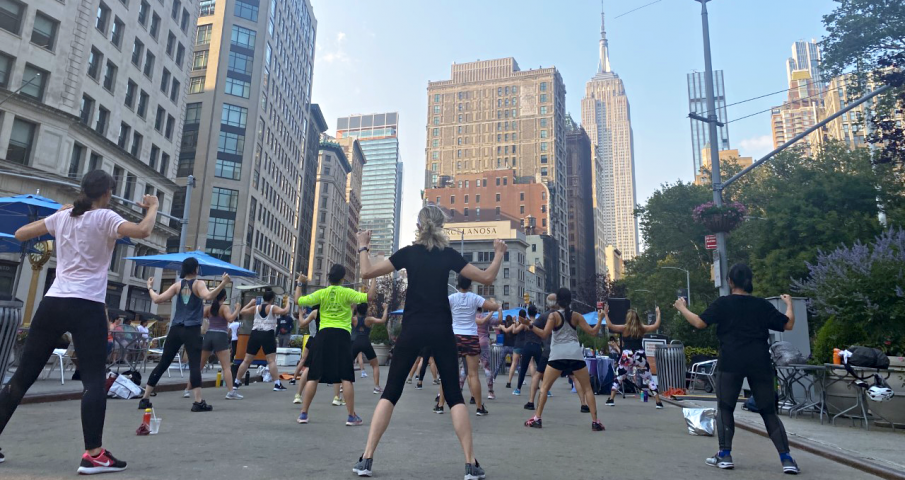 The Flatiron/23rd Street Partnership's Flatiron Fitness Series, which concluded on August 4th, presented eight weeks of outdoor workouts in support of local fitness studios and gyms. Attendees worked out on rooftop terraces at nearby hotels Tuesday mornings and at Flatiron's signature "Wellness Wednesday" evening classes on the Public Plaza at 6 pm. All classes collected donations and 100% of donations were directed to fitness studio and gym partners. In total, we partnered with 10 studios and gyms, two hotels, and eight food and retail shops.
Starting Juune 15th, the program spanned eight weeks. Overall, approximately 250 attendees particpated (*class capacity was limited this year to maintain social distancing) and $1,429 in donations was collected from attendee. Additionally, for each fitness class, "Attendee Perks" email featuring deals & promos from local businesses was sent. The program was popular on social media with over 100K social media impressions earned. 
Check out the full program recap and stats here.
Shout out to our partners for a successful program this year: 
And a big THANK YOU to everyone who participated and donated to support neighborhood fitness studios and gyms!
>> For a full program recap of the FLATIRON FITNESS SERIES, CLICK HERE.<<