Celebrating Fourth of July Guide 2021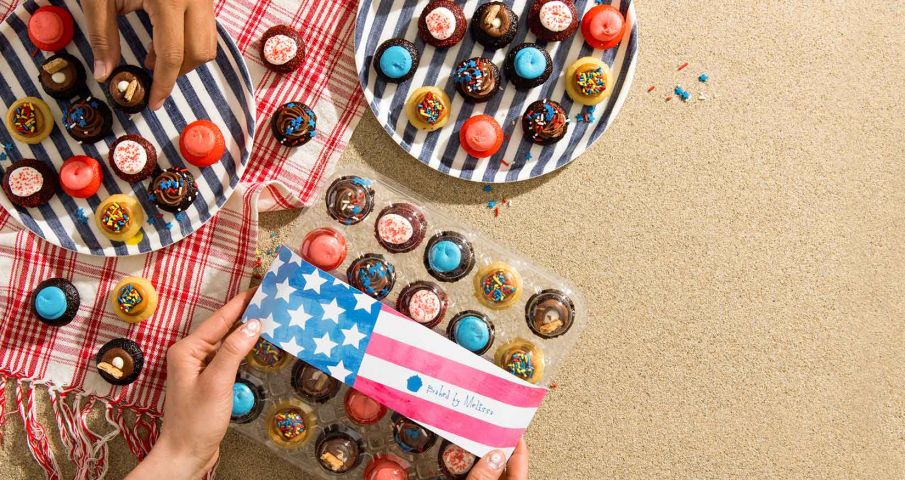 Celebrate Independence Day this weekend in the neighborhood with special treats and offerings.
Celebratory Meals & Treats & Drinks
Baked by Melissa, 111 East 23rd Street  
Pick up a Fourth of July cupcakes featuring six different handcrafted, colorful, bite-size flavors.
Bourke Street Bakery, 15 East 28th Street
Enjoy the holiday with freshly baked treats. Plus, they're giving away FREE sourdough. To score a free loaf: download their new app, stock up on Bourke Street goodies online, and get a free organic loaf with all pickup and delivery orders for July 3rd & 4th (while stocks last).
by Chloe's, 60 West 22nd Street, (212) 290-8000
Enjoy 4th of July with the shop's summer sandwhich Smoke Stack and Air Baked Onion Rings.
Cote Korean Steakhouse, 16 West 22nd Street, (212) 401-7986
Fire up the grills and serve up Cot's Fourth of July Feast featuring specialty double-cut ribeye, a Niman Ranch beef burger kit for 6, plus their house marinated USDA Prime Short Rib Galbi.
Eataly, 200 Fifth Avenue, (212) 229-2560
Shop Eataly's Fourth of July treats. Options include picnic spreads (like this one), gift baskets, fresh meats for grilling, wine, herbs, grilling salts, and fresh pastas.strong>Hill Country Barbecue, 30 West 26th Street, (212) 255-4544
Upgrade your Fourth of July BBQs with Hill Country's Barbecue Rib Kit with their St. Louis cut Pork Ribs and all the fixings.
Krispy Kreme, 36 East 23rd Street Grab Krispy Kreme's celebratory July 4th doughnut dozen or mini doughnuts for a holiday treat. PLUS, Krispy Kreme is sweetening your festivities with a BOGO deal: Enjoy A FREE Original Glazed® dozen with any dozen purchase, June 28th through July 4th.
Veggie Grill, 12 West 23rd Street, 332-600-7001
Celebrate Independencec Day with Summertime Plant-Based BBQ. Order here.
Yakiniku Futago, 37 West 17th Street,  (212) 620-0225Enjoy 4th of July with Futago BBQ Grill Kits with $50 off any kit via their Manhattan delivery partner MISE. Use promo code YF5050DEAL at checkout. BBQ kit options include A5 Wagyu Steak & Premium BBQ, Signature Steak BBQ, Traditional BBQ, and Premium BBQ. Delivery for Brooklyn, Queens, Long Island, and Jersey City available through Chowbus. To place an order for pick up from the restaurant, call 212-620-0225 or email futago.nyc@gmail.com.
230 Fifth Rooftop, 230 Fifth Avenue, (212) 725-4300, Menu
Stop by 4th of July for Summer BBQ and Evening Fireworks from 11 am – 2am.
Gifts & Flowers & Apparel
Abracadabra, 19 West 21st Street, (212) 627-5194
For all your 4th of July looks, stop by the famous costume and magic shop for makeup, wigs, hats, flags, accessories, and apparel here.
Ann Taylor, 149 Fifth Avenue, (212) 253-1445
Celebrate with 30% off all clothing here.
Blooming Affairs, 925 Broadway, (212) 262-0004
Shop here for blooms and arrangements this Independence Day.
Wear Sportwear, 19 West 26th Street, (212) 683-3700
Shop Independence Day Apparel and save 40% off here.
Chelsea Flea Market, 29 West 25th Street, btwn Fifth & Sixth Avenue
Shop Indepence Day for a treasure trove of one-of-a-kind finds at the Chelsea Flea Market every Saturday and Sunday, from 8 am to 5 pm, rain or shine! Browse art, jewelry, antiques, and unique vintage goods.
The Home Depot, 40 West 23rd St, (212) 929-9571
Enjoy Fourth of July sales of Home Depot's tools, gift cards, and more.
Johnston & Murphy, 200 Fifth Avenue, (212) 242-1636
Enjoy End of Season sales for stylish apparel, accessories, and shoes.
Header Photo Credit: Baked by Melissa