Celebrating Pride Month Guide 2021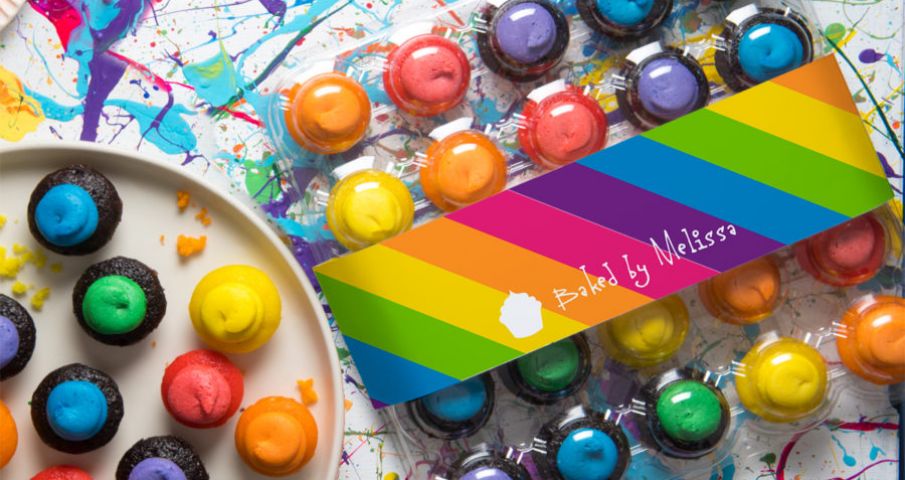 June is Pride Month, a celebration of the civil rights of the LGBTQ+ community and commeoration of the 1969 Stonewall Uprising. The NYC Pride March will return with a broadcast special with live performances, interviews, and street-side marching activity. The broadcast kicks off on Sunday, June 27th on ABC-7 from 12 pm to 3 pm.
After the broadcast, there will be a virtual experience of the March featuring groups and organizations highlighting one of this year's five Grand Marshals. The virtual experience will be on  NYC Pride March's Facebook and YouTube right at 3 pm.
Many Flatiron & NoMad businesses are offering promotions in support and celebration of Pride, including:
Celebratory Treats, Drinks, Books & Apparel
Abracadabra, 19 West 21st Street, (212) 627-5194
For all your Pride looks, stop by the famous costume and magic shop for makeup, wigs, accessories, and apparel.
Bath & Body Works, 304 Park Ave South, (212) 260-9293
is celebrating with Pride Collection and Gifts.
Baked by Melissa, 111 East 23rd Street  
Pick up a Pride Cupcake Pack featuring six handcrafted, colorful, bite-size flavors. 10% of net proceeds from the sales of our Pride desserts will be donated to The Lesbian, Gay, Bisexual & Transgender Community Center in NYC.
by Chloe's, 60 West 22nd Street, (212) 290-8000
The shop is offering their Pride Vanilla Rainbow Cupcake. A portion of proceeds supports The Okra Project.
Club Monaco, 160 Fifth Avenue, (212) 352-0936
Stop by Club Monaco Fifth Avenue to pick up a Crest Pride Tee. 50% of the purchase price of every Pride tee will be donated to the Stonewall Community Foundation, a New York based group created in support and celebration of the LGBTQIA+ community.
Dos Caminos, 373 Park Avenue South, (212) 294-1000 
Enjoy a plate of Pride rainbow tacos (available June 25th – 27th) or Pride rainbow pancakes for weekend brunch (available June 26th & 27th). A portion of pancake proceeds will benefit the Ali Forney Center.
ilili, 236 5th Avenue, (212) 683-2929
ilili will be donating $2 to LebMash for every order of their "We Are the World" cocktail.
maman,  22 West 25th Street, (646) 476-7660
Spreading the love with a Vanilla Rainbow Cake. To order, contact catering@mamannyc.com.
New York Edition Hotel Lobby Bar, 5 Madison Avenue, (212) 413-4200
The Lobby Bar serves crafted cocktails and light bites amid tasteful design. Grab their craft LGBTQ cocktail made with Lillet Rose (L), Green Chartreuse (G), Blueberry Syrup (B), Tequila (T), Quina Infusion (Q). Available through June 30. A portion of the proceeds from each cocktail will be donated to the The Lesbian, Gay, Bisexual & Transgender Community Center in NYC. 
Rizzoli Bookstore, 1133 Broadway, (212) 759-2424
Curated a month-long Pride window featuring LGBTQ+ authors.
Scampi, 30 West 18th Street, (212) 888-2171
Featuring cocktail called "Stonewall Inn" with Rum, Curaçao, muddled lemon & blackberries, garnished with raspberry.
Shake Shack, 23rd Street and Madison Avenue, (212) 889-6600
Offering the Pride Shake and dontating 5% of sales to the Trevor Project.

Experiences
Fotografiska, 281 Park Ave South, (212) 433-3686, Get Tickets Here
Hosting book talk of Loving with authors Hugh Nini and Neal Treadwell – A Photographic History of Men in Love 1850's-1950's. Buy tickets for event here. Afterwards check out current exhibitions: Skin Contact by Naima Green, The Darkroom by Tom of Finland, ONXY by Andrienne Raquel, Your Gaze Belongs to Me by Pixy Liao, and more!
John Doe Craft Bar & Kitchen, 253 5th Avenue, (646) 882-4007
Stop by for Drag Brunch every Sunday, 12 pm – 3 pm.
Museum of Sex, 233 Fifth Avenue, (212) 689-6337, Get Tickets Here
Discover the evolution of sexuality at this museum and check out their lobby gift shop featuring a dedicated Pride station.
SPiN Ping Pong Lounge New York, 48 East 23rd Street, (212) 982-8802, Book a Table
Celebrate Pride with playing ping pong. Reserve one of SPiN's 19 tables, enjoy a couple of games, and try their food and drink menu.
Y7 Studio, 25 West 23rd Street
The studio is donating proceeds from all live flows and supporting a different organization each week.