Father's Day Guide: Offers at Flatiron Shops & Restaurant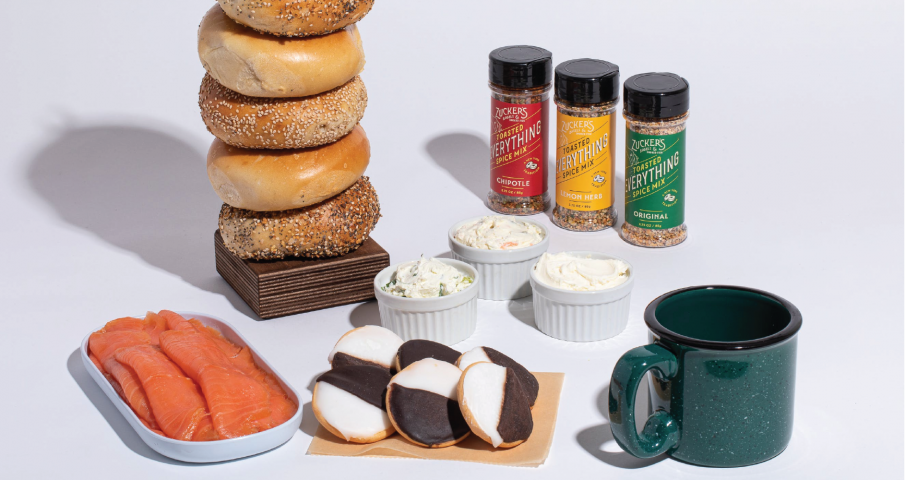 With Father's Day around the corner, make the most of Dad's special day by shopping for gifts and enjoying a special meal in the neighborhood. We've put together a list of local options to treat dad, dads-to-be, grandfathers, and other special figures in your life.
Celebratory Meals & Treats
Bourke Street Bakery, 15 East 28th Street
Pick up some freshly-baked treats from the popular Australian bakery including savor bread for Dad: a Bacon, Sage & Confit Garlic Sourdough. Order directly here or via Goldbelly. A selection of muffins, breads, croissants, cookies, and cakes are also available.
Cote Korean Steakhouse, 16 West 22nd Street, (212) 401-7986
Take your dad out to dinner at the popular Korean steakhouse. Make reservations here. Gift your dad a Father's Day "Ready to Grill" Feast for 4-6 featuring USDA Prime Niman Ranch burger sets and marinated galbi. Order here.
Eataly, 200 5th Avenue, (212) 229-2560
Shop Eataly's Father's Day gifts. Options include gift baskets, fresh meats, and wine, Beard Care Kits, herbs, grilling salts, and fresh pastas make for a great gift.
Leonelli Bakery & Leonelli Taberna Restaurant,  7 East 27th Street, (212) 993-1568
Celebrate the holiday with Leonelli! Pick up coffee and baked goods at the bakery and you can book brunch for Sunday here. Take advantage of Leonelli's Italian BBQ Father's Day Meal Kit! Pick up at our Bakery on June 18th, 19th, and 20th, or have it sent straight to your door with $25 flat rate overnight ground shipping available to MA, CT, NY, NJ, and PA.⁠ Pre-order by emailing reservations@leonellirestaurants.com by June 16th. The Bone-In Ribeye kit can feed 2-4 ppl.
maman,  22 West 25th Street, (646) 476-7660
Shop Father's Day gifts with maman's signature cookie gift boxes and a limited edition "pour papa" Father's Day Gift box featuring Parlor Coffee roasted beans and a baseball hat.
Taïm, 64 West 22nd Street, (212) 966-7364
Send your father figure delicious cauliflower shawarma, imposiible kebabs, and more using the Code: LOVEDAD20 and you will get $20 off your first order with Goldbelly.
Obicà Mozzarella Bar, 928 Broadway, (212) 777-2754
Treat your dad to their new summer menu featuring Italian specialties for brunch, lunch, and dinner. Book here.
Seven Grams Caffe, 76 Madison Avenue, (212) 779-0777
Send dad a cookie gift box! Your choice of classic chocolate chip cookies. plush gluten-free and vegan cookie options. Coffee add-ons for a deluxe gift box are also available.
Patisserie Chanson,  20 West 23rd Street, (929) 423-8880
Gift dad an assortment of gourmet fresh-baked pastries, danishes, and breads from this impressive French café. 
Yakiniku Futago, 37 West 17th Street,  (212) 620-0225
Treat your dad to Yakiniku Futago's for a special Father's Day Special with with a complimentary sparkling wine for toast.
Zucker's Bagels and Smoked Fish, 40 E 23rd Street, (212) 228-5100
Send dad a Father's Day Bagel Brunch for 6 including bagels, Black and White cookies, and a campfire mug.
Special Gifts
Destination XL (DXL) Men's Apparel, 703 6th Avenue, (212) 242-3189
An all-inclusive one-stop shop for apparel and shoes for 'Big and Tall' men with Father's Day specials and check out their Father's Day gift guide.
The Home Depot, 40 W 23rd St, (212) 929-9571
Browse Home Depot's tools, gift cards, and more for all of Dad's home improvement projects.
Johnston & Murphy, 200 5th Avenue, (212) 242-1636
Help Dad look his best with Johnston & Murphy's Father's Day Gift Ideas complete with stylish apparel, accessories, and shoe
Thursday Boot Company, 48 West 21st Street 2nd floor, (917) 261-6911
Shop high-quality boots and sneakers and leather accessories for Dad.
MoMath – The National Museum of Mathematics, 11 East 26th Street, (212) 542-0566
The mathematics museum's shop carries an array of products that make for great gifts such as cufflinks, MoMath clothing, puzzles, and home items.
Premier Indoor Golf,  1 East 28th Street 3rd floor, (646) 657-0174
Make reservations to practice and play with your dad.
Rizzoli Bookstore, 1133 Broadway, (212) 759-2424
Browse through staff book picks and new arrivals for dad's next favorite read. Journals, puzzles and art sets also available.
Silver Mirror Facial Bar, 20 W 22nd St, (212) 702-8742
Dad deserves some pampering too. Gift him a facial service from Silver Mirror, such as their "Just For Men" facial tailored to help skin congestion, shaving irritation, dehydration, dryness.
Todd Snyder, 25 East 26th Street, (917) 242-3482
Head over to Todd Snyder to shop apparel, watches, wallets, and other timeless menswear classics with New York sensibility. Browse bestsellers.
WTHN, 20 West 22nd Street, (646) 558-9846
Give the special man in your life the gift of self-care this Father's Day. For preventative or healing measures for Dad, pick up a gift card ranging from $50 to $150 for acupuncture sessions, herb remedies, sound meditations, and more.
Header Photo Credit: Zucker's Bagels and Smoked Fish