Support Women-Owned Businesses in Flatiron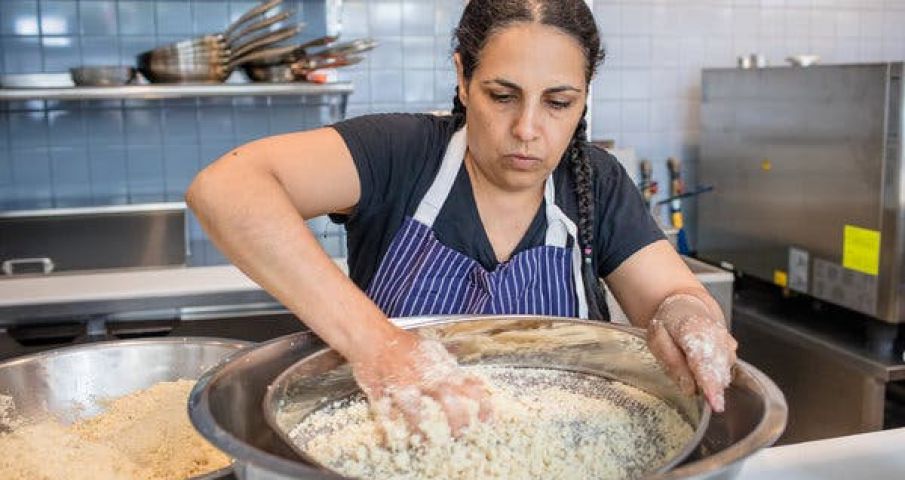 In honor of Women's History Month, we rounded up a list of women-owned businesses to support. Flatiron proudly boasts a number of women-led businesses across a variety of sectors.
Fitness
Jane DO, 24 West 23rd Street between Fifth and Sixth Avenues, (210) 938-1000 (ext. 4)
Founded by two former Radio City Rockettes who were fed up with fitness stereotypes, Jacey Lambros and Danielle DeAngelo launched a fitness concept for women to workout confidently offering cardio, dance, and strength training classes. Livestream and on-demand classes via their app available. 

Karma Kids Yoga, (646) 638-1444, downdog@karmakidsyoga.com
Karma Kids Yoga teaches children a variety of yoga tools they can take away from class and use in everyday life – inner-strength, confidence, self-esteem, and respect for others. Founder Shari Vilchez-Blatt was a VP, Advertising Director before changing her path. Her experience in the corporate ad world included researching children and moms for marketing purposes where she studied children's play patterns, socialization, and imagination. She left the marketing world for the opportunity to combine two things that are close to her heart – yoga and children. Livestream classes for child, family, and prenatal yoga practice are available.
Y7 Studio, 25 West 23rd Street, between Fifth Avenue and Sixth Avenue, (646) 820-0781
Y7 set out to make yoga practice inclusive and accessible. Founder Sarah Levey started the concept because of her own frustrations with yoga studios that she visited stating that she would often feel uncomfortable, inadequate, and desperate for some fun. Livestream and on-demand classes available via the Y7 app.
Retail
The Thrifty HoG & Noir et Blanc, 11 West 25th Street & 7 West 25th Street
Deborah Koenigsberger has been a successful Flatiron business owner for nearly 30 years. She opened the upscale resale boutique The Thrifty HoG. All proceeds benefit homeless mothers and children and the shop serves as a job training program. Located next door, you'll find Deborah's second Flatiron business Noir et Blanc, a French-inspired, contemporary boutique for the fashion-conscious shopper who will be treated to a personal shopper-like experience.
Wellness
Gotham Glow, 1123 Broadway #417, (212) 592-0368
In the neighborhood since 2011, Gotham Glow is an airbrush tanning salon and industry leader in the New York City area. The salon was founded by owner Tamar Vezirian and is well-known for creating an effective tanning formula that doesn't give off an unpleasant odor and is FDA-approved. The studio is currently open and offering in-salon and mobile tanning sessions. Book appointments here.
WTHN, 20 West 22nd Street, (646) 558-9846
An acupuncture studio and herbal shop meant to be ultra-modern, personalized, and convenient for you. The studio was founded by Michelle Larivee, an acupuncture advocate, and Dr. Shari Auth, a holistic health practitioner. You can shop online for herbs and wellness products and the studio is open with enhanced sanitation standards for acupuncture sessions.
Silver Mirror Facial Bar, 20 West 22nd Street, (212) 702-8742
Silver Mirror is a popular facial bar that offers unique and customized treatments designed to target and address your skincare concerns. Co-founder Cindy Kim's extensive experience in the beauty industry made her realize that something was missing in the world of achieving better skin when using good beauty products, getting expensive facials, and going to the dermatologist all proved to be frustrating and fruitless in her own endeavors. Thus, Silver Mirror was founded with her partner Matt Maroone, and the studio set out to provide frequent treatments in the form of fast and affordable facials. The facial bar has a suite of safety guidelines in place. You can book an appointment here.
sundays, 51 East 25th Street, at Madison Avenue, (646) 998-5711
sundays set out to revolutionize the traditional manicure with custom-designed non-toxic vegan nail polish in a space fit for meditation. Founder Amy Ling conceptualized the studio after her experience in beauty school and working as a chemist to study nail care products upon receiving her MBA from Columbia University. You can browse their online shop for nail polish kits and make appointments for manicures where you bring your own non-toxic nail polish.
Flatiron Family Medical, 12 West 21st Street, 6th Floor, 212-343-2222
Founded by two very impressive women –  Dr. Pamela Hops and Dr. Sapna Chaudhary, Flatiron Family Medical is centered on an integrative approach to medicine—the idea of treating the whole you by understanding and addressing the full range of physical, emotional, social, and environmental influences that can affect your health. Click here to become a member.
Flatiron Pediatrics, 27 East 22nd Street, (212) 460-5600
In the neighborhood since 2014, Flatiron Pediatrics specializes in exceptional medical care for kids and strives to build a beautiful, welcoming, comfortable space that clients enjoy visiting. The practice was founded by Dr. Victoria Riese, a pediatrician who has amassed a wealth of knowledge and experience over the course of a career that spans nearly a decade. In-person and virtual appointments available.
Dining
Bombay Sandwich Co., 48 West 27th Street, (646) 781-9756, Delivery or Pick-up
The Indian eatery serves healthy Indian cuisine with bold flavors using fresh fruits and veggies, whole grains, and roasted herbs and spices. The menu was informed by Bombay Owner Nisha Patel's Indian heritage and Brooklyn roots that inspired the restaurant's philosophy of "let thy food be thy medicine." Delivery or Pick-up.

Honeybrains, 34 West 22nd Street, (917) 472-7682, Delivery or Pick-up
Honeybrains is a family-owned café with a superfood-packed menu designed to improve brain wellness.  At the helm is Co-founder Marisa Seifan, a Filipino-American former federal prosecutor who was inspired to open a restaurant that promotes a healthy body and a healthy brain based on scientific research by neurologists and nutritionists. 

maman, 22 West 25th Street, (646) 838-0700, Delivery or Pick-up
Beloved French café and bakery is home to New York's famous Nutty Chocolate Chip Cookie and serves a selection of to-stay or to-go breakfast and lunch options. Founder Elisa Marshall conceptualized maman to bring her childhood favorites from the south of France and the U.S. back to life. 

Mista Oh, 41 West 24th Street, 646-559-8858, Delivery or Pick-up
One of Flatiron's newest restaurants, Mista Oh prides itself on serving authentic Korean flavors and offering customer service that makes you feel like family. The restaurant's owner, Holly Oh Diamond opened Mista Oh with her husband. The duo used their savings to open the restaurant to support their family of chefs instead of purchasing their first house. The newcomer has been well received by the neighborhood with raving reviews!
Om Juice Bar, 62 Madison Avenue, (917) 409-5900, Delivery or Pick-up
With a strong eye for freshness and health, Om Juice Bar touts its juices and smoothies as mindfully delicious and made with organic produce. Inspired by a meditation retreat, founder Anastasia Kulinich felt compelled to open her own juice bar after experiencing the wellness benefits of adopting a plant-based diet herself.
Taïm, 64 West 22nd Street, (212) 966-7364, Delivery or Pick-up
The acclaimed Tel Aviv-inspired vegetarian and kosher restaurant offers signature falafel and cauliflower shawarma to both vegetarians and carnivores alike. Founder Einat Admony realized many people did not know exactly what Israeli/Jewish food looked like, and she wished to change that.


Culture & Hospitality
Lois Lane Travel, 230 Fifth Avenue, 212-243-5277
For over 25 years, Lois Lane Travel has provided clients with expert advice on airfare, hotels, and car rentals. Founder Lois Eida, takes great pride in her work and serves as a major advocate for the Flatiron community at large.
Pen and Brush, 29 East 22nd Street, (212) 475-3669
A 125-year-old publicly supported not-for-profit showcasing the work of excellent female artists and writers with the ultimate goal of effecting real change within the marketplace. Under the presidency of accomplished writer and suffragist Grace Seton, Pen and Brush became an established legal corporation. The gallery is open to the public with enhanced safety standards in place Tuesday through Friday, 11 am to 5 pm. Evening Hours and Saturdays are available by appointment (contact elizabirdie@penandbrush.org).  

Poster House, 119 West 23rd Street, between Sixth and Seventh Avenues, (917) 722-2439
Poster House is the first museum dedicated to posters in the United States with a mission to showcase posters from all over the world and highlight the history, design, and cultural context. Val Crosswhite organized supporters and founded the museum to recognize the art and social impact of posters. The museum is unveiling new exhibits on March 4th and is open with enhanced safety standards Thursday through Sunday from 10 am to 6 pm.
TADA! Youth Theater, 15 W 28th Street, (212)-252-1619
TADA! was co-founded by Janine Nina Trevens in 1984 who still produces original musicals for children, teens, and family audiences. Tada offers both pre-professional training and youth development as well as musical theatre classes and camps for the public, schools, and community centers. Notable alumni include Jordan Peele, Kerry Washington, and Josh Peck. Online workshops, mini-series, and semesters are available.
This list does not encompass all women-owned businesses within the district. If you are a business in the district and would like to be featured, please contact us at info@flatirondistrict.nyc. 
Photo Credit: New York Times, of Taim founder Einat Admony