'Gifts for the Greater Good' Goes a Little Further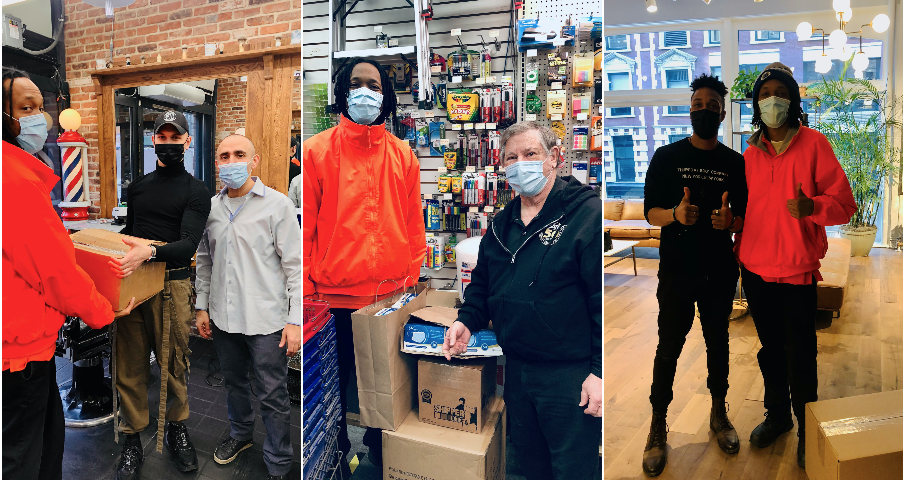 During the 2020 Holiday season, the Flatiron/23rd Street Partnership set out to support both neighborhood shops and those in need with our Gifts for the Greater Good campaign. The Partnership raised funds and matched donations to directly purchase gifts from retail stores in Flatiron and NoMad. These gifts were then given to needy families supported by two local organizations: Hearts of Gold and the  Harmonia Shelter.
Thanks to an incredible outpouring of support, we exceeded our fundraising goal, leaving us with  additional funds after we delivered over 450 gifts to Hearts of Gold and the Harmonia Shelter. In the spirit of the program, we allocated this extra funding to support a third organization and more local merchants with additional orders in the new year.
The Partnership selected those served by Urban Pathways (UP) as the third benefactor of Gifts for the Greater Good. UP is the Flatiron Partnership's Social Services provider. Since 2008, Urban Pathways has conducted outreach to those living without shelter in our District and facilitated temporary and permanent housing placements for dozens of individuals.
Urban Pathways specifically flagged the need for necessity items for the people they serve such as apparel, undergarments, PPE, and personal care items. The Partnership turned to neighborhood stores that offered such items and coordinated orders and donations with six businesses.
Business partners and items secured: 
J&M Hardware worked with us to coordinate a purchase of winter hats, insulated leather mittens, waterproof gloves, neck warmers, several pairs of jeans, zip-up sweatshirts, and dozens of individual hand sanitizers and boxes of masks.
Made Man Barbershop facilitated an order of personal care items such as Hair & Body Wash, Oral Rinse, Face & Body Soap Bars, No-rinse beard shampoos, and Made Man Wooden Combs.
Thursday Boot Company very generously donated 60 pairs of boots and shoes at no-cost, after donating 100 pairs of boots in December for holiday gifts. Thank you, Thursday!
The Partnership purchased apparel and undergarment items from Todd Snyder New York including boxers and T-shirts in a variety of colors and sizes.
A number of undergarments for women were purchased from Bradelis New York such as panties, bralettes, and bras. Bradelis also included tote bags and travel pouches as thanks for the support.
The Partnership purchased several personal care items from Bluemercury such as deodorants and lip balms.
A special thank you to the Urban Pathways team for their hard work in the district (and across the five boroughs) to support those living without shelter. And a HUGE thank you to our incredibly generous donors who made all of this possible. Every purchase order helped support Flatiron stores and provided necessity items for those in need. We are so grateful for our community!
Header & Thumbnail Image: Urban Pathways's Case Manager,
Keenan picking-up items from local businesses