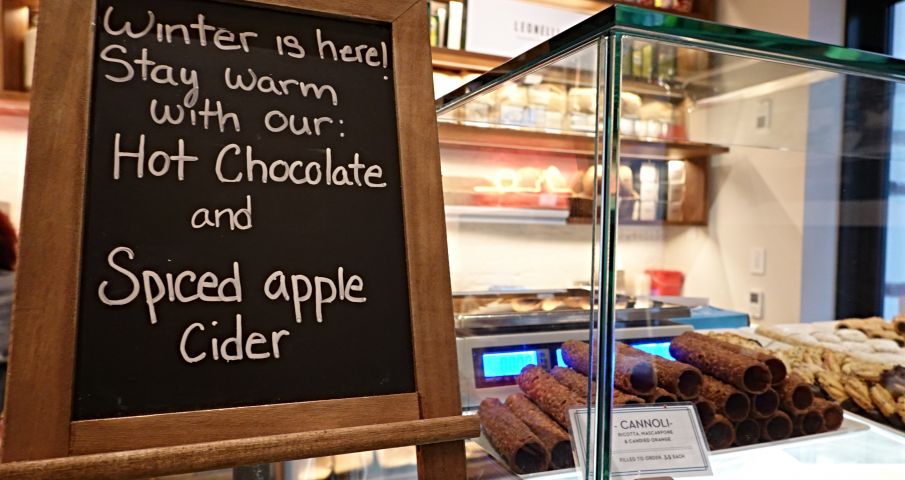 Nothing cures winter blues better than a cup of hot chocolate. Warm-up with a cup of decadent hot cocoa from a neighborhood spot!
Bourke Street Bakery, 15 East 28th Street, between Fifth Avenue and Madison Avenue, (917) 675-6394
Australian bakery and cafe, Bourke Steet knows all things chocolate. Their hot cocoa is one to add to your list along with their homemade pastries. A special shout-out to their muffins and chocolate tarts.
Eataly, 200 Fifth Avenue, between 23rd and 24th Streets, (212) 937-8910
Eataly's "Cioccolata Calda"  is an Italian hot chocolate that claims to be thicker, creamier, and richer in chocolate flavor than American hot chocolate. You have your choice of a variety of toppings to personalize your hot chocolate, and the freshly prepared whipped cream is just as good as the hot chocolate itself. Interested in making this thick Italian hot chocolate yourself? Check out the recipe!  
La Pecora Bianca, 1133 Broadway, corner of 26th Street, (212) 498-9696
Sip on a Nutella hot chocolate at La Pecora Bianca made with Nutella, Venchi milk chocolate and steamed milk – a hot chocolate that Zagat rated as one of the "10 Decadent Hot Chocolates to Try in NYC."

Le Cafe Coffee, 407 Park Avenue South, between 28th and 29th Streets
The artisanal coffee shop serves up a notable cup of hot chocolate including a seasonal peppermint hot chocolate.
Leonelli Focacceria, 7 East 27th Street, between Fifth Avenue and Madison Avenue, (212) 451-9495
Italian bakery and cafe, Leonelli Focacceria is serving up a dense and creamy hot chocolate that's rich in flavor and topped with fresh whipped cream. Treat yourself to some of their incredible cookies while you're at!
maman, 22 West 25th Street, between Broadway & Sixth Avenue, (646) 838-0700
maman's hot chocolate is a must try. maman's traditional hot chocolate is packed with flavor and the perfect temperature. maman offers classic hot cocoa and a Lavender Hot Chocolate that's spiced with lavender and dark chocolate, and was named by AM New York as one of the "Best Hot Chocolates in NYC." Interested in making Lavender Hot Chocolate yourself? We got the recipe! Pair you're hot chocolate with a Nutty Chocolate Chip Cookie (an Oprah favorite) or a Nutella Brownie.
Patisserie Chanson, 20 West 23rd Street, between Fifth and Sixth Avenues, (929) 423-8880
You can't go wrong with anything dessert-related at Patisserie Chanson. They freshly make a decadent chocolate ganache and then steam it with milk to make an incredible hot chocolate. Grab a kouign amann while you're at it – a neighborhood pastry favorite.
Ralph's Coffee, 160 Fifth Avenue, between 20th and 21st Streets, (212) 627-2040
Ralph Lauren's cafe concept offers a variety of specialty coffee blends and drinks including a much raved about hot chocolate. You can substitute the hot chocolate with oat or almond milk and limited-edition flavors are sometimes available, like Ginger or Peppermint Hot Chocolate.
Shake Shack, southeast corner of Madison Square Park, (646) 747-2606
Shake Shack is known for its shakes and custard, and they've introduced a new Brownie Batter Hot Cocoa Shake featuring hand-spun brownie batter hot cocoa frozen custard made with Ghirardelli cocoa, topped with whipped cream, brownie brittle, and mini-marshmallows.
Header and Thumbnail Image: Leonelli Focacceria.