Flatiron Foodie: Summer Salt's Rolled Taquitos with American Guac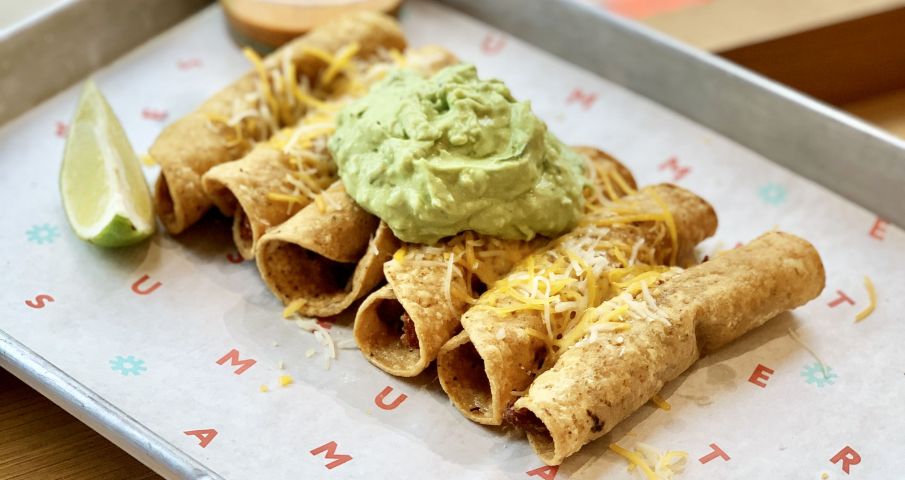 This snowy, cold front has us daydreaming of warm weather and good vibes so we're craving Summer Salt and their Baja Cali-inspired menu. Summer Salt's Rolled Taquitos with American Guac offer a taste of California summer. Also called rolled tacos or flautas, these crispy tube-shaped tacos are perfect after a long, especially when they're topped with a sprinkle (or more) of shredded cheese and slathered with American guac (guacamole whipped with sour cream). Chef Juan Carlos Ortiz walks us through how to make this crispy tube-shaped taco dish featuring fried tortillas, tender chicken, and a dash of fresh lime juice.
Summer Salt, located at 30 East 23rd Street, is open daily for pick-up and delivery from 11 am to 10 pm. Check out their full menu. Summer Salt is a beloved, local restaurant and a Partnership staff favorite too!
American Guac Recipe
Ingredients:
2 Ripe Avocados
1 cup Sour Cream
1/3 cup Chopped Cilantro
1 tablespoon Fresh Lime Juice
1 teaspoon Kosher Salt
Directions:

If you have a food processor, add all of the ingredients and pulse until you have a smooth consistency. You're all done!
If you prefer the manual way, cut the avocados in half, take out the pit, scoop out the avocado flesh and mash it until it's no longer clumpy. 
Add the sour cream to your avocado and whip it until smooth. 
Fold in the cilantro, lime juice and salt. Adjust salt and lime amount to your taste. 

Rolled Tacquitos Recipe
Ingredients:
1.5 pounds boneless, skinless chicken thighs
1/2 Spanish onion
2 minced garlic cloves
2 teaspoons kosher salt
1 teaspoon freshly ground black pepper
1 teaspoon ground cumin
16 x 6″ corn tortillas
Vegetable oil
Shredded Cheddar Jack cheese
Your favorite salsa (from Summer Salt, of course)
Directions:
       Chicken Filling:

Place all of the chicken filling ingredients into a pot.
2. Fill the pot with enough water to barely cover the chicken
3. Bring the pot to a boil then reduce the heat to a simmer. Cook the chicken until tender but not so long that the flavor cooks out of the chicken.
4. Once the chicken is done, transfer it to a bowl to let it cool.
5. Shred the chicken with forks and set it aside.
       Taquitos:

Heat a skillet or pan on medium heat and drizzle a little oil in it.
2. Once the oil is hot, warm up the corn tortillas, so they are loose and malleable. Add more oil as necessary. The oil will help the tortilla retain heat and moisture.
3. Once all of your tortillas are warmed, fill each one with about 1-2 tablespoons of chicken and roll it. Don't add too much meat as the taquito will be too thick. Put aside seam-side down!
4. Wipe off your skillet of any crumbs and fill it with oil about 1/2 inches deep. Heat the oil to about 375F or until hot enough so that a tortilla will sizzle when you dip it in there.
5. Using tongs, place each rolled taquito in the oil seam-side down! Hold the taquito in the hot oil until it hardens slightly, and the tortilla doesn't come unwrapped. Fry in batches of 4 until they are golden brown on all sides. Don't fry too much or they'll dry out. They're great even when slightly soft!
6. Drain the rolled taquitos on a paper towel-lined plate.
7. When they're all done, line up the taquitos on a plate, top it with shredded cheddar jack, scoop some American Guac on top, serve with salsa, and you're all done!
Enjoy!
Chef Juan Carlos Ortiz pictured below: