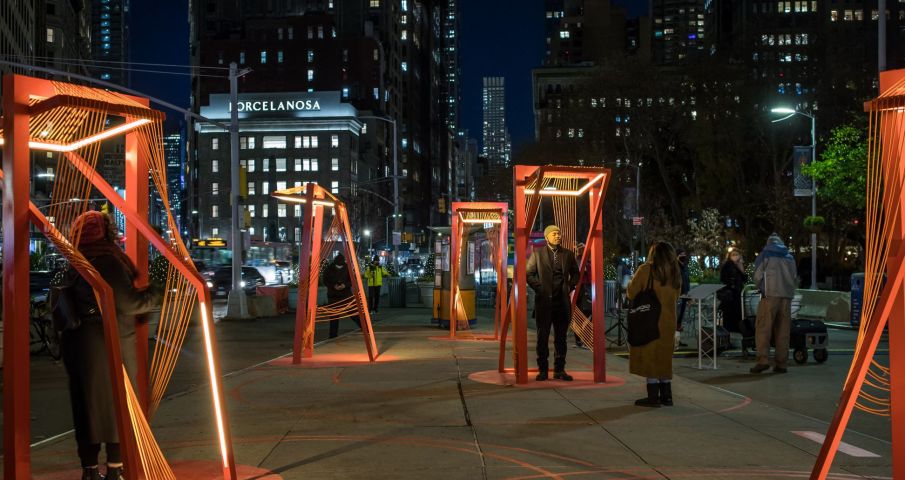 November's news highlighted this year's Holiday Installation, "Point of Action", newly opened restaurants, and the continued impacts of COVID-19 on the district. Stay up-to-date with the latest Flatiron District News.
Restaurants & Bars
Hiroki Odo, owner of o.d.o., a Michelin-starred 12-seat counter restaurant has launched a new casual sushi line in Brooklyn called HALL by ODO (via Wall Street Journal).

Grub Street reviews the newly opened Milu who offers uniquely delicious menu and a different spin on takeout (via Grub Street). 
Made Nice — the fast-casual restaurant from the Eleven Madison Park crew — has closed nearly four years after it opened due to pandemic-related downturn (via Eater NY).
Atoboy and Cote are listed at #7 and #42 respectively for Time Out New York's best restaurants in NYC right now (via TIme Out New York).
GreenMatters lists Veggie Grill's Moroccan Lentil Soup and Three-Bean Chili as their favorite vegan soups (via GreenMatters).

Connie Chung, chef at MIlu, spoke with The New York Times about how the pandemic inspired a kitchen-share scene among chefs (via The New York Times).
Nomad Bar makes #13 in the 2020 World's 50 Best Bars ranking (via Forbes & TIme Out New York).
ilili's Philippe Massoud and La Pecora Bianca's Dave Ferrara spoke with PIX11 about autumn outdoor dining in Flatiron (via PIX11).
Numerous district restaurants such as The Breslin and Hill Country Barbeque are listed for their stellar Thanksgiving spread (via 6sqft, Cheddar, Eater NY, & NY Post).
Michelin three-star restaurant Eleven Madison Park has joined a growing list of high-end establishments in New York to offer takeout and delivery services for the first time, as the hospitality industry as a whole continues to bounce back from the Covid-19 pandemic (via Total Food Service).
Eater's Tanay Warerkar reports that Milu's Yunnan brisket bowl was the best dish he ate last week (via Eater NY).
Sagaponack and Isabelle's Osteria opened this November (via Eater NY).
Eataly executive, Dino Borri spent a Sunday with The New York Times, perusing around Rizzoli Bookstore, Madison Square Park, and of course Eataly (via The New York Times).
Former Barney's headlining chef, Mark Strausman debuted his namesake new eatery, Mark's Off Madison, a relaxed, but stylish, spot where patrons can enjoy the O.G. Madison salad, Straussie's bagels, and other menu favorites (via Eater NY, Guest of a Guest, & Women's Wear Daily).
District Businesses
Real Estate
Around the Neighborhood
New York City marked Veterans Day by placing wreaths at the Eternal Light Flagstaff in Madison Square Park (via CBS 2 News at Noon

).

The Flatiron/23rd Street Partnership unveiled "Point of Action," a public art installation by Studio Cooke John. Located on the Flatiron Public Plaza, the installation asks people to step inside circles under the metal frame, putting people in the spotlight and encouraging them to safely connect with those around them. The installation is an element of the Partnership's "23 Days of Flatiron Cheer" (via 6sqft, amNewYork, Arch Paper, NBC New York, Women's Wear Daily, & Untapped Cities).
Header and Thumbnail Photo: Cameron Blaylock/Courtesy Van Alen Institute