"Fast Casual" Curbside Seating at Fotografiska New York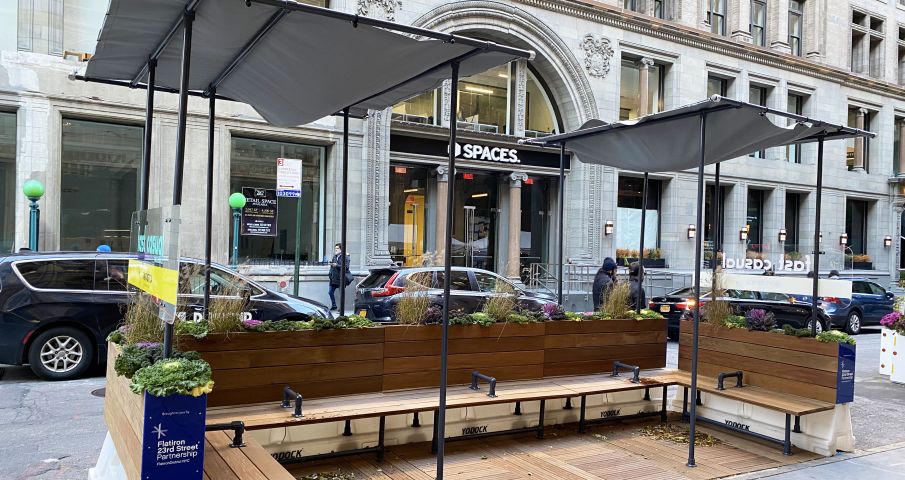 Together, with Fotografiska New York and Brooklyn-based design firm FANTÁSTICA, the Partnership is proud to announce additional outdoor seating where people can meet, eat, and relax in the Flatiron District.
This innovative pilot curbside seating module from FANTÁSTICA's new "Fast Casual" series of public seating is part of the NYC Department of Transportation's (DOT) citywide Open Restaurants program and was installed in late October at Fotografiska New York located at 281 Park Avenue South.
The unit is part of the Partnership's vision for public realm improvements that facilitate social distancing, enhance the pedestrian experience, and support local businesses and cultural institutions.
The new unit will be especially useful for Fotografiska New York patrons. With museums currently limited to 25% capacity, the seating will provide a comfortable space for guests waiting to enter the museum and after viewing three floors of world-class photography.
"We are excited to bring this innovative public seating amenity to the Flatiron District in partnership with FANTÁSTICA," said James Mettham, Executive Director of the Flatiron/23rd Street Partnership. "The new unit provides space where residents and visitors—including patrons of Fotografiska New York—can safely and comfortably meet, eat, or relax. This innovative pilot demonstrates our commitment to public realm projects that enhance the pedestrian experience and support local businesses during the COVID-19 pandemic and beyond."
"We have a real opportunity to rethink public space and how it can be made better. With Fast Casual, we have designed flexible outdoor seating and dining modules that are safe, customizable, scalable, cost-effective, and durable. As our city continues to adapt, we can show with this pilot that creating flexible outdoor seating isn't just for restaurants – it's an approach that can be used by cultural institutions across the city to remain important destinations for the community and for all New Yorkers," said J. Manuel Mansylla, Founding Principal, FANTÁSTICA.
"We are thrilled to participate in the pilot of Fast Casual along with Flatiron Partnership and FANTÁSTICA and to welcome back our neighbors, co-workers, and local tourists returning to the Flatiron District," said Pam Harris, Executive Director, Fotografiska New York. "At Fotografiska New York we aim to be a welcoming museum for all and a safe haven of innovation, inclusivity, and self-expression. Now with public street seating right outside the museum, we can bring this experience outdoors and provide a place for people to meet, get inspired, and relax."
The Fast Casual unit is the Flatiron Partnership's latest public realm initiative aimed at supporting safe, enjoyable pedestrian activity along with business recovery. The Partnership has managed Open Streets in the Flatiron District since the City announced the initiative in May and has worked with NYC DOT and neighborhood food and beverage establishments in facilitating outdoor dining on sidewalks, curbside lanes, and roadbeds through the City's Open Restaurants and Open Streets: Restaurants programs, and is partnering with the NoMad Alliance on the daily operational management of NoMad Piazza.