Celebrate Halloween in Flatiron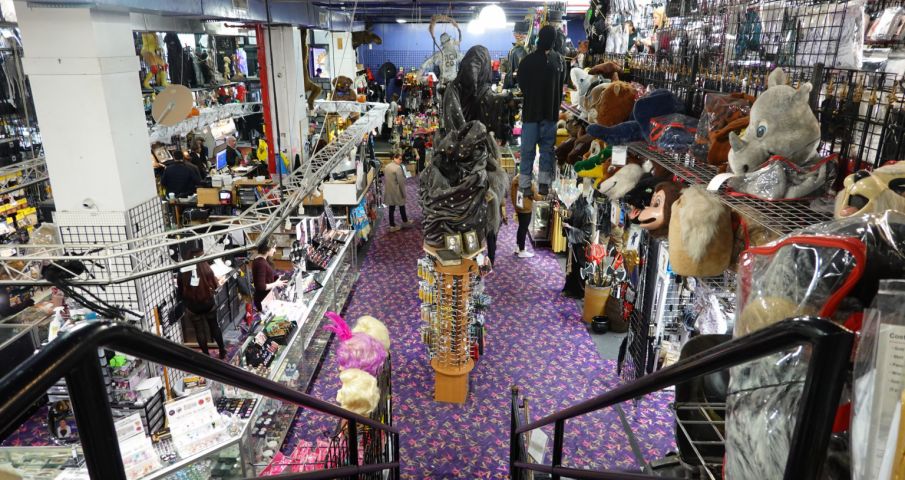 While trick-or-treating might be on hold for this year, we all deserve to enjoy a bit of spooky spirit this fall. We've rounded up some COVID-safe activities, shops, and goodies to celebrate Halloween in Flatiron.
First, stop by the Flatiron North Public Plaza with your family, friends, or pets to take a photo at our festive pumpkin photo display. Then head to one of these district faves to for some fright night fun:

Abracadabra NYC, 19 West 21st Street, between Fifth and Sixth Avenues, 212-627-5194
Shop all things Halloween like costumes (both for purchase and rental), decorations, and props at New York's one-stop shop. Check out their Instagram for costume inspo. Browse online or in-store from 11 am to 9 pm daily.
Bounce Sporting Club, 55 West 21st Street, between Fifth and Sixth Avenues, 212-675-8007
Experience Bounce's "Witch House", a spooky indoor or outdoor dinner during Hallo-weekend. Email reservations@branditgrp.com to make dinner reservations for Friday the 30th, or Saturday the 31st.
Eataly Flatiron, 200 Fifth Avenue, 212-229-2560
Stop by Eataly to pick up Halloween must-haves like pumpkins and a wide selection of chocolates. Maybe some squid ink pasta for a spooky inspired dinner. Eataly Flatiron is open daily from 9 am to 9 pm.
Juice Press, 1 West 22nd Street
Bask in the autumn spirit with JP's Pumpkin Spice Protein Smoothie. The smoothies star ingredients include organic cinnamon, nutmeg, ginger, vanilla plant protein, homemade almond butter, and almond milk. Enjoy the seasonal favorite before it leaves us (get it?). Juice Press Flatiron is open Monday-Friday from 7:30 am to 7:30 pm, and Saturday-Sunday from 9:30 am to 4:30 pm.
Leonelli Focacceria, 7 East 27th Street, 212-451-9495
Halloween season means Leonelli's deliciously adorable Benno-O's Halloween cookies: vanilla cream filling sandwiched between two choclate wafers with sweet fondant on top. Just think Oreos, but better. Order your cookies online or pick them up in-store from 9 am to 5 pm, daily.
maman, 22 West 25th Street, 645-838-0700
Enjoy some seasonal treats from the French bakery and cafe, including pumpkin-shaped chocolate macaroons, a Vegan carrot cake, a chai apple beignet, and a pumpkin spiced latte. Shop in-store Monday through Friday 8 am to 5 pm, and Saturday & Sunday, from 9 am to 5 pm. Delivery or pick-up also available.
Madison Square Park's Howl-O-Ween, 11 Madison Avenue, 212-520-7600 
This year the annual Howl-o-ween event will be a virtul photo contest. Send in photos of your furry friend to membership@madisonsquarepark.org or DM them on Instagram for a chance to win a Mad. Bud membership. Benefits include early access to volunteer days in the park, and invitations to talks and tours. Submission deadline is October 28th.
NY Kids Club, 38 East 22nd Street, 212-375-1100
Make your kid's day with NY Kids Club's virtual Spooktacular Bash on Saturday, October 31st, at 12pm. Grab your costumes as the magic of Halloween comes right into your home through entertaining gymnastics, dance games, an art project, Halloween storytime, and a live concert! Purchase your ticket.
SLATE NYC, 54 West 21st Street, between Fifth and Sixth Avenues, 212-989-0096
Reserve your table to celebrate "Halloween at Slate", a haunted dining experience. Masks and reservations are required. Costumes are highly encouraged! Doors open at 6 pm.
Sweetcatch Poke, 66 Madison Avenue, between 27th and 28th Streets, 212-48-4020
In celebration of Halloween, Sweetcatch launched a special "Spooky Poke Inari" featuring four Inari pockets filled with Black and Red Tobiko, Orange Masago, Firecracker Tuna Poke, and Classic Salamon Poke served atop Sushi Rice with Marinated Tofu. Available Thurs 10/29 – Fri 10/30 at all locations and Sat 10/31 at Madison Ave location, only.
Trader Joe's, 675 Sixth Avenue, 212-255-2106
Shop Trader Joe's for their infamous Halloween snack selection! Ghost-shaped chips, Halloween cookies, and of course everything pumpkin: samosas, biscotti, and pretzels, just to name a few. Trader Joe's is open daily from 8 am to 9 pm.
Header and Thumbnail: Abracadabra NYC