Flatiron Foodies: Inday's Tandoori Rotisserie Chicken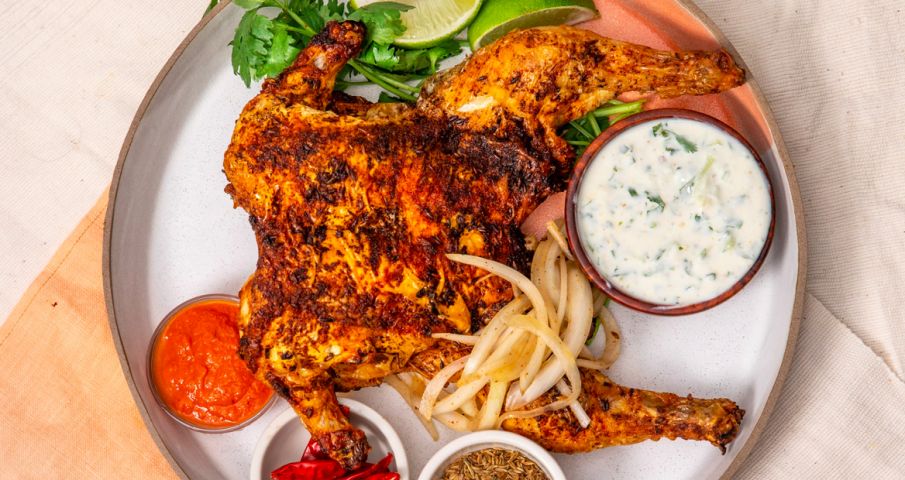 Inday
 shares with us their Tandoori Rotisserie Chicken recipe, which is marinated overnight, smothered in spices, roasted low and slow, and dripping in flavor. The vibrant fast-casual restaurant boasts healthy, seasonal Indian cuisine, and a 
menu
 that is 100% free of gluten, dairy, soy, and refined sugar.
Inday is open for walk-in, pick-up, and delivery from 11 am to 9 pm daily. Take advantage of their outdoor seating while you enjoy your meal. Inday is also one of 30 local restaurants offering food & drink promotions as a part of our #AllinFlatiron Dining Deals campaign. Show the All in Flatiron badge in-store and receive a free house-made beverage with any bowl purchase. Beverages include a Basmati Horchata, Iced Chai, and LemonAid.
Tandoori Rotisserie Chicken Recipe: 
Ingredients:
  Chicken:
1 whole chicken, spatchcocked (ask your butcher to prepare this for you)
1 cup full fat yogurt (or coconut yogurt)
¼ cup olive oil
¼ cup lemon juice
2 tablespoons of a combined garlic and ginger puree
1 tablespoon chili powder (kashmiri if possible)
1 tablespoon sweet paprika
1 teaspoon ground cumin
1 teaspoon ground coriander
1 teaspoon black pepper
1 teaspoon kosher salt

Magic Masala:
1 tablespoon whole cumin seeds
1 tablespoon salt
1 teaspoon deggi mirch powder (or paprika)
1 teaspoon Amchur (or lemon or lime juice)

Directions:

Combine the yogurt, olive oil, lemon juice, garlic, ginger, and spices, and mix well until you have a smooth, bright red marinade.
Coat the chicken with the marinade on all sides and under the skin. Use roughly ½ a cup of marinade for a 2.5 lb bird. Transfer the marinated chicken to a bowl covered in plastic or a ziplock bag and refrigerate for at least 12 hours and up to 3 days.
Preheat the oven to 425F. Remove the chicken from the fridge, pat dry, and allow to come to room temperature.
Season the chicken on all sides with 3 tablespoons of the magic masala until fully covered. Transfer to a sheet tray lined with a rack.
Roast for 20-30 min, or until a thermometer registers 165F.
Allow the chicken to rest for 20 minutes before cutting and serving.
Garnish with an additional sprinkle of magic masala.
Chef Sydne Gooden pictured below: