Local Businesses Need You More Than Ever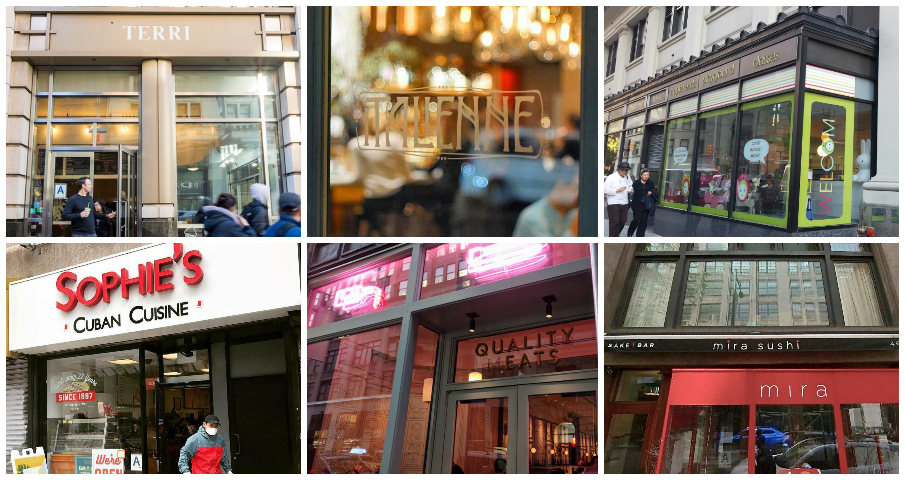 The Flatiron/23rd Street Partnership wanted to take a moment to acknowledge neighborhood businesses that have permanently closed as a result of the pandemic. We are saddened to say goodbye to several businesses that we've come to know and love over the years.
First and foremost, the Partnership wants to thank these businesses for their service and contribution to the neighborhood. Whether they provided lunch during the workweek, dinners shared with loved ones, or educational activities for children, these businesses helped give the Flatiron District a true community feeling. They will all be deeply missed.
Secondly, the Partnership wants to raise awareness of the urgent issue of small business survival as a result of COVID-19. As a Business Improvement District, the Partnership has been a champion of economic development and community improvement for over 14 years. We are dedicated to supporting our district businesses both with supportive programs in-house and communication with our elected officials on legislation that offers relief for businesses and property owners. This is not an experience unique to Flatiron, as many other neighborhoods grapple with similar losses of small businesses. Without direct action and relief, this trend of business closures is likely to continue, especially as fall and winter approach.
We strongly encourage New Yorkers to seek out ways to support your local business communities: shop at your local hardware stores, groceries, and delis, grab a coffee/pastry from a close-by bakery, have a pre-made picnic in the park, order products from online stores of local businesses if you're remote, enjoy a virtual class, event, or experience, purchase at-home meal kits from restaurants, stop by outdoor dining set-ups, and order directly through business websites when possible (you might be surprised at how far a restaurant will deliver).
Lastly, contact your local, state, and federal officials and urge them to pass legislation that helps local businesses survive (find  contact information for your elected officials here). At the City level, we're calling for measures such as rent and mortgage relief, the expansion of the Open Restaurants program (outdoor dining) beyond a business's storefront, and sales tax exemptions to spur retail activity.
Councilmember Keith Powers just this week unvieled an "Open for Business Report" in partnership with Manhattan Chamber of Commerce and the NYC Hospitality Alliance detailing the challenges facing small businesses in our city and action steps that can be taken to mitigate them. Read the full report here.
Businesses are struggling to survive and they need your help.
COVID-19 Related Business Closures in Flatiron:
apple seeds, 10 West 25th Street
After 13 years in the district, the children's amusement center offering fun and educational classes has closed its doors. apple seed's launched an online platform "Songs for Seeds" offering virtual singing and dancing classes.
The Assemblage, 114 East 25th Street & 331 Park Avenue South 
The coworking company and creative community space closed their doors after 3 years in the neighborhood.
Bo's Kitchen & Bar Room, 6 West 24th Street
After serving up NOLA inspired food and drinks for the last seven years, Bo's is closed for the foreseeable future.
Bouley At Home & Bouley Test Kitchen, 31 West 21st Street 
The all-in-one dining space that featured a bakery, restaurant, and cooking school from renowned chef David Bouley closed.
Cleo Spa & Salon, 407 Park Avenue 
The local nail salon closed its doors.
Eisenberg's Sandwich Shop, 174 Fifth Avenue
The historic Eisenburg location closed its doors after 91 years of business for the foreseeable future. The sandwich shop was known for its deli-style food, 30-foot long dining counter, and vintage charm. The shop hopes to return in the future
Flats Fix, 14 East 23rd Street 
After 30+ years in the district, the owners of Flats Fix (formerly Live Bait), have made the difficult decision to close. Flats Fix's other location in Union Square at 16 East 28th Street remains open.
Gasoline Alley Coffee, 24 East 23rd Street
The premium artisanal coffee shop closed its Flatiron location after 4 years in the district. You can still support their Noho and West Village locations.
Le Tea, 1134 Broadway
The chic tea boutique closed after opening last year.
Le Pain Quotidien, 931 Broadway 
LPQ's Flatiron location closed after 8 years in the district.
Mira Sushi, 46 West 22nd Street  
The hip Japanese eatery closed after serving the neighborhood for seven years. You can still support their Queens location.
Quality Eats NoMad, 3 East 28th Street
The modern steakhouse Quality Eats NoMad location has closed. You can support their Upper East Side and West Village locations, both offering patio dining, takeout, and delivery.
Sophie's Cuban Cuisine, 28 East 23rd Street
After 11 years in the neighborhood, the family-owned Cuban cuisine chain has closed the doors of its Flatiron location. You can support their other locations in NYC.
Sony Square, 25 Madison Avenue
Sony, a major office tenant in Flatiron, closed its experiential space Sony Square. The space opened in 2016 to provide a behind-the-scenes look for shows, movies, and electronics.
Space Kiddets, 26 East 22nd Street
The children's clothing and toy store closed after 40 years in the neighborhood. The team behind Space Kiddets hopes to land a new location in the fall and launch online shopping.
Sweaty Betty, 168 Fifth Avenue 
The activewear company empowering women through fitness closed after 5 years in the community. You can still support their Nordstrom NYC Flagship.
Terri, 60 West 23rd Street
The sustainable, plant-based eatery closed after 10 years in Flatiron.
Trattoria Italienne, 19 West 24th Street
A restaurant rooted in Northern Italian and Southern French cuisine that was a go-to aperitivo spot for the neighborhood has closed.
Wonder Photo Shop, 176 Fifth Avenue
Fujifilm opened the creative space and camera store in 2016. The experiential shop has closed its doors. E-commerce will begin to roll out in October 2020.
Learn more about what we're calling for and how you can help: NY Business Leaders' Call to Action for the Survival of Small Businesses
Read Councilmember Power's "Open for Business Report" in partnership with the NYC Hospitality Alliance and the Manhattan Chamber of Commerce.