Remembering Carvel Hidlay "Rusty" Moore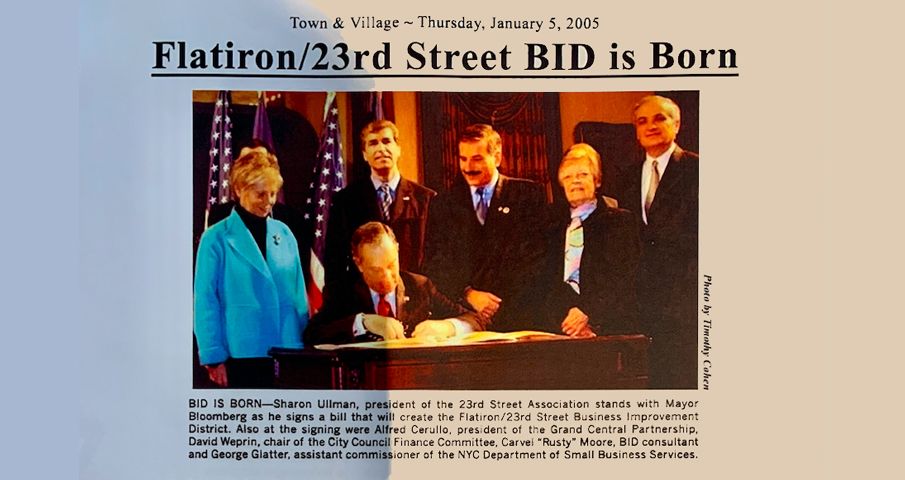 It is with deep sadness that the Flatiron/23rd Street Partnership reports the passing of Carvel Hidlay "Rusty" Moore, a neighborhood improvement consultant, who helped launch the Flatiron/23rd Street Partnership in 2006. Moore, who was 90 and had previously worked for the 23rd Street Association, the precursor organization to the Partnership, died of complications of the coronavirus on April 25, 2020 at the Sky View Rehabilitation & Health Care nursing home in Croton-on-Hudson, New York.
"Rusty was instrumental in the formation of the Flatiron/23rd Street Partnership BID…without her involvement and direction it might never have been created," recalls Sharon Ullman, the former Executive Director and President of the 23rd Street Association from 2003-2007, in describing her colleague and friend who was nicknamed "Rusty" because of the color of her hair.
"Rusty came out of retirement to mentor and help me with the BID formation," says Ullman who met Moore in 2003. Over the years, Moore had gained decades of experience in the community relations and real estate development sectors. "She was an absolute fountain of knowledge on everything BID related," notes Ullman, "and I just knew we would be in good hands working with her. And boy did we work! At the time, the BID area had 4,927 businesses and countless commercial and residential property owners…and we went to all of them!"
According to Ullman, "Having seen the impact that BIDs were having in other neighborhoods in the City, I was convinced that a BID could have a transformative impact on this neighborhood… Rusty was a passionate and compassionate woman and a community activist, but in the most genteel way…always interested in beautification and corporate responsibility."
The proposed BID area reportedly included approximately 34 New York City blocks that were located between Lexington and Sixth Avenues, from 21st to 28th Streets. "While city and state law required BIDs to have the consent of 51 percent of the district property owners," recalls Ullman, "we ended up with nearly 100% approval by the time Mayor Bloomberg signed the legislation creating the Flatiron/23rd Street Partnership in December of 2006."
Moore's son Jack, who spoke to The New York Times on May 28, 2020, recounted how his mother was "very old-school, and she had a tenacity, but she wasn't that quintessential outspoken New Yorker. She was soft-spoken and super-organized. That's how she won people over–not by bluster."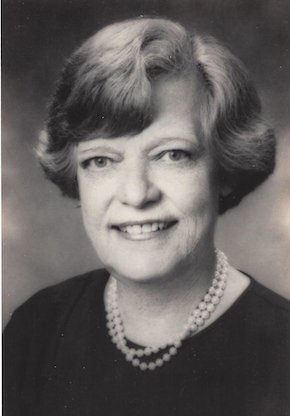 Moore, a native of Bloomsburg, Pennsylvania and a Vassar College graduate who once worked as a Mademoiselle magazine fashion editor, is survived by two sons, Jim Moore and Jack Moore, their wives, Carrie and Ana Maria, and five grandchildren according to the McHoul Funeral Home in Poughkeepsie, New York. She was laid to rest at the Poughkeepsie Rural Cemetery, overlooking the Hudson River. Moore's family has requested that in lieu of flowers, individuals can make a donation to a COVID-19 related charity of their choice.
"Rusty and I remained good friends long after our success putting in the BID," says Ullman. "I will miss her passion and her grace. I'll miss the intelligent conversations we had about politics and books, and I'll miss the way she loved her family and her grandchildren. She was one of a kind. In fact, we used to meet often for lunch; always at a restaurant in the BID district."
And, adds Ullman, "To look around and see the change–to see all of these wonderful programs the BID put together and how effective the cleaning crews have been…and to know that had we not worked so tirelessly to set up the BID, that none of this would have been done. It was quite a joy for us both to know that our vision and hard work made this all possible–that we played a part in transforming this community."
Quotations from Ullman are from Email correspondence with Sharon Ullman, former Executive Director of the 23rd Street Association.