Flatiron Foodies: Taïm's S'rug (Yemenite Cilantro Hot Sauce)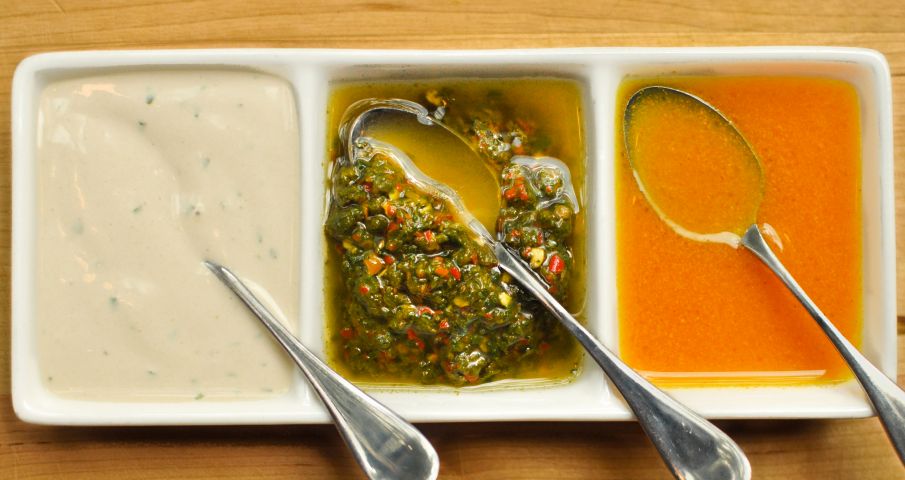 Looking for a new way to spice up your quarantine cooking? Taïm, a vegetarian, falafel joint and neighborhood favorite, serves a Yemenite Cilantro Hot Sauce called S'rug that people can't seem to get enough of (pictured above: the center, green sauce). When placing an order, S'rug is a popular add-on to Taïm's pitas, platters, and salads.
Chef and Owner Einat Admony shared a simple, at-home recipe. Made with garlic, jalapenos, herbs, and spices, this flavorful sauce will help add some refreshing heat to your home-cooked meals.
Taïm began as a tiny storefront in the West Village in 2005. Today, it has five locations across New York City with one at 64 West 22nd Street and a new location in Washington D.C. Taïm not only specializes in falafel, but also cauliflower shawarma, smoothies, and have you tried their famous fries?
Taïm is open for delivery, takeout, and curbside pick-up from 11 am to 10 pm daily. You can purchase regular menu items, and items from their pantry including bags of freshly baked pita, and pints of hummus or tzatziki. Additionally, Taïm regularly delivers to healthcare heroes across NYC. They partnered with the Flatiron Partnership to feed the NYPD 13th Precinct and EMS Station 8 at Bellvue Hospital on Wednesday, May 20th.
S'rug (Yemenite Cilantro Hot Sauce) Recipe: 
Ingredients:
15 garlic cloves
2 jalapenos
1/2 teaspoon of cardamom (You can make your own cardamom spice by combining 1/4 tsp of cinnamon + 1/4 tsp of nutmeg)
1/2 teaspoon of cumin
2 cups of cilantro leaves
1 teaspoon salt
3/4 cup extra-virgin olive oil
Method:
Core the jalapenos and coarsely chop them with the garlic.
Put the garlic, jalapenos, cardamom, and cumin into a food processor or blender.
Grind/blend for 30 seconds.
Add cilantro, salt, and oil into the food processor and grind/blend for another 30 seconds.
Scoop out and spread in a bowl. Top off anything with this sauce, and enjoy!
Chef Einat Admony pictured below: