Flatiron & NoMad Open Streets Initiative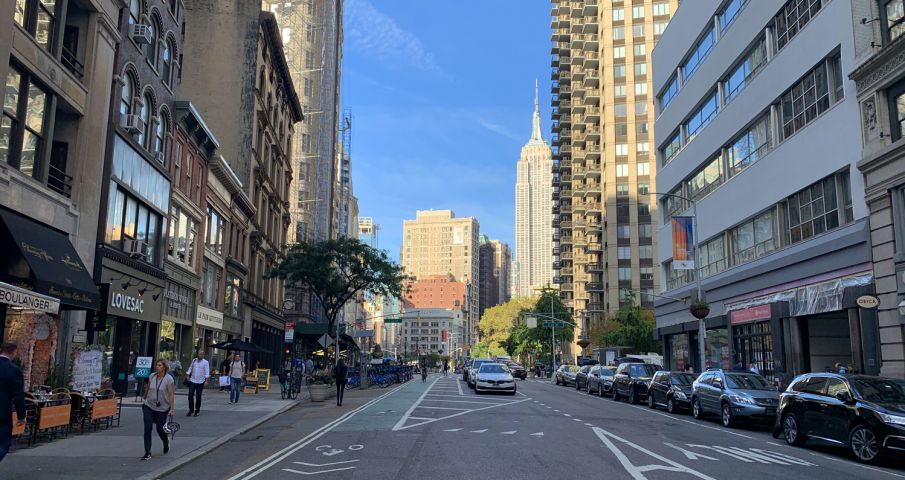 Updated July 16, 2020
In response to the COVID-19 crisis, Mayor Bill de Blasio and New York City Council announced that 40 miles of streets Citywide will be opened to pedestrians and bicyclists to allow for greater social distancing. Additionally, Phase Two of NY Forward allows for outdoor dining via NYC's Open Restaurants program.
Flatiron & NoMad Open Streets
Broadway: 25th to 28th Streets & 21st to 23rd Streets, 10 am – 6 pm (hours may vary)
22nd Street: Sixth Avenue east to Fifth Avenue, Fridays 4 pm – 11 pm & weekends 11 am – 11 pm
20th Street: Broadway to Park Avenue South, Fridays 4 pm – 11 pm & weekends 11 am – 11 pm
Open Streets Regulations
Pedestrians and bicyclists can use the roadbed of the street while keeping social distancing of at least six feet, and must wear a face mask in public. No thru-traffic is permitted as the route is limited to local deliveries, pick-ups/drop-offs, and emergency vehicles. Drivers should be hyper-vigilant and drive 5 MPH along Open Streets routes.
Questions about the City's Open Streets Initiative? Find more infomation on the NYC DOT Open Streets webpage. You can also call 311 or text 311-692. If you'd like to reach the Flatiron/23rd Partnership team directly, email Covid19@FlatironDistrict.nyc.