Flatiron Foodies: Honeybrains' Honey Tahini Toast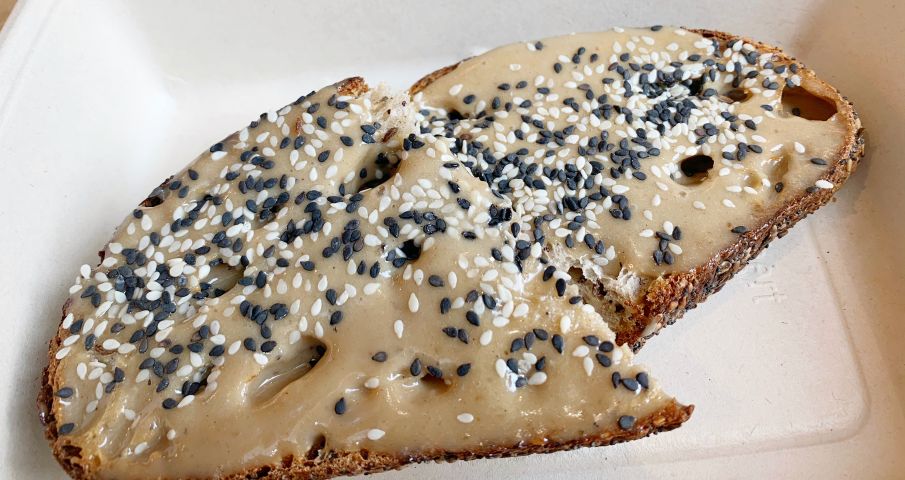 Honeybrains is a family-owned café with a superfood-packed menu designed to improve brain wellness. Every menu creation is meant to promote a healthy body and a healthy brain based on scientific research by neurologists and nutritionists.
Looking for ways to eat healthy at home? Honeybrains' Honey Tahini Toast can bring some new flavors to your quarantine menu or, if you don't have all of the ingredients on hand, serve as inspiration for a similar treat. Chef Steven Mettle shares his recipe for this favorite, new menu item that can be enjoyed throughout the day. This toast contains three out of the "HB Five Food Groups," including OMEGA3's, fruits, and whole grains which help improve brain health. Enjoy!
Currently, Honeybrains is remaining open for delivery and pick-up, and launched family-style dinner packages. Honeybrains is also partnering with various local hospitals to deliver healthy meals to healthcare workers. You can donate to help support this effort ($25 feeds approximately 2 people).
Honey Tahini Toast 
Ingredients:
Soaked Dates (21oz)
Tahini Paste (21oz)
Vanilla Extract (1/2 Teaspoon)
Cinnamon (1 Teaspoon)
Raw Wildflower Honey (1.5 Tablespoon)
A treatment-free, wildflower honey is available at Honeybrains.

White Sesame Seeds (1 Teaspoon)
Black Sesame Seeds (1 Teaspoon)
Toasted Seeded Sourdough (1 Slice Toasted)
 
Method:
Drain the soaked dates and blend them with the tahini, vanilla extract, cinnamon, and raw wildflower honey until smooth.
Spread the honey tahini mix onto toasted Sourdough.
Garnish the toast with both black and white sesame seeds.
Chef Steven Mettle pictured below: