Flatiron Businesses Giving Back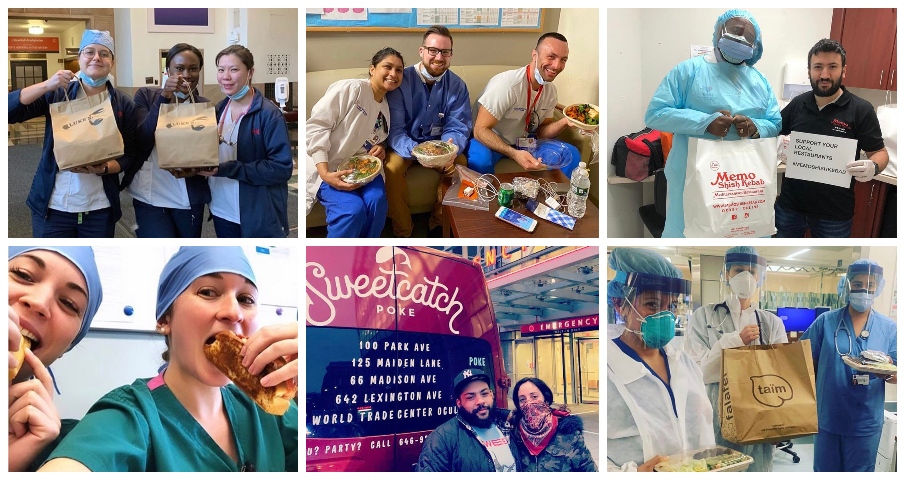 Need some good news? So do we. So we turned to the Flatiron District to "look for the helpers". Many neighborhood businesses that are working hard to stay open during this difficult time are also stepping up to do their part and give back to New York City. Below are local efforts to pay it forward frontline workers and those most in need.
If you're looking for a way to be a helper, you can visit this page to support local businesses, or consider these suggestions.
Businesses Providing Free Food Drop-Offs to Hospital Workers
&pizza
Providing free pizzas to hospital workers. To date, &pizza has donated over 13,000 pizzas in NYC and DC. You can text #FeedThem to 200-03 to donate a pizza to a hospital worker. If you are a hospital worker and would like to claim a free pizza, you can text #HeroPies to 200-03.
Birch Coffee
Along with setting up espresso stations outside of hospitals in the city, Birch Coffee will be delivering coffee donations purchased through their website. Support healthcare workers through Birch Coffee here.
BLACKBARN
Every BLACKBARN entree purchased for delivery/take-out will buy a Heavenly Harvest Meal for homebound elderly through City Meals on Wheels. With support from Frontlines Foods NYC, BLACKBARN also delivered meals to medical workers at Bellvue Hospital.
Brooklyn Roasting Company
Keeping health care workers and response efforts properly fueled, Brooklyn Roasting Company delivered coffee to hospitals and Bednark Studio Inc. whose workers were at the Brooklyn Navy Yard fabricating masks for medical relief workers.
Butler Bake Shop
For every $12 donated to the 100% not-for-profit effort Butler will prepare and deliver a healthy and delicious lunch, dessert and fresh brewed coffee to frontline workers at a local hospital. Donate here.
Dough Doughnuts
Delivered free doughnuts to brighten up the days of the doctors, nurses, and staff at Lenox Hill Hospital. Dough is now partnering with Frontline Sweet Support to continue delivering to hospitals across New York City. You can help send a box of freshly baked doughnuts to health care workers by donating here.
Hill Country Barbecue
Hill Country has been feeding healthcare workers on the frontlines with deliveries to New York-Presbyterian Hospital.
Honeybrains
Supporting the selfless work of healthcare personnel with free deliveries of Honeybrains' bowls and salads. You can help support this initiative by donating here.
Leonelli Restaurants
After temporarily closing its doors, the Leonelli Restaurants have partnered with Meals4Heroes, the Phillips Fund, and the Chef's Warehouse to provide meals to medical professionals in Mount Sinai hospitals as they risk their lives to fight COVID -19. Help Leonelli continue to serve the frontline by donating to Meals4Heroes.
Luke's Lobster
Before closing its doors, Luke's donated their famous lobster rolls every day to hospital workers.
Mangia
Mangia is providing fresh, nutritious meals to hospital workers. They are donating 100 meals per day to Mount Sinai in Union Square, and are committed to supporting additional hospitals across the City. You can donate to Mangia's GoFundMe page to support their deliveries to hospital staff ($25 provides food for two).
Memo Shish Kebab
Showed support for healthcare personnel with deliveries of free Memo Shish.
Shake Shack
The Shake Shack team is supporting the community at this time with over 4,500 meals dleivered to 65+ hospitals, shelters, firehouses, humane societies, and food banks.
Sticky's Finger Joint
Doing their part by donating meals to hospital workers. To help support, you can set up a food donation by emailing Sticky's at whatsup@stickys.com.
Sweetgreen
Connecting with local hospitals to support their workers with salad and bowl deliveries. Health care workers can apply here for their organization to become an SG outpost.
Taim
With support from Frontlines Foods NYC, Taim delivered 150 meals to brave hospital workers at New York-Presbyterian and NYU Langone.
Taralluci e Vino
Launched Feed the Frontlines NYC to deliver free, nutritious meals to medical professionals and keep Tarallucci e Vino and other NYC restaurant workers on the job. Support their efforts by donating here.
Businesses Offering Free/Discounted Food to First Responders When They Visit
Gregory's Coffee
Before closing their doors for the time being, Gregory's partnered with City MD to offer their workers free coffee at any of their locations after presenting a valid ID.
Patisserie Chanson
Offering free freshly baked croissants for those working on the frontline (NYPD, FDNY, EMT, Paramedics, drivers, and delivery workers) when they stop by the cafe, and 50% off all orders for hospital workers.
Sweetcatch Poke
Serving free poke bowls to hospital workers when they step into any Sweetcatch location and present a valid ID. Sweetcatch also delivered free poke bowls to local NYC hospitals.
Businesses Donating Food/Supplies to Support Those in Need 
41 Madison
Launched a #TableTogether Instagram campaign encouraging their (now canceled) New York Tabletop Show partners to post photos of gathering with loved ones at the table. For every #TableTogether post during the month of April, the company will purchase gift cards from a Flatiron-based restaurant.
Bluestone Lane
Delivered over 45,000 coffees to healtcare workers along with 2,000 additional coffees donated by locals.
Chikarashi
Every Tuesday, for every bowl ordered through their app, Chikarashi is donating a meal to a first responder.
Dig Inn
For every meal ordered online, Dig Inn is donating a meal to a local organization in NY, Philly, and Boston. Here are some organizations benefitting: City Harvest, Rethink Food NYC, Bowery Mission, Giving Tree Global, Broad Street Ministry, Rescuing Leftover Cuisine, and Sylvia Rivera Soup Kitchen.
Eleven Madison Park
Converted their restaurant (closed for the time being) into a commissary kitchen with Rethink Food NYC with the goal of producing thousands of meals per day for those working on the frontlines and those deeply affected by this crisis.
Flatiron Medical Family
Distributed personal protective equipment donated by patients to various NYC hospitals.
Hearts of Gold
A local nonprofit on 25th street supporting homeless mothers and their children, HoG is working hard to offer support to their clients during this time. HoG is delivering care packages of necessities to families including Chrome books for schoolchildren doing homework online, paper goods, canned food, and other items. You can donate to help support.
ilili
After making the difficult decision to close for the time being, ilili donated all of their food stock to their 130+ memeber staff and their families. ilili is also working to distribute care packages to those most in need. The packages will include dry and canned foods, diapers, and other necessities, that will allow beneficiaries to cook for themselves during these difficult times.
Little Beet
Gluten-free, plant-based restaurant provided nutritious and wholesome meals to families staying at the Ronald McDonald House New York.
New Alternatives for Children
This local nonprofit located on West 26th Street provides support to children with special needs. To support the City's most vulnerable children during this time, NAC is providing groceries and necessities to struggling families. You can help contribute to this effort here.
Ralph's Coffee
The Ralph Lauren Corporate Foundation has partnered with the @CFDA Foundation to donate 250,000 masks and 25,000 isolation gowns. Take action and support health workers on the frontlines here.
Tend
Donated thousands of masks, gloves and other protective equipment to the heroic team at NewYork-Presbyterian Hosptial as they continue to support New Yorkers in the fight against COVID-19.
wagamama
Buy a wagamama e-gift card and 10% of every gift card purchased during April and May will benefit Feeding America. Every dollar wagamama gives can provide at least 10 meals to children and families in need through the Feeding America network of food banks. Guests will also receive 10% off their purchase of any e-gift card during this time. Purchase gift cards here.
Zucker's Bagels
A new organization called NYC Feed and Rebuild Alliance was just started by Zucker's Bagels to feed people in need, including NYC's homeless population, NYC's needy and hungry population, schoolchildren in need of meals, and first responders working tirelessly against the spread of this virus. Donate here to support these efforts. To date, Zucker's has made many deliveries to NYU, Bellvue, Columbia and The Bowery Misson. Through their catering service, you can order Comfort Packages directly to hospitals for lunch or dinner, and there is a  25% discount off orders for 25+ healthcare workers.
Businesses Offering Free/Discounted Services
Bubble
Bubble has introduced a free pricing plan to support anyone building an app that directly helped people affected by COVID-19. Their mission is to empower people to build their ideas quickly, efficiently and without hiring an expensive team of programmers, and they are proud to support app-builders throughout their process.
Ceros
Ceros is supporting organizations that are carrying out critical COVID-19 relief efforts during this time by offering free access to the Ceros platform and ecosystem for 3 months for use in the fight against the virus. Their exceptional content-creation platform will work to empower organizatios that are fighting to stop the spread of the disease, care for the sick, or launch initiatives that support relief efforts for impacted communities. Apply here. 

Skillshare
Skillshare is giving two months of free access for everyone with .edu, .k12 and .ac.uk email addresses, as well as a limited number of free memberships based on need. They are also working with artists in need to help provide resources to teachers on how they can support their students. They've also launched an internal 'Social Good Challenge' in which the winning team will select a COVID-19 relief charity to which Skillshare will donate.

Photo Credit: Hospital workers receiving free food courtesy of Luke's Lobster,
Honeybrains, Memo Shish Kebab, Sweetcatch Poke, and Taim.