Flatiron Foodies: Om Juice Bar's Blue Lagoon Smoothie Bowl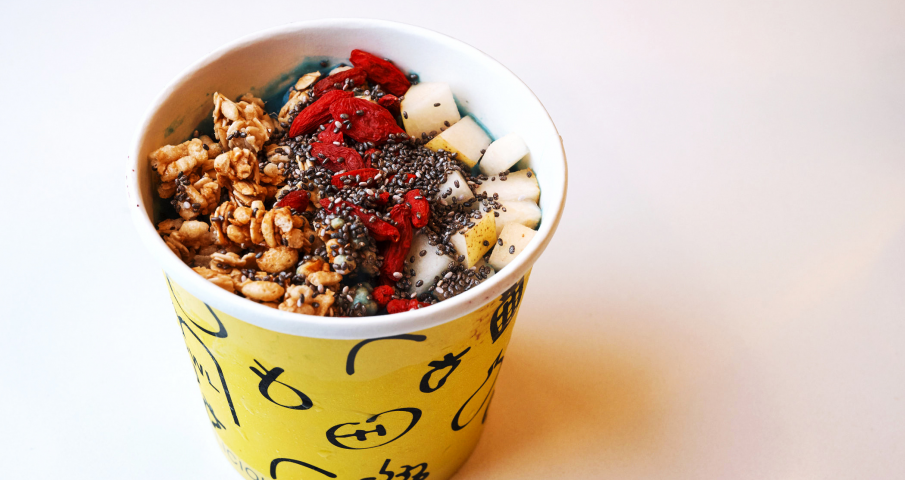 The plant-based cafe Om Juice Bar serves "mindfully delicious" juices and smoothies with a strong eye for freshness and health. The vegan menu uses organic produce and prides itself on wholesome goodness – no hidden ingredients or additives.
Om Juice Bar just launched pick-up service (917) 409-5900 and free delivery service via Uber Eats.
Om's founder Anastasia Kulinich shares her recipe for a crowd-favorite, brightly-colored smoothie bowl. The Blue Lagoon Bowl blends together tropical fruits, uses dairy-free milk, and features toppings packed with nutrients.
"I love this tropical bowl which is filled with superfoods and natural goodies," says Anastasia. "It's very filling, you can use it as a meal replacement or as a dessert." Treat yourself to this guilt-free bowl.
Blue Lagoon Smoothie Bowl Recipe 
Ingredients:
3 oz Almond Milk
1 Frozen Banana
1 Cup Frozen Mango
1 Cup Frozen Pineapple
2 Dates
1 Tsp Blue Spirulina
Pinch of Sea Salt
Toppings: Pear, Chia Seeds, Granola, Goji Berries
Directions:
In advance of the smoothie, freeze a banana 2-3 hours before making the bowl. Simply peel the banana's skin off, cut into small pieces, and freeze in a reusable bag.
Add all smoothie ingredients into a blender, and bring the blender to a high speed until the texture is smooth and creamy.
Place the smoothie in a serving bowl. Dice pears. Top the smoothie with the diced pears, granola, goji berries, and chia seeds. These toppings add some additional health benefits, texture, and yummy flavor.
Enjoy!
Pictured Below: Om Juice Bar Founder Anastasia Kulinich