New Neighbor: Renaissance New York Chelsea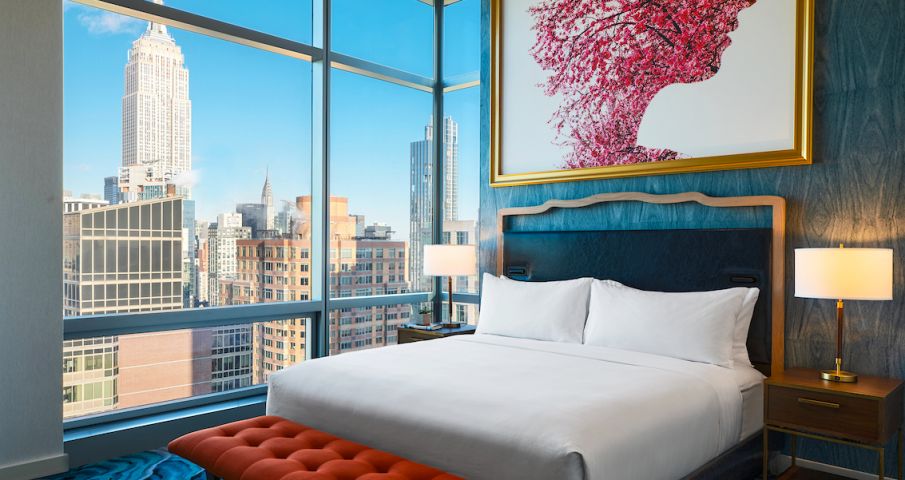 The Flatiron Partnership is thrilled to welcome the Renaissance New York Chelsea Hotel as a "Friend of the Flatiron" at 112 West 25th Street off Sixth Avenue located just outside of the district. The impressive property stands 39 floors tall, features an artistic, floral design and was crowned with one of the highest rooftop pools in City scheduled to open this spring.
"Renaissance New York Chelsea Hotel is set just around the corner from the Flatiron District, amongst the charm of antique shops that are essential to Chelsea's fabric," says the hotel's General Manager, Chris Rynkar. "Playing on the contrasting dichotomy of the hotel's industrial, antique and floral market surroundings, the hotel's design truly captures the DNA of the neighborhood."
Positioned as a hidden retreat in the concrete jungle, the hotel's design brings to life the illusion of a secret garden escape. Behind a stone-walled arcade, the entry features a private, open-air courtyard studded with lush foliage and seating for guests to lounge in. A massive two-story installation of antique knobs, locks, and keys created by local artist Laura Morrison, takes center stage as the backdrop to the lobby staircase. Guests are encouraged to touch and interact with these whimsical wares as they pass through the space. Secret garden motifs are visible in custom pieces around the hotel including a collection of upside-down birdcages, and leather tiles made from vintage belts coating elevator walls.
Earth tones dominate the color palette of the 341 guest rooms and suites. The rooms are outfitted with wood-paneled printed wallcoverings and unexpected playful touches like gnome desk lamps and rabbit coat hooks. Guest bathrooms evoke a quaint garden shed with concrete sinks, porcelain tiles, and mirrors etched with silhouettes of wildflowers.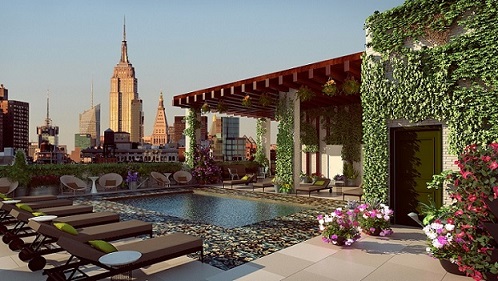 Serving as an urban oasis 430 feet in the air, the hotel's bi-level lounge and rooftop pool, Somewhere Nowhere, (scheduled to open this Spring) offers an escape from the busy streets. A hidden passageway – made by repurposing a loading dock and transforming it with spray-painted murals of fireflies and mischievous gnomes, neon signs, and old-fashioned lantern scones – transports guests to one of the highest havens in the city with an open-air pool and 360-views of Manhattan's majestic skyline. Hotel guests will also be treated to weekly activations and performances by local musicians and artists alike to provide them with an even deeper connection to the hotel's neighborhood.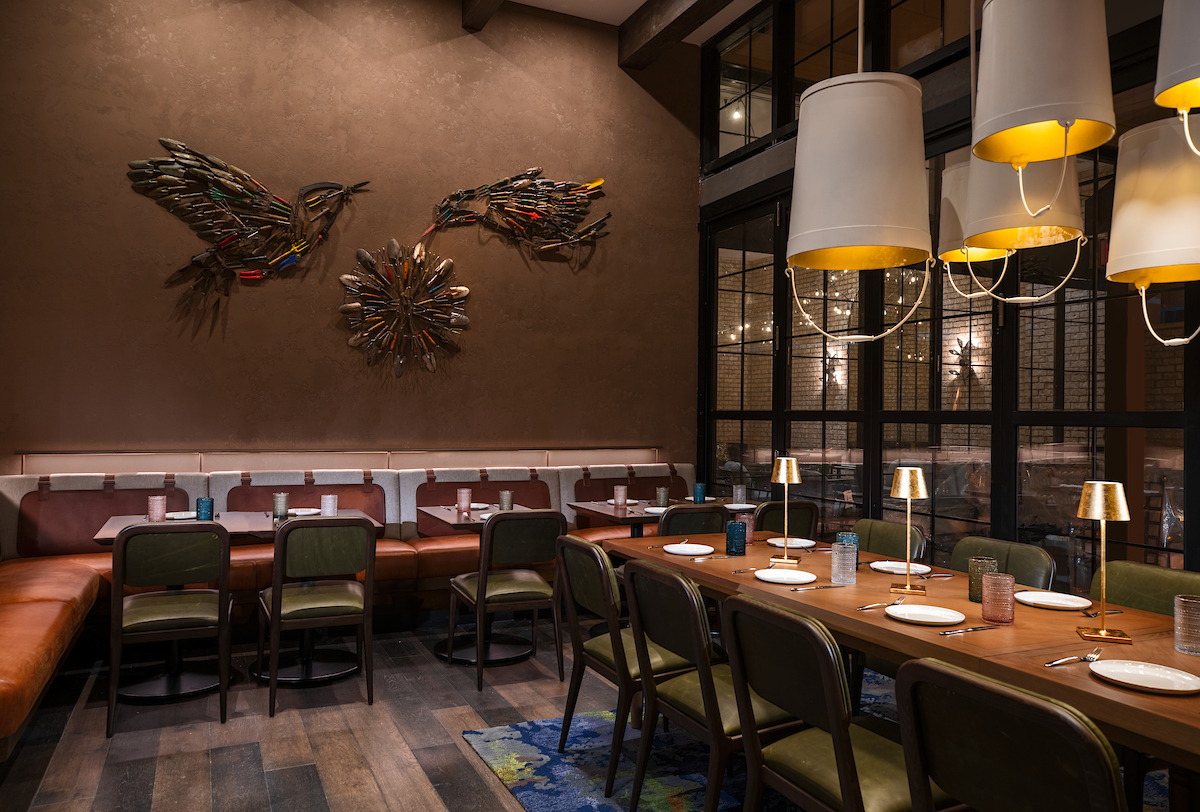 Also set to open this upcoming Spring, Chef Fabrizio Facchini brings a bold twist on authentic Italian cuisine through Cotto. 10-foot-high, floor-to-ceiling windows, an indoor family-style dining room, and lounge, a 14-seat bar are all set within a romantic scene. The mystical space is accented with mason jar lamps creating the feeling of firefly jars.
The restaurant will serve daily breakfast, lunch, dinner and weekend brunch with special dishes like burrata al tartufo with freshly shaved summer truffles and paccheri al pistachio di Bronte with a creamy saffron sauce and pistachio pesto. Keeping in line with the floral and nature theme, Facchini has also developed an innovative mixology experience to incorporate a selection of spirits, fruit, and herb-infused ice cubes into the cocktail programming.
We are thrilled to welcome the Renaissance New York Chelsea Hotel to the growing hospitality scene in the Flatiron/Chelsea/NoMad neighborhoods with a reimaged, engaging guest experience.
Renaissance New York Chelsea Hotel, 112 West 25th Street, between Sixth and Seventh Avenues, (212) 206-1522.