Where to Staycay in the Flatiron District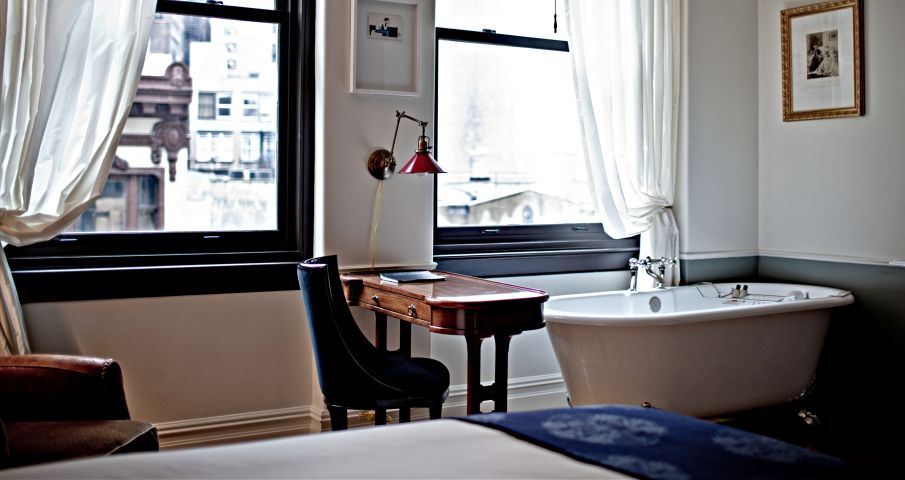 If 2020 is already getting the best of you, plan for a local getaway in New York City. Discover some of Flatiron's hospitality gems for a treat-yourself-trip. Please contact the hotels directly for more information or book online.
Evelyn Hotel, 7 E 27th Street, New York, NY, 10016, (212) 545-8000
Turn back time and experience New York's colorful music and art history at the Evelyn Hotel. Located in the NoMad neighborhood, historically Tin Pan Alley – NYC's buzzing arts epicenter, the hotel embodies Gilded Age glam, seamlessly blended with modern style through design and structure. The reimagined hotel and dining concepts showcase the Art Nouveau style from the early 1900s is a tribute to the "It Girl" of the Broadway world at the time, Evelyn Nesbit.
The three dining concepts Leonelli Taberna, a Roman-inspired trattoria with a cocktail bar and lobby lounge; Benno, a Michelin Star Mediterranean restaurant and Leonelli Focacceria e Pasticceria, a bakery and cafe, enhance your experience.
Take advantage of a limited-time sale offering up to 30% up rooms and special offers for AmEx cards holders per stay between 19th and 24th February in honor of the Evelyn's 6th birthday.
Freehand New York Hotel, 23 Lexington Ave, New York, NY 10010, (212) 475-1920
A perfect home for the traveler community, Freehand New York combines the social culture of a hostel and the luxury of a hotel using innovative design, award-winning food, and beverage concepts and an emphasis on community-driven atmosphere. Located in the former George Washington Hotel, once home to many creatives, the Freehand hotel is helping revitalize the artistic community in a historic NY neighborhood.
Head to Freehand's rooftop oasis, Broken Shaker, winner of Tales of the Cocktail's Best American Hotel Bar, or step-inside the George Washington Bar on the seond-floor, which is housed in a former library. Leave room in your calendar for some of the exciting dance, music and comedy events at the hotel.
The James New York, 22 E 29th St, New York, NY 10016, (212) 532-4100
Get away from the hustle and bustle at this sophisticated sanctuary. The hotel offers a new in-room wellness program, Four Bodies Wellness designed to help balance all four bodies: Physical, Mental, Spiritual, and Emotional. Guests can use their in-room TVs to take part in an Aerospace work-out, learn Kundalini Yoga, and book one-on-one sessions with various wellness practitioners.
As a guest, you can also eat and drink in style at the popular Italian joint, Scarpetta or enjoy a night out at The Seville, a throwback New York cocktail that brings together an eclectic mix of young and old souls under the same roof.
A special sale for the leap year, visitors can enjoy 33% off on reservations of three nights booked before February 29, 2020.
Renaissance New York Chelsea Hotel, 112 W 25th St, New York, NY 10001, (212) 206-1522
Stop and smell the roses at the Renaissance New York Chelsea Hotel which is inspired by the fragrant NYC Flower District it calls home. Situated in the former Chelsea Flea Market, the naturistic theme is visible throughout the hotel with intriguing pairings of the old and new, complemented with indoor ivy trails, and an outdoor urban garden giving guests the feeling of elegance and opulence.
The hotel also boasts a two-level indoor lounge and open-air rooftop pool venue, Somewhere Nowhere, where guests can enjoy the garden-inspired decor. The sweeping 360-views and immersive nightlife experience cannot be missed. The hotel will also be home to Cotto, an Italian-restaurant slated to open this Spring.
The New York EDITION, 5 Madison Ave, New York, NY 10010, (212) 413-4200
Enjoy an Empire State of Mind at the luxurious EDITION hotel designed for the new generation. Housed in the former Metropolitan Life Insurance Company's headquarters, the famous clock tower has been reinvented to provide a haven for contemporary enthusiasts. Guests can soak up an intimate view of Madison Square Park, the Empire State Building and NYC's iconic skyline.
Michelin-star dining and hospitality are part of the experience with establishments like The Clocktower, and an intimate lobby bar.
NoMad Hotel, 1170 Broadway, New York, NY 10001, (212) 796-1500
Experience the taste of European hospitality at the NoMad New York, housed in a restored Beaux-Arts building inspired by the feel of a Parisian flat from the designer Jacques Garcia's childhood. The hotel is a unique product of collaboration among many brands and entities, each thoughtfully included to create a complete experience for guests.
The hotel features a resident illusionist show The Magician, a popular hit among locals, and its famous. award-winning namesake bar.
Photo Credit: The NoMad Hotel by Benoit Linero
Slider Image: The New York Edition