Flatiron Valentine's Day Gift Guide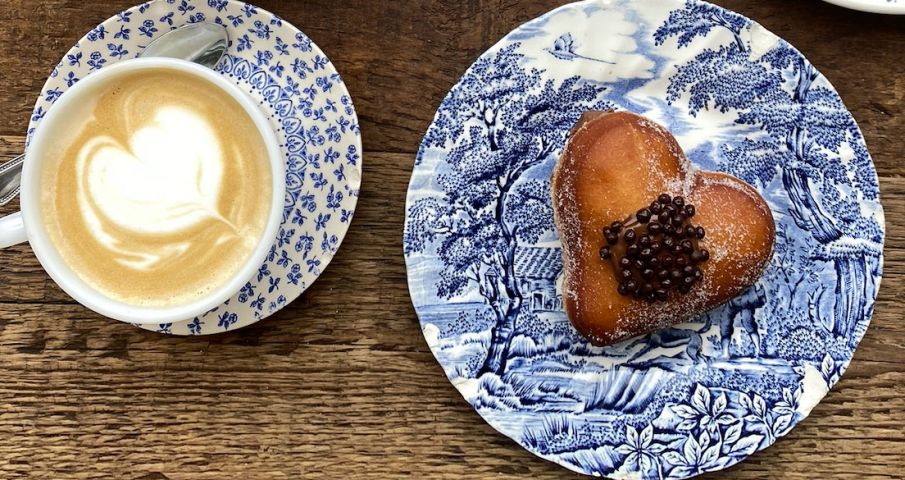 Take the pressure off yourself with Flatiron's gift guide for Valentine's Day. The district is packed with crowd-favorite bakeries/cafes that are making unique heart-shaped treats. Thoughtful gifts at local shops include bath sets, candles, robes, books, lingerie, facial services, and massages. And, you can never go wrong with the classics like flowers and wine, so we've got you covered there too. Check out Flatiron's dining guide as well.
Can't Go Wrong With Dessert
Eataly Flatiron (200 Fifth Avenue) has a wide variety of artisanal Italian Chocolate sets and housemade Italian pastries like heart-shaped pastries, full cakes, special filled-to-order cannolis made with fine Italian Ingredients like pistachios from Sicilia and hazelnuts from Piemonte.
Love is in the air at the bakery Leonelli Focacceria (7 East 27th Street) where you can pick-up heart-shaped cookies, XO cookies, and a special Hazelnut Rocher filled with milk chocolate mousse, hazelnut praline, and passion fruit caramel.
French cafe maman (22 West 25th Street) will be offering NEW pastries to celebrate Valentine's Day including a heart-shaped Nutella Beignet, a heart-shaped Rasberry Rose Macaroon, a Strawberry Vanilla Cruffin, a heart-shaped Oreo with pink filling, and maman's favorite Nutty Chocolate Chip Cookies are available for $40/dozen.
French bakery Patisserie Chanson (20 West 23rd Street) is offering the romance of Paris in a pastry with its new Lychee Raspberry Mousse Cake, layered with chocolate cake over white chocolate fueilletine. You'll have your pick of various macaroons, cakes, and tarts as well. 

Along with their usual pastry spread (their chocolate tart is incredible), Bourke Street Bakery (15 East 28th Street) is offering Valentine's dark chocolate chip shortbread cookies with some cute/cheeky sayings like "I'm Single… It's fine… I'll have Pizza!"
A Thoughtful Gift
Rituals (172 Fifth Avenue) bath and skincare products are sure to impress, and special Valentine's Day gift sets are 20% off. For the bookish baes, pick-up an exciting new read at Rizzoli (1133 Broadway). The White Company's (155 Fifth Avenue) selection of candles, scents, silk robes and fleece blankets make for the perfect cozy surprise. The gift shop at The Museum of Sex (233 Fifth Avenue) offers a curated selection of top quality products for romance and desire. Bradelis (66 Madison Avenue) is a playful Japanese lingerie chain known for custom fittings & an array of styles.
Share a Nice Bottle of Wine
Some favorite local wine shops are Flatiron Wines and Spirits (929 Broadway), Wine & Spirits Market (676 Sixth Avenue), and Vin Sur Vingt wine bar (1140 Broadway).
Keep it Classic with Flowers & a Card
Pick up a beautiful floral arrangement from Blooming Affairs (925 Broadway), Flower You (122 East 25th Street), and Il Fiorista (17 West 26th Street). Grab a card from Papyrus (655 Avenue of the Americas) or (940 Broadway) and take advantage of their closing sale deals.
Surprise Someone With Pampering (They Need It)
The gift of a little R&R can go a long way, like a facial service from Silver Mirror Facial Bar (20 West 22nd Street), and Heyday (1130 Broadway). Treat someone to a massage or spa service at Dyanna Spa (40 East 21st Street) or Living Fresh Men's Spa (44 West 22nd Street).
Header and Thumbnail Photo Credit: maman