Flatiron Foodies: Il Fiorista's Elysian Fields Lamb Loin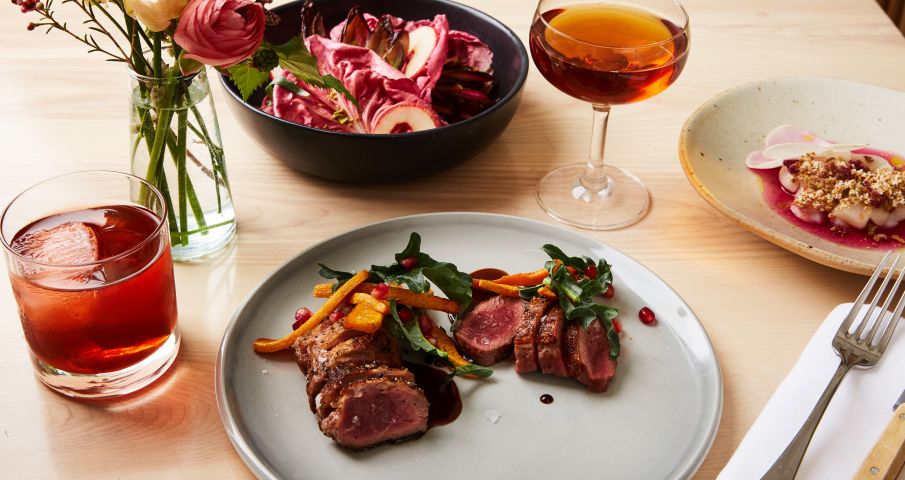 Flowers are synonymous with Valentine's Day, so a restaurant that celebrates them in their edible form is a fitting place to enjoy a romantic meal. Il Fiorista (Italian for "The Florist") is a restaurant crafting dishes that showcase the diverse benefits of flowers and herbs. Executive Chef Garrison Price partners with local and regional farmers to curate a Mediterranean-inspired menu. The restaurant serves brunch, lunch, and dinner alongside a floral boutique.
For Valentine's Day, Il Fiorisa is serving a pasture-raised lamb loin with a rose hips glaze. The lamb is sourced from their farmer friends at Elysian Fields in Western Pennsylvania who uphold an uncompromising philosophy of care and respect for the animals that they raise. Il Fiorista is excited to highlight rose hips, the fruit of the rose plant, in this dish. The rose hips are cooked with pomegranate juice and cabernet wine vinegar to achieve a luscious glaze that takes on a tangy, floral tomato flavor. The lamb is paired with roasted sweet potatoes and a fresh salad of pomegranate seeds and tart sorrel leaves. Reserve a table at Il Fiorista to take advantage of this special dish, or impress your loved one by creating the dish yourself.
Elysian Fields Lamb Loin Recipe (Serves 2)
Ingredients: 
8-ounce boneless lamb loin with the fat unless to prefer to have your butcher remove it.
4 small sweet potatoes.
1/2 cup fresh pomegranate seeds.
1 bunch of sorrel leaves or arugula can be substituted.
Sea salt and black pepper for seasoning.
4 tablespoons olive oil.
4 tablespoons rosehip glaze from the recipe below.
For the Rosehip Glaze:

1 cup rosehips, crushed, seeds removed.
2 cups cabernet wine vinegar or good quality red wine vinegar.
1 cup pomegranate juice.
1/2 cup organic sugar.
1 teaspoon of sea salt.

Directions: 
1. In a saucepan combine rosehips, vinegar, pomegranate juice, sugar, salt and bring to a boil over high heat. Reduce the heat to a low simmer and cook the rosehip mixture until it has reduced by 2/3. Strain the mixture through a fine-mesh sieve and return the liquid to a saucepan over medium-high heat to continue to reduce until the sauce begins to thicken and coats the back of a spoon. Reserve the rosehip sauce until you are ready to serve. This sauce can be made several days in advance and will keep in the refrigerator for up to 1 month because of the sugar content.
2. For the sweet potatoes and lamb, preheat your oven to 325 degrees Fahrenheit. Coat the sweet potatoes lightly with olive oil and season with salt and pepper. Roast the sweet potatoes on a baking sheet for about 20 minutes at 325 degrees Fahrenheit until tender when pierced with a fork.
3. While the sweet potatoes are roasting, season the lamb loin generously with salt and pepper. Heat a saute pan over medium-high heat, coat the pan with about 2 tablespoons of olive oil and sear the lamb loin on each side for about 2 minutes until well caramelized. Transfer the lamb loin to a baking sheet and place it in the oven at 325 degrees Fahrenheit for about 12 minutes until an internal thermometer read 118 degrees Fahrenheit for medium-rare. Remove the lamb loin from the hot baking sheet and allow it to rest on a cutting board for at least 10 minutes before serving.
4. To serve, combine the pomegranate seeds and sorrel leaves in a mixing bowl, season lightly with olive oil, salt, and black pepper. Slice the lamb loin into 8 to 10 slices and place on a serving plate. Next, slice the sweet potatoes similarly and place them next to the lamb. Then add the sorrel leaves and pomegranate seeds over the top. Finish the dish with generous spoonfuls of the hot rosehip glaze and enjoy it with your sweetheart.
Pictured Below: Executive Chef Garrison Price.