Valentine's Day Dining Guide in Flatiron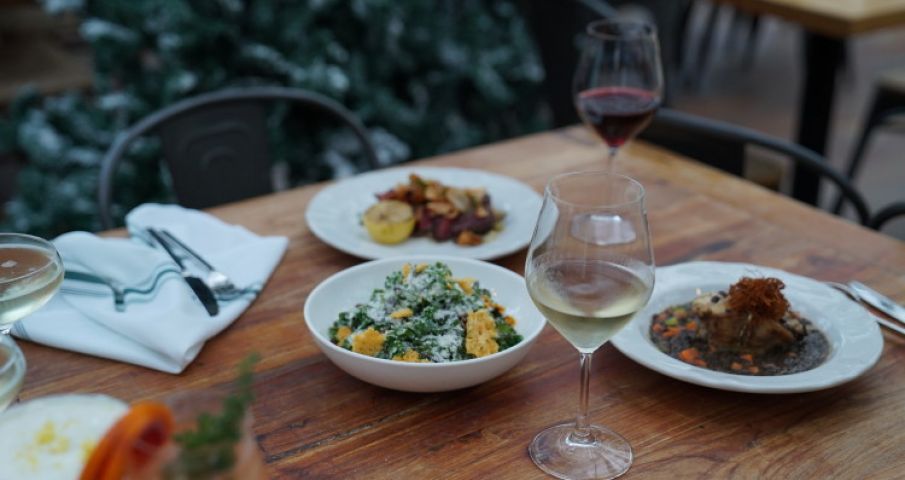 Whether you're sharing Valentine's Day with a special someone or friends and family, don't miss out on celebratory, limited-edition specials from some of the best restaurants in Flatiron.
American Cuisine
Bouley Test Kitchen, 31 West 21st Street, between Fifth Avenue and Sixth Avenue, (212) 255-5828
Chef David Bouley will serve a special Valentine's Day meals. A Lunch Tasting (3 courses for $55 and 5 courses for $75) & Dinner Tasting (4 courses for $115 and 7 courses for $195) will be offered on February 14th and 15th. Optional wine pairings are available. To secure Valentine's Day Table, a prepayment form will be emailed to you.
Giorgio's of Gramercy, 27 East 21st Street, between Broadway and Park Avenue South, (212) 477-0007
Order an exceptional meal from eclectic American restaurant Giorgio's of Gramercy. Giorgio's seasonal menu and Valentine's Day specials will be available for your romantic evening. 
Harding's, 32 East 21st Street, between Fifth and Sixth Avenues, (212) 600-2105
Enjoy Harding's handcrafted cocktails and cozy atmosphere while you dine on a special Valentine's Day dinner specials including scallops, lamb chops, beet salad, and a Cupid's Heart Dessert.
Park Avenue Winter, 360 Park Avenue South, corner of 26th Street, (212) 951-7111
Park Avenue Winter serves only the best that each season has to offer. On Valentine's Day, Park Avenue Winter will be offering its ever-changing seasonal menu.
Sarabeth's Park Avenue South, 381 Park Avenue South, (212) 335-0093
Treat your special someone to Valentine's inspired specials while you listen to a live jazz band playing at Sarabeth's restaurant serving classic American cooking fresh, locally sourced ingredients.
Italian Cuisine
Benno, 7 East 27th Street, between Fifth and Madison Avenue, (212) 451-9495
Showcasing French technique and contemporary Italian cooking, Benno is a fine-dining experience sure to impress. Benno will serve its normal a la carte menu along with a five-course chef's tasting menu available February 13th through 15th. 

Bread & Tulips, 365 Park Avenue South, between 26th and 27th Streets, (212) 532-9100
Sit down for a romantic, candle-lit meal at Bread & Tulips on Valentine's Day. Enjoy specials and a complimentary Prosecco toast.
Eataly, 200 Fifth Avenue, between 23rd and 24th Streets, (212) 937-8910
Eataly's rooftop winter wonderland, SERRA ALPINA by Birreria, is taking Valentine's Day to the next level with a four-course tasting menu dinner lit only by candles for $125 per person. At Eataly's Manzo, enjoy four-course tasting-menu highlighting simple but decadent ingredients for $105. Elevate the romance with an optional $45 wine pairing.
La Pecora Bianca, 1133 Broadway, corner of 26th Street, (212) 498-9696
La Pecora Bianca will be serving a special three-course dinner menu ($75 per person) for Valentine's Day! The menu highlights Pecora Bianca classics and specials for two like a Wild Mushrooms and Asparagus appetizer, a Ribeye Steak, and Tiramisu.
Scampi, 30 West 18th Street, between Fifth Avenue and Sixth Avenue, (212) 888-2171
Scampi, a Southern Italian inspired restaurant, invites you to spend your Valentine's Day with their decadent four-course meal featuring specials like Caviar & Burrata, Braised Pork Ravioli, and Branzino. $89 per guest.
Tarrallucci e Vino, 44 East 28th Street, between Madison Avenue and Park Avenue South, (212) 779-1100
Recently named the best Italian restaurant in NYC by Gambero Rosso, celebrate San Valentino at Tarallucci e Vino! Enjoy a specialty menu that includes a glass of bubbly.
Trattoria Italienne, 19 West 24th Street, between Broadway and Sixth Avenue, (212) 600-5139
Featuring culinary traditions from France and Italy, Trattoria Italienne is offering a three-course Lover's prix fixe menu for $85 per guest featuring lobster, scallops, and a New York strip from February 13th through the 15th. Italienne's regular a la carte menu will be available.
Indian Cuisine
Junoon, 27 West 24th Street, between Broadway and Sixth Avenue, (212) 490-2100
Celebrate Valentine's Day dinner at Junoon's Main Dining Room with an eight-course tasting menu for $135 per guest and enjoy live piano music starting at 7:30 pm. Optional wine pairing is available for $75.
French Cuisine
Patisserie Chanson, 20 West 23rd Street, between Fifth Avenue between Sixth Avenue, (929) 205-5856
If you're looking for something more casual, or a mid-day treat with your Galentine, step inside this French cafe for a fondue experience for two. You have your choice of reserving a Cheese Fondue Pot ($55) served with Paris Ham, Prosciutto, and bread bites, or a Chocolate Fondue Pot served with dried and fresh fruits, marshmallows, and a mini croissant. Fondue pots must be reserved in advance (call or email).
Mediterranean Cuisine
Il Fiorista, 17 West 26th Street between Broadway and Sixth Avenue, 646-490-82409
Il Fioista, a restaurant serving flowers and herbs in their edible forms, is an ideal place for a Valentine's Day celebration. A four-course menu and themed cocktails will be available from 5:30 pm to 10:30 pm for $85 per person. Enjoy east and west coast oysters for the table, start with scallops, select a lamb loin as your main and end with a rose chocolate cake. A seasonal flower bouquet designed by Il Fiorista's Floral Designer Mindy Cardozo is included with the Prix fixe menu.
ilili, 236 Fifth Avenue, between 27th and 28th Streets, (212) 683-2929 
ilili is celebrating Valentine's Day by offering a four-course prix fixe dinner from 5:30 to 10 pm. The dinner includes two mezze plates, one entree, one dessert and a complimentary glass of champagne. Special menu items include Long Island Duck Breast, Lobster, and a Prime NY Strip.
Are you offering a Valentine's dinner special? Please email info@flatirondistrict.nyc
Header & Thumbnail Photo by Eataly Flatiron