23 Days of Flatiron Cheer 2019 Recap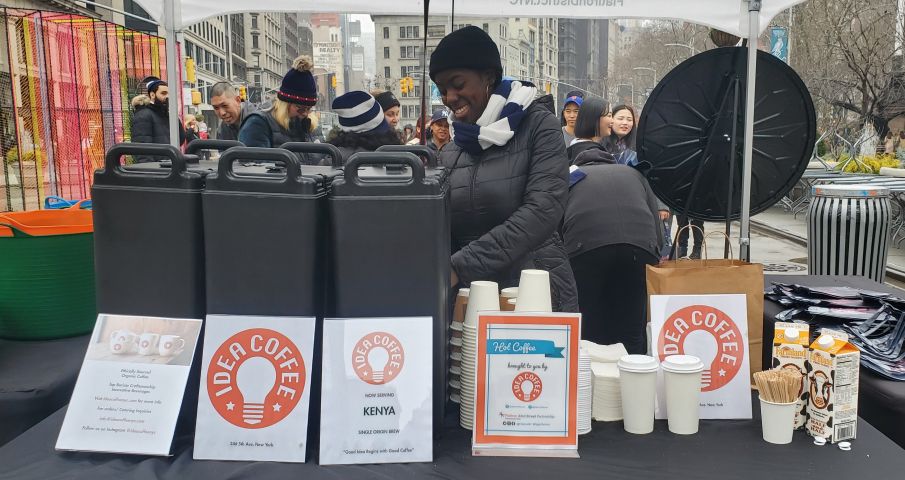 The Flatiron Partnership brought three weeks of fun to the neighborhood with our annual holiday program, "23 Days of Flatiron Cheer" kicking off on December 1st. The program enlivened and activated the Flatiron Public Plazas and promoted the neighborhood as a shopping, dining, and cultural destination during the holiday season. Check out what went on in the district: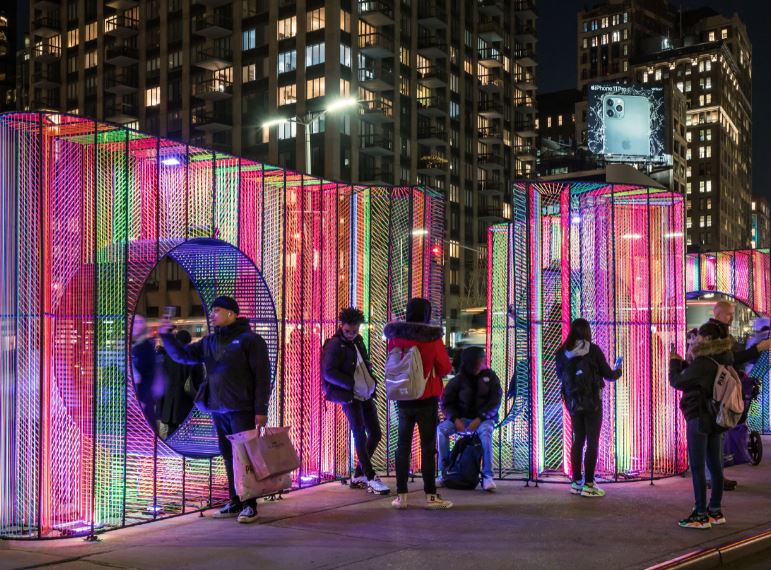 Ziggy by Hou de Sousa: Installation Launch & Social Media Contest
Prior to the official launch, we ushered in the holiday season on Monday, November 18th with the unveiling of the Ziggy by Hou de Sousa to experience the holiday art installation for the first time. The event featured a performance by The Jazz Gallery, Shake Shack's hot chocolate, small bites from Eataly, and premium prize wheel prizes from neighborhood businesses.

All photos of Ziggy shared via a post on a public Instagram account using the #ZiggyFlatiron were entered to win prizes from Flatiron businesses. There were over 1,700 hashtag uses – the largest amount for a holiday installation hashtag usage.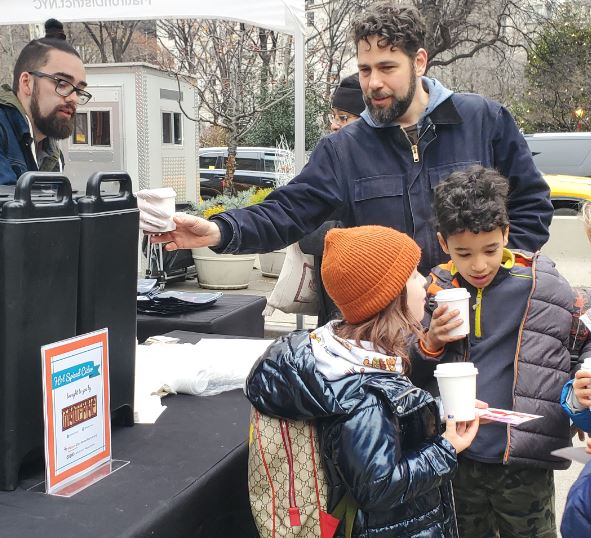 Live on the Flatiron Public Plaza Giveaways and Events 
Every Friday & Saturday from December 1st through December 23rd, between noon and 4 pm, we invited passers-by to take a break from the hustle and bustle with a free hot beverage from a local fav, a chance to win a gift from a Flatiron business by spinning the Flatiron prize wheel, grab a tote bag filled with shopping discounts, and the opportunity to drop-off donations to benefit  Urban Pathways. Activities and performances were presented by Wonder Photo Shop and SPiN ping-pong lounge.
Over the course of the holiday program, our team handed out over 2,574 prizes from local businesses, nearly 1,495 free hot beverages, and 1,500 branded tote bags full of discounts from 20 businesses.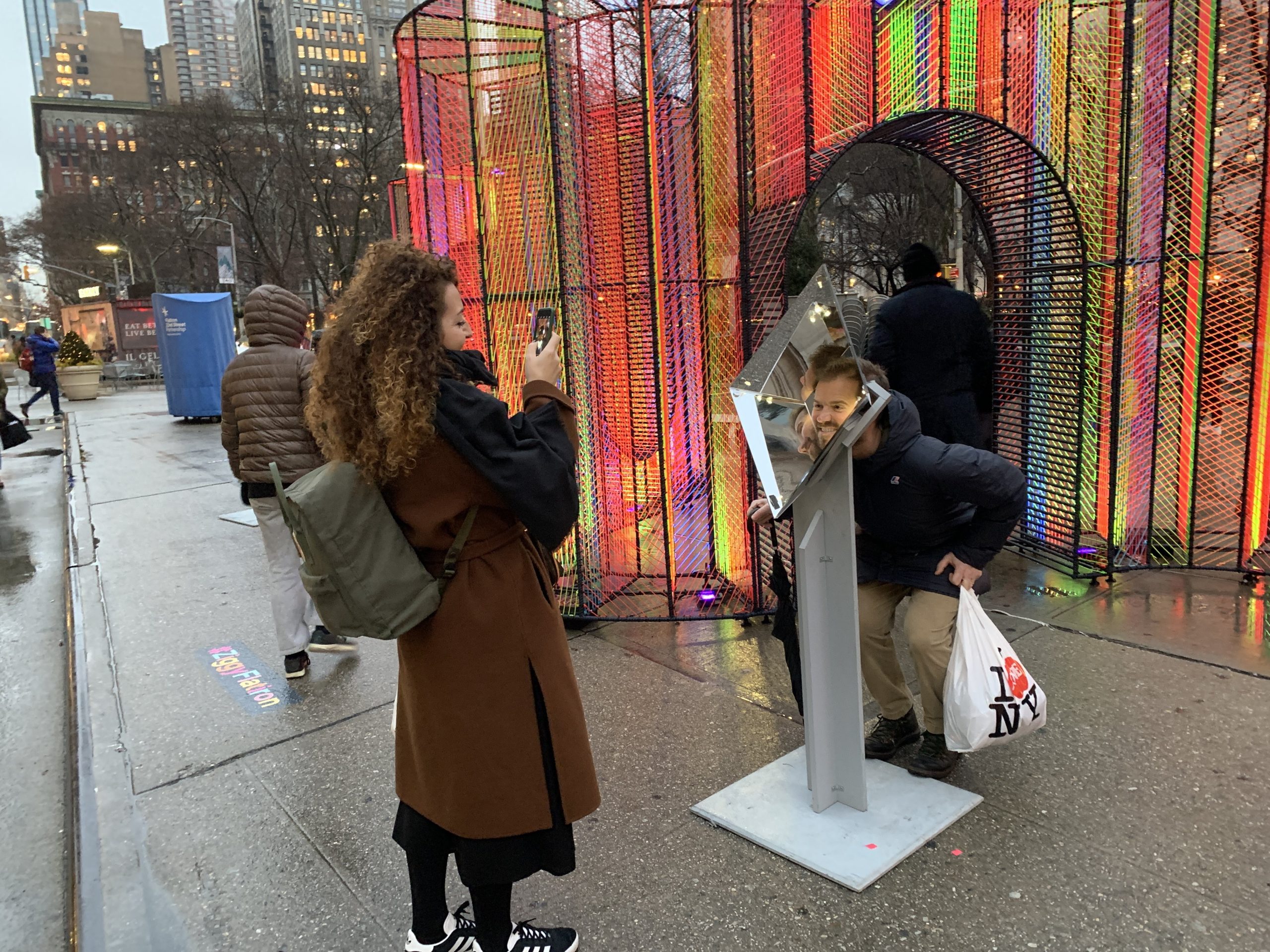 Winter Solstice on the Flatiron Public Plaza
We ushered in the official start of winter by celebrating the Winter Solstice, the shortest day of the year. From 4-8 pm on the Flatiron North Public Plaza, the National Museum of Mathematics (MoMath) brought life-sized kaleidoscopes for the ultimate selfie, and hot ramen from wagamama and hot cider from by Smile To Go were served. The Flatiron prize wheel was spinning and visitors were able to snag a discount-filled tote bags.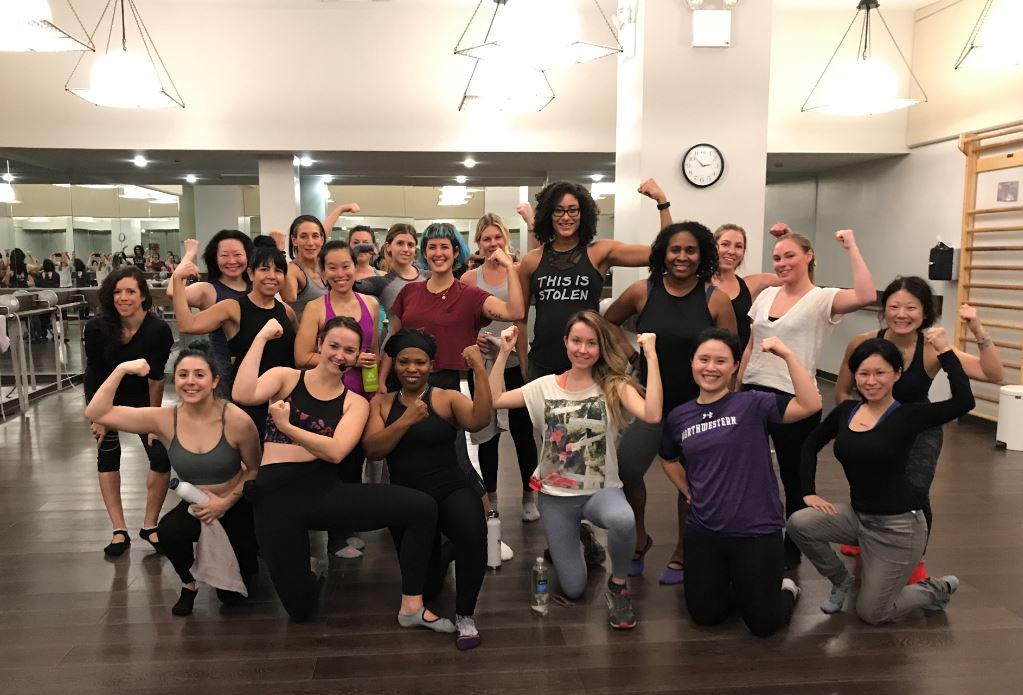 Winter Wellness Wednesdays
We partnered with six local fitness studios to offer free fitness classes each Wednesday. During the first three weeks of December, neighborhood studios offered 199 free fitness class passes.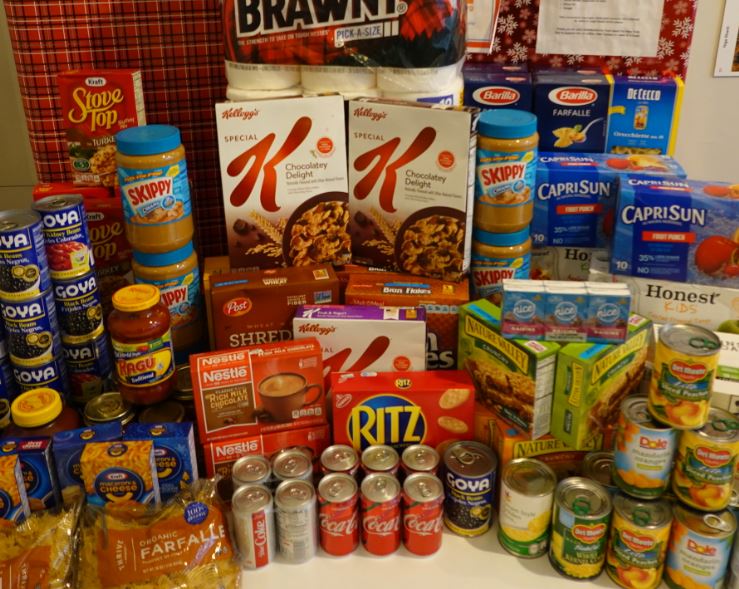 Flatiron Foodies Recipes 
Our holiday-themed community newsletters featured notable Flatiron chefs sharing their favorite holiday recipes. Delicious holiday additions from Park Avenue Autumn, Harding's, Covina, maman, and Trattoria Italienne.
Holiday Flatiron History Walking Tours
Each Sunday at 11 am, our professional tour guides led visitors on history-packed, holiday-themed walking tours. Our guides took attendees on a 90-minute journey through our vibrant neighborhood, viewing some of the City's most notable landmarks.
Food Drive for Urban Pathways 
Throughout the year we partner with Urban Pathways to reach out to homeless individuals in the Flatiron District with the ultimate goal of placement in permanent housing. We hosted a food drive through December 23rd to benefit the clients that they serve. We collected non-perishable foods, toiletries, and gently used clothing on the Flatiron Plaza, and we collaborated with 15 companies in Flatiron to host drives within their offices. In total, 1581 items were donated to Urban Pathways. Cash donations were also collected online.
Special thanks to offices that hosted a food drive to benefit those living without shelter in and around the neighborhood: Carnegie Fabrics, General Assembly, NYC Seminar and Conference Center, Rockrose, SeatGeek, Select Office Suites, Select Office Suites, Sony, The Assemblage NoMad, the Assemblage Park Ave, ThoughtMatter, WeWork, and Xandr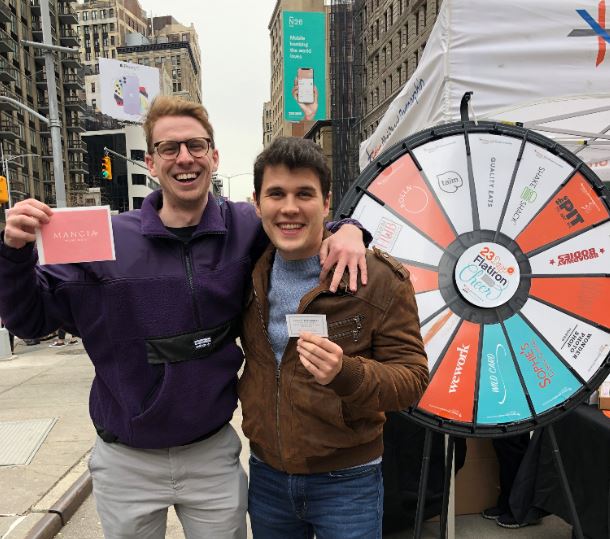 Thank you to our Sponsors & Program Partners!
Presented by the Flatiron/23rd Street Partnership, Ziggy and the accompanying programming "23 Days of Flatiron Cheer" is made possible with generous support from Presenting Sponsor Meringoff Properties and Supporting Sponsor 212 Fifth Avenue.
The Flatiron/23rd Street Partnership also thanks to local businesses who participated in "23 Days of Flatiron Cheer" through the donation of items for the Flatiron prize wheel, social media contests, and the 23 Days of Flatiron Cheer tote bags, hot beverages; performances; fitness classes; and other festive activities around the neighborhood!
Thank you to 10/10 Optics, Almond, Apple Seeds, Areppas, Athleta, Ballroom Hub, Baruch, Baruch PAC, Bode Yoga, Bouley at Home, Bouley Test Kitchen, Bourke Street Bakery, Broadway Bodies, Center for Book Arts, City Acupuncture, Covina , Dancebody, Dear Sundays, Dharma Yoga, Dos Toros, Eataly, Evelyn, Exhale, FotoCare, Freehand, Fujifilm Wonder Photo Shop, Harding's, Hill Country, Honey Brains, Iconoclast Fitness, Idea Coffee, Jane DO, Jazz Gallery, Karma Kids Yoga, La Pecora Bianca, Le Tea, Maman, Mangia, Merakia, Morton Williams Wine & Spirits, New York Health and Racquet Club, NY Laser Loft, Obica, Origins, Park Ave, Playday, Poster House, Quality Eats, Riccardo Maggiore, Rolln', Royalton Park Avenue, Scampi, Scarpetta, The Seville, Shake Shack, Silver Mirror, Sophie's Cuban Cuisine, Sous Vide Kitchen, SPiN, Standard Dose, TADA! Youth Theater, Taim, Tarallucci e Vino, The Brrrn, The Evelyn, The James New York NoMad, The NoMad Hotel, The PIT, TrainStation NYC, Trattoria Italienne, Wagamama, We Work Now, Y7, and Zucker's.
For updated information about upcoming Flatiron District programming, please subscribe to our weekly newsletter and follow us on Twitter, Instagram & Facebook @FlatironNY.