January Joiner: Get Fit in 2020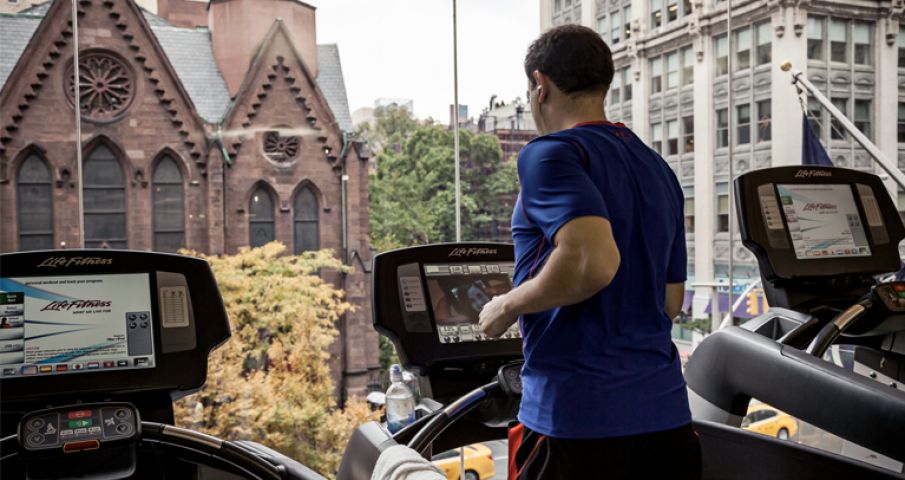 Start the new year with a new fitness routine. Flatiron's "Fit District" is the ideal destination to get your healthy New Year's resolutions on track. The new client deals below make it easier for you to start!
Cardio, Dance, HIT, Barre, & Pilates
Brrrn, 107 West 20th Street, between Sixth and Seventh Avenues, (212) 352-3132
Take advantage of Brrrn's First Timer Deal and enjoy two classes for $28 (a single class is a $34 value). Brrrn is New York City's first cool temperature fitness studio. Have your pick of the HIT class with battle ropes and dumbbell circuits, a Slide class with cire and cardio slide boards, or a class combining the two.
Chaise Fitness, 40 East 23rd Street, at Madison Avenue, (212) 432-6100
There's no better introduction to Chaise Fitness's patented fusion workout of ballet, Pilates, and strength than their Intro Offers: Three classes for $33, or six classes for $155.
Dancebody, 1158 Broadway, 4th Floor, between Broadway and Fifth Avenue,  (212) 500-1174
Dancebody is a studio with upbeat group workouts, including high-energy cardio & sculpting classes. Enjoy an NYC special of $75 for three classes (a $105 value).
Jane DO, 24 W 23rd Street, between Fifth and Sixth Avenue, (201) 938-1000 ext. 4
Musically charged, energy driven, cross-training workout. Take advantage of Jane DO's new client specials – enjoy seven days of unlimited classes for $40, or buy one class and get your second for free.
Mendez Boxing, 23 East 26th Street, at Madison Avenue, (212) 689-5255
First-time boxers receive their first group lesson for free at Mendez Boxing, one of the city's premier boxing gyms.
Fitness Clubs & Gyms
Equinox Gramercy, 315 Park Avenue South, at 24th Street, (212) 320-9870
Experience Equinox with their exclusive January Offer. If you join Equinox and workout eight times in your first 30 days, you earn back your $300 initiation fee. Offer ends January 31st.
Life Time Fitness, 60 W 23rd Street, off Sixth Avenue
Opening in early 2020, the newly renovated Life Time Fitness club will feature luxurious amenities, world-class trainers and studio classes. Join the waitlist fo be the first to get pricing information, club updates, and exclusive information about our memberships.
New York Health & Racquet Club, 270 Park Avenue South, at 21st Street, (212) 245-6917
Clients who sign-up to join New York Health & Racquet Club in January will have initiation fees waived. Enjoy a variety of fitness options at NYCHRC, including saltwater pools, high-intensity interval training classes, yoga, barre, and pilates – whatever you prefer, your membership gives you full access.
New York Sports Club, 113 East 23rd Street, between Park Avenue South and Lexington Avenue, (212) 982-4400
Join New York Sports Club and take advantage of NYSC's 2020 Sale to receive free membership for January and February.
Running & Cycling
Flywheel Sports, 39 West 21st Street, between Fifth Avenue and Sixth Avenue, (212) 242-9433
Take advantage of an Intro offer at Flywheel Sports. All new clients enjoy their first class for free when they sign-up for a FlyWheer account. In celebration of their 10 year anniversary, Flywheel is kicking off the new year with a Never Coast Challenge –  From January 13th to February 9th, take either ten or twenty classes (your choice!) and earn some sweet FLY gear to show off your strength (click here for more Challenge details).
Mile High Run Club, 24 West 25th Street, between Broadway and Sixth Avenue, (212) 466-6472
Mile High Run Club provides unique treadmill fitness programs and group treadmill classes. Now is the perfect time to try out a class! First-timers can enjoy two classes for $40 (a $70 value). Mile High is offering a number of specials for the new year as well. Specials include two weeks of unlimited classes for $109, one week of unlimited classes for $79, and an outdoor running class for $20.
Yoga
bodē nyc, 182 Fifth Avenue, at 23rd Street, (212) 206-9400
New clients can take advantage of an Intro Special: three classes for $39 that can be used at any of bodē nyc's three locations. This offer includes complimentary mats and towels for each visit.
Laughing Lotus, 166 Fifth Avenue, 2nd Floor, between 21st and 22nd Streets, (212) 414-2903
Newly opened LL Studio by Laughing Lotus serves as a home for party and transformational yoga practice with a starry night twinkle ceiling. First-time students can take advantage of a buy one, get one deal (good for two weeks). 
Y7 Studio, 25 West 23rd Street, between Fifth Avenue and Sixth Avenue, (646) 820-0781
New clients can enjoy a $45 three-class package that includes a yoga mat and skidless towel rentals. At Y7, students of all levels are welcome to participate in classes that are held in a candle-lit studio heated with infrared technology.
For a full listing of the myriad of fitness options in the neighborhood, visit our Flatiron Guide.
Header and Thumbnail Photo: New York Health & Racquet Club, 21st Street location