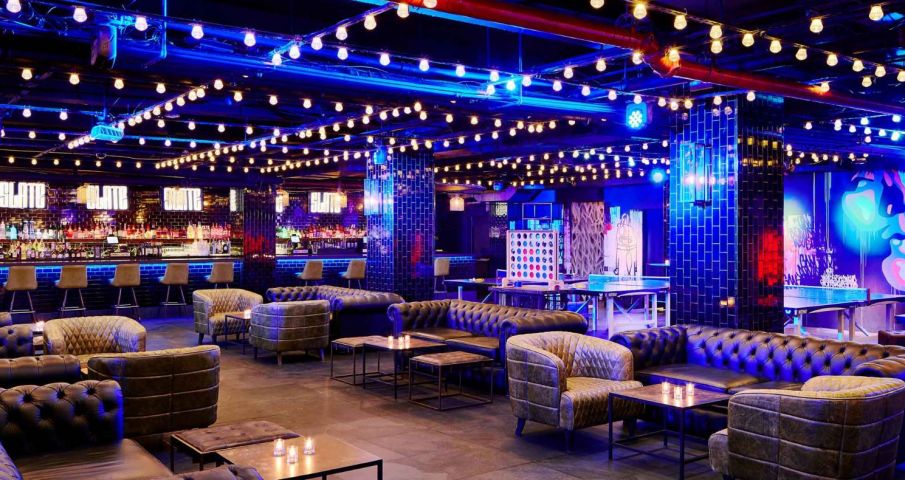 Kick-off the new decade in the Flatiron District! Local favorites invite you to celebrate New Year's Eve with sophisticated tasting menus and lively club events. Contact businesses directly for reservations and more information.
40/40 Club, 6 West 25th Street, between Sixth Avenue and Broadway, (212) 832-4040| Tickets 
Ring in 2020 with a 1920's themed bash while enjoying custom cocktails, tasty treats, and watching the ball drop on state-of-the-art video display walls. General admission starts at $80 and VIP packages are available.
Almond, 12 East 22nd Street, between Broadway and Park Avenue South, (212) 228-7557 | Menu 
Starting at 9 pm, Almond offers a locally sourced four-course prix fixe menu as well as a New Year's Eve party. A champagne toast will be poured, live DJs will spin, and party favors will be distributed. $125 per person. An a la carte menu will be available earlier in the evening, and the bar is open for snacks and specialty cocktails.
Bouley Test Kitchen, 31 West 21st Street, between Fifth Avenue and Sixth Avenue, (212) 255-5828 
End 2019 on a culinary high note. Chef David Bouley will be serving a special 12-course holiday tasting menu with optional wine pairings featuring dishes like Nantucket Sea Scallops and homemade Black Truffle Ravioli. The first seating is from 5 pm to 7 pm for $225 per person, and the second seating is from 8:30 pm to 10 pm for $295 per person. A children's menu will be available.
Bread & Tulips, 365 Park Avenue South, at 26th Street, (212) 532-9100 | Menu 
Join the cozy, rustic Italian joint for a four-course feast, celebratory toast, and after-party on New Year's Eve! The 9 pm New Year's Eve seating includes an open bar until midnight.
The Flatiron Room, 37 West 26th Street, between Sixth Avenue and Broadway, (212) 725-3860 | Info 
Join The Flatiron Room for a festive evening of fine food, luscious drinks, live jazz, and a superb selection of whiskey, and a live show by Carte Blanche from 9 pm to 1 am. Admission includes a special three-course dinner, festive party favors, a Moët & Chandon Champagne toast, and a special gift bag. For bookings, contact Young@theFlatironRoom.com
Harding's, 32 East 21st Street, between Broadway and Park Avenue South, (212) 600-2105
Harding's is now taking reservations for New Year's Eve dinner. The restaurant's full a la carte menu will be available and diners will receive a complimentary champagne toast at midnight.
ilili, 236 Fifth Avenue, between 27th and 28th Streets, (212) 683-2929 | Info 
Celebrate the arrival of 2020 at ilili's New Year's Eve 1001 Nights celebration. Enjoy a celebratory meal with a four-course seating ($95 pp) from 5:30 pm to 8 pm, or a 5-course seating ($185 pp) at 9 pm. Seating at the bar is available ($50 pp), and tables in the lounge are also available that include bottle service and a limited a la carte menu. A champagne toast, party favors, belly dancers, and a live DJ will be a part of the festivities.
La Pecora Bianca, 1133 Broadway, corner of 26th Street, (212) 498-9696 | Menu 
Toast the new year with La Pecora Bianca with a $95 three-course prix fixe menu. The menu features classic favorites and festive specials. A complimentary champagne toast will be offered to all guests.
The NoMad Hotel, 1170 Broadway, corner of 28th Street, (212) 796-1500 | Dinner Reservations | Party Tickets 
The NoMad's Main Dining Room is offering a prix-fixe menu with an early seating before 7 pm featuring a four-course menu for $180 per person, and a later seating after 8 pm featuring a five-course menu for $260 per person. The NoMad's rooftop party includes live performances, food stations, an open bar for $275 per person.
Simon & The Whale, 23 Lexington Avenue, corner of 23rd Street | Reservations
Bid farewell to 2019 with Simon & The Whale. You're invited to dine early with an a la carte menu on your way to meet up with friends, or ring in 2020 at Simon & the Whale with a special prix fixe menu including a midnight champagne toast available after 9 pm for $145 per person.
Slate, 54 West 21st Street. between Fifth and Sixth Avenues, (212) 989-0096, | Tickets 
Live it up this New Year's eve at Slate with a premium open bar from 9 pm to 2 am, live DJs, a broadcasted ball drop, and a champagne toast at midnight on Slate. General admission starts at $160 per person.
The Smith, 1150 Broadway, corner of 27th Street, (212) 685-4500 | Menu
New Year's Eve partygoers can make The Smith either their first or last stop of the night. You can start your night with The Smith's a la carte menu until 8 pm, or you can party into the night with The Smith from 10 pm to 1 am. The 10 pm celebration includes a special 3-course dinner, open bar, party favors, and champagne toast at midnight for $125 per person.
SPiN, 48 East 23rd Street, between Park and Madison Avenues, (212) 982-8802 | Tickets
Come celebrate with a 4-hour open bar, live DJs, communal gaming and of course ping pong at SPiN! Doors open at 9 pm and the open bar begins at 10 pm! Tickets are available for $125 per person.
Trattoria Italienne, 19 West 24th Street, between Broadway and Sixth Avenue, (212) 600-5139 | Info 
Party with Trattoria Italienne this New Year's Eve with an a la carte and truffle menu. Early and late seatings available at 6 pm, 6:30 pm, 8 pm, 8:30 pm, and 9 pm. From 10:30 pm to 1 am, a "Funk N' Punch Party" will feature one free punch per guest for dinner reservations, a live DJ, drink specials, and a midnight toast.
Header and Thumbnail Photo Credit: Slate